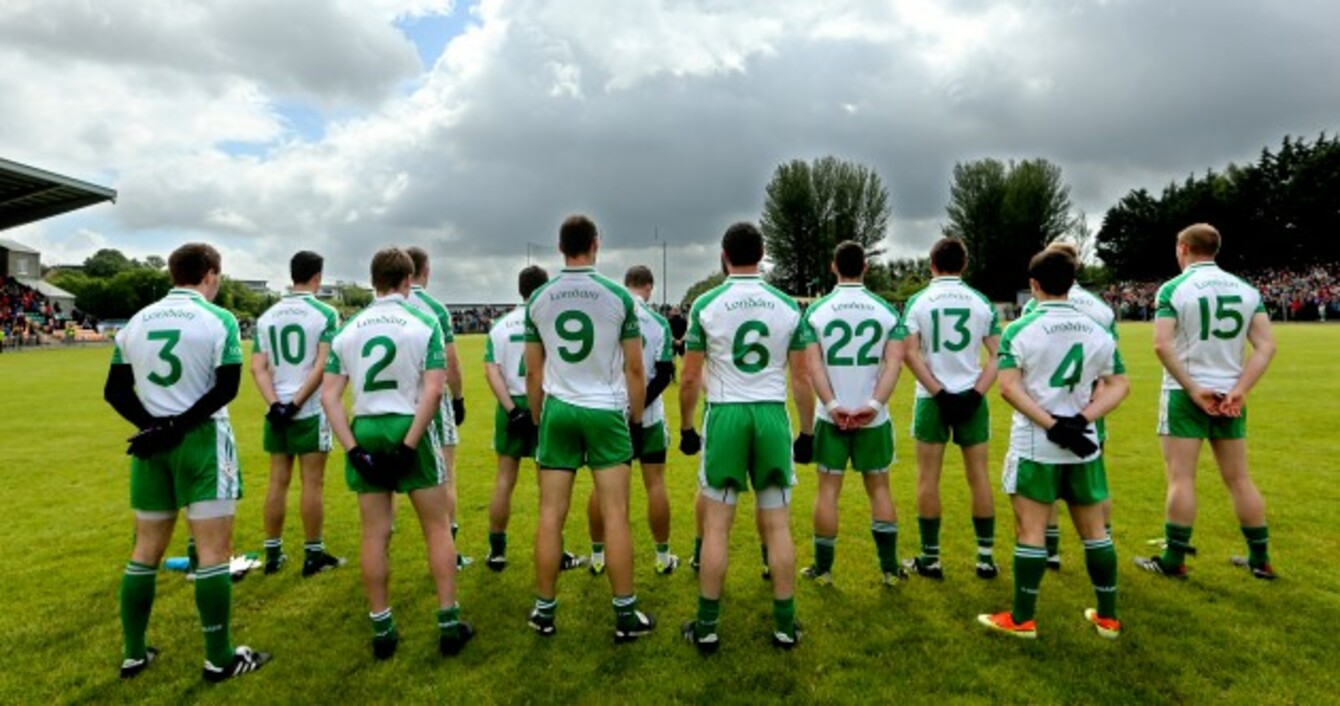 London: hadn't won a Connacht championship match since 1977.
Image: INPHO
London: hadn't won a Connacht championship match since 1977.
Image: INPHO
BEFORE THE GOOD luck messages from Boris Johnson and Dara Ó Briain, before the Sky Sports cameras showed up at training, before the fairytale story of the 2013 football championship ever got off the ground, London went out on a Saturday afternoon and played a Division 4 league match.
That win against Waterford in Ruislip was their first of the season but otherwise, it was pretty unremarkable. In a pattern that would become familiar over the course of the summer, London built up a healthy lead and then were asked questions as their opponents came back at them and chipped away.
Lorcan Mulvey was the hero, kicking two late points in an 0-14 to 1-10 win, and when Paul Coggins looks back over the remarkable season, he places a particular emphasis on that moment.
It wasn't the winning that impressed him but the manner of it.
In his three seasons as manager, London had come close to some unthinkable scalps. The Mayo game in 2011 is the one that still sticks in the craw a bit. Two points up in the Connacht championship quarter-final, they only needed to hold on for four more minutes and they couldn't.
2012 against Leitrim was another close miss, losing by a point.
This time around, when it came to the crunch against Sligo and Leitrim, London had the resolve to shut out their opponents and deliver historic wins.
INPHO/Jim Keogh
Most of these players weren't even alive in 1977, the only other time that the Exiles had won in Connacht.
Now in a matter of weeks they had won twice, played a provincial final in Mayo's backyard, and made a first Championship appearance in Croke Park.
"The body language slowly changed with the players once you see that you can do it and get those victories," Coggins says, tracing the start of their unforgettable summer back to Ruislip in March.
"We have plenty of experience of both sides of it.
"I would see the Waterford game as a big change for us because we learned a lot from that day because we managed to get over the line. We led by two points in the last minute or two and we held on. It was nip and tuck and Waterford were throwing everything at us.
It gave us confidence and belief that if we were in that position, because we had done it, we knew that we had the capability to repeat it.
"Against Sligo we got a little bit of luck but I don't really believe in luck. You make your own luck and we were in position to take the little bit of luck and use it."
INPHO / Mike Shaughnessy
That momentum can feed through and shape an entire campaign but with such a high level of player turnover, it is difficult to maintain from one season to the next.
Be part
of the team
Access exclusive podcasts, interviews and analysis with a monthly or annual membership.
Become a Member
Players come here and players go. Of the panel that pushed Mayo to the limit in 2011, only seven or eight remained this year. By Coggins' calculations, he'll lose at least another half-dozen before the start of next season.
He takes the positive out of it — you never know who might show up on your doorstep, boots in hand, looking for a game.
A flick through the 2013 squad shows a fine selection of lads who earned their inter-county spurs elsewhere. Ciaran McCallion won an All-Ireland minor title with Derry in 2002. Captain Seamus Hannon was a Longford player before he moved over in the autumn of 2010.
Then there's midfielder Mark Gottsche, the GAA/GPA Footballer of the Month in May. Born in Germany, Gottsche was raised in Galway and played at minor and U21 for the Tribe. He too moved to London in the autumn of 2010, took up a job as GAA administrator, and is now the county secretary.
Butler goes up against Colm Boyle in the Connacht final (INPHO/James Crombie)
Coggins singles out another player, Phil Butler, as a pointer towards their future prospects.
"Philip is a young London-born player who has never even seen a Connacht final. He played corner-back in it.
"One week he was on the best Championship team of the week. That was some jump for a young fella who hadn't played in any league matches except one near the end of the season.
We're trying to get that across to the young London-born players that it is possible to do it if you put in the work, the dedication and are strong-minded enough to do it.
Gottsche echoes that: "London kids can see what Phil Butler has done and hopefully have the ambitions to do the same.
"Before there was a big drop off in player numbers at 16 or 18 but that make show some of them that the transition into inter-county football is a possibility if they put in the same level of work that Phil did."
INPHO / Cathal Noonan
The real story, Coggins stresses, is that London isn't all that different from any of the 32 counties. They have good young talent coming up through the ranks; they survive on the hours and sacrifices of countless volunteers; and, as this summer showed, they have an important place in the community.
Now they have earned the respect to go with it. The trick is to do it all again in 2014.
"Good lads, and lads who were very well educated at home, come over here and have the character and the will to improve themselves. Anyone looking at home can see that we have a set-up here where your inter-county football career doesn't have to end if you come to London.
I'd rather fellas come to London than go to Australia or America. If you're a young footballer and you've got aspirations, come to London and if you're good enough you've still got a chance to continue your inter-county football and hurling career.
"That's all we're trying to do, show people that we're trying to be the same as people at home — we have to train the same, put in the same amount of effort and do the right things. Otherwise we'll be down the swanny again."