LIVERPOOL ARE LIKELY to delve into the transfer market to invest in a new goalkeeper this summer.
Current number one Simon Mignolet only signed a long-term contract extension back in January, but Reds boss Jurgen Klopp is believed to be keen on bolstering his options after a number of high profile mistakes by the Belgian.
Reports over the weekend suggest the Premier League club, who face Sevilla in the Europa League final on Wednesday, are close to signing German stopper Loris Karius for around €10 million (£8m).
The 22-year-old former Manchester City youth has established himself as one of the best goalkeepers in the Bundesliga — helping Klopp's former club Mainz 05 clinch a sixth-place finish.
Ex-Liverpool midfielder Hamann rates Karius highly and says he would be a smart signing.
"He's a very talented keeper," Hamann told The42 today. "I've seen him a few times working for German Sky and I think he will be a good keeper.
"He's young, but he did ever so well there. They finished sixth in the German League and I think he could be the keeper that pushes Mignolet and maybe even take his number one slot."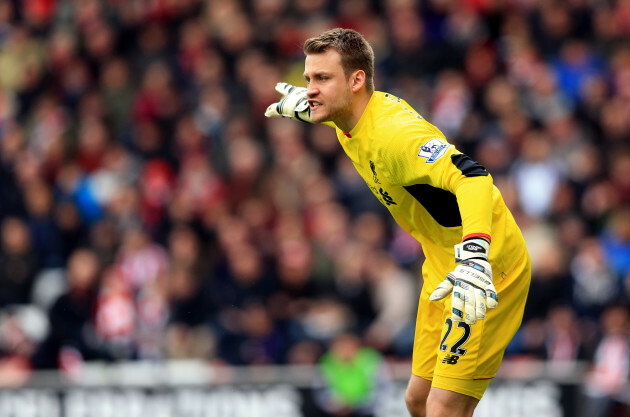 Adam Davy Mignolet's form has been inconsistent this season. Adam Davy
Many Liverpool fans have lost patience with Mignolet, a £9m arrival from Sunderland in 2013, and Hamann holds a similar opinion.
"I've always been somebody who defended Simon Mignolet but he did make quite a few mistakes this year," he added.
I'm not saying if Karis comes he will be number one but at least they will push each other.
"It's a position that, if you want to compete in the league, you need a keeper who saves you a few points and not gives some away so it probably would make sense."
RTÉ 2FM's Game On has joined forces with Three, sponsors of the Republic of Ireland football team, to bring Irish fans the ultimate pre Euro 2016 build up with Game On Live with Three. The experience will include live shows at three venues in Cork City Hall on Monday, the Galway Town Hall Theatre on 2 June and the Aviva Stadium on 8 June, and will give fans the opportunity to attend live events including expert panel discussions focusing on the upcoming UEFA Euro 2016.