O'Hara is part of the 'Our Game Your Game' campaign.
Image: Steve Langan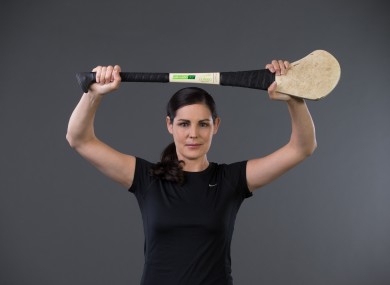 O'Hara is part of the 'Our Game Your Game' campaign.
Image: Steve Langan
YOU WANT SOMETHING done, you call a busy person, and there are few busier than Dublin's long-serving ace, Louise O'Hara.
At 35, she reckons she's probably the oldest player competing in the Liberty Insurance senior camogie championship, but it isn't something that concerns her. She remains so influential that she is the Dubs' captain.
You want an example of what a 'can do' attitude can achieve?
Having initially dreamed of being the next Sonia O'Sullivan, O'Hara played netball at all levels for Ireland from U16 up to senior. It was the same in camogie. She represented Dublin first at U14 and has been wearing the blue jersey ever since.
The Erin's Isle woman was in the vanguard as Dublin won junior camogie All-Irelands in 2005 and 2006. Her performances in the latter season earned her an All-Star.
By that stage, she owned the Clever Cloggs crèche and last year, she took over a second crèche, which is called Little Rascals. Between the two, the qualified Montessori teacher employs 49 people.
Gone are the days when I could walk in, take the class and leave" says O'Hara. "Now it's pay rolls, staff holidays and what not.
"I absolutely love working with children. Right up to when I was doing my Leaving Cert, I didn't know if I wanted to do something in sport or with children. I was drawn to both. I had offers in both Plymouth and Scotland, as I had played netball with Ireland and that was getting me in places.
"But when it came to leaving, the camogie was a big factor for me. I'm a bit of a home bird. I'm not one of these people that went travelling. I don't mind going on holidays but I've no interest in going away.
"So I went into Montessori and I loved it from day one. I love the fact that every day was different. And at the start, that was enough from me. But I am always the type to be really committed to something. I don't walk away from things."
Before long, she was making mental notes of the changes she would like to make and after being made manager, took over completely when the opportunity presented itself. They call her Demolition Woman now, because she's always knocking down walls.
I have an uncle that's a builder and he thinks I'm in the wrong career, I should be an architect. He says 'you can't possibly do that' and I say 'you can'".
And she does.
What are they
really like?
Rare insights on sport's biggest names from the writers who know them best. Listen to Behind the Lines podcast.
Become a Member
The one area she can't seem to spark an upturn in fortunes with is Dublin's seniors. She knows she can't go on forever but just gets bored quickly during off-season, and having spent all her adult life training, isn't that interested in television or "drinking my head off".
Some of the beatings have been heavy in recent years and you'd be inhuman if it didn't get you down, particularly as the talent exists. The second team has been doing well and the county's first U16A title was won two years ago.
"It's just heartbreaking in Dublin. I've been there and I've seen some fantastic players come in and I think these are the future. Then a couple of years later, these people are standing on the sideline and have packed it in, just playing a bit of club.
"There's so much in Dublin distracting people. When I started, nobody was going travelling really but now, one week they're committed and two weeks later they're going travelling for the summer. It's hard to keep them when you're a losing team.
"But there's a massive amount of talent in Dublin. I look at the likes of Clare, coming through and they're putting final touches to their team. We're constantly rebuilding… instead of keeping your best 10 players and building, you're losing six and having to feed in another six.
We have never had the best players playing at the one time in Dublin and I strongly believe that if we did, we'd have All-Irelands in our back pocket."
You couldn't imagine a better role model for young players, or a more ideal participant in the Camogie Association's 'Our Game Your Game' campaign. She likes that she and her colleagues are presented in gym singlets, not their county jerseys. They are women but powerful and athletic. Finely-tuned.
"It's a big area of our game we have to promote. We all go to hurling and it's all great we think of them as athletes, but we go out to camogie and people say 'Sure aren't they great? The girls are getting stuck in as well. But we're not just getting stuck in. We're going above and beyond. It's just for people to recognise that and appreciate what we do too.
"Anything you can do to promote the game and promote the individual athlete as well, I'm proud to be part of it. It's great to see all the girls talking about different things. It's a different way to promote the game and it's a change in the right direction I think."
Liberty Insurance All Ireland Camogie Championship Round Three - Galway v Dublin, Kenny Park, Athenry, 3.15pm, today.