ALWAYS AFTER AN UNSATISFACTORY END, one returns to the beginning for answers.
For David Moyes, his beginning at Manchester United was a press conference. It was a slow, patient and polite affair. The future of Wayne Rooney overshadowed much of it and Moyes was faced with a litany of questions regarding whether the striker was staying or going.
There were questions about Sir Alex Ferguson too. Lots of them. Moyes answered every one. There wasn't a hint of frustration, of boredom, of suspicion. But something wasn't quite right. Something just wasn't hitting the mark. Moyes expertly towed the party line – the prepared statistics about Sir Bobby Charlton and Denis Law's goalscoring, the reference to the AON Training Complex. Moyes was on his best behaviour, everything was calm and perfectly composed. It was understated. Everything was nice and inoffensive. And from that moment on, everyone hoped he would do well. Including himself. He used the phrase, or a variation of it, so often. Thirteen times in his first official function as Manchester United manager.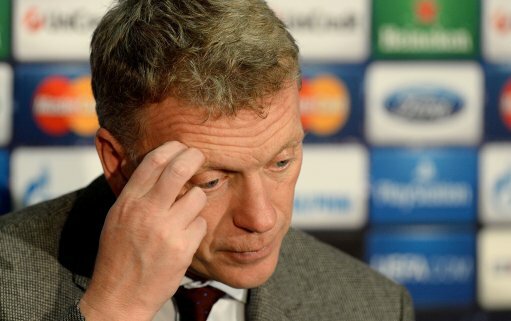 Martin Rickett / PA Archive/Press Association Images David Moyes' tenure at Manchester United was one of hope rather than defiance Martin Rickett / PA Archive/Press Association Images / PA Archive/Press Association Images
Louis van Gaal was different. There was an edge to proceedings last Thursday, perhaps a little bit of intimidation. Since being appointed as the club's manager, Van Gaal's oft-prickly demeanour has become the stuff of legend. One Dutch daily newspaper printed their '10 rules when interviewing Louis van Gaal' for the benefit of British-based journalists. Last week, the majority followed them. For others, there was a rough introduction to the complexities of Van Gaal's personality. The banal questions were dismissed with a ruthlessness, a weary sigh. 'That's what I have explained already', he told one reporter. And that was it. No attempt at meeting half-way, no effort to feign politeness and fill the air with some vague thoughts. This wasn't a place for niceties. Though Van Gaal was jovial at times. Another journalist was playfully chastised: 'You know that so, why do you ask?'
Jon Super / AP/Press Association Images Jon Super / AP/Press Association Images / AP/Press Association Images
If Moyes had been on his best behaviour at his unveiling over a year ago, careful and non-committal, there was an ease to Van Gaal's performance. This was old-hat for him, walking into a foreign place and playing the role of outsider. His was a confident voice. Loud, domineering and imposing. He referenced his achievements with the big clubs like Ajax and Barcelona and Bayern. There wasn't scope for questions about the looming shadow of Ferguson. But still there was one. Van Gaal was asked if he had spoken to Ferguson and if he was daunted by the prospect of following such a successful figure. Van Gaal responded by recounting how he and Ferguson were always invited to UEFA's Elite Club Coaches Forum and spent time together there. The point, however subtle, was made. He and Ferguson were on an even keel. Both were elite coaches. Van Gaal refused to be drawn into a meandering tribute.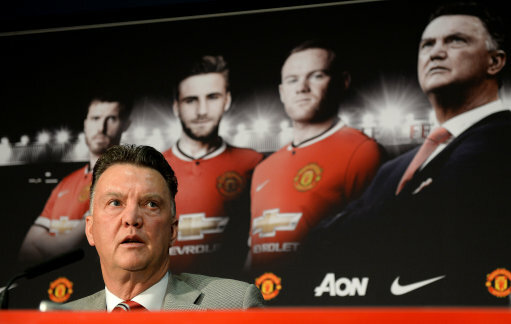 Martin Rickett / PA Wire/Press Association Images Martin Rickett / PA Wire/Press Association Images / PA Wire/Press Association Images
And perhaps that said it all. Van Gaal is a gun for hire. Outside of Ajax, he's never stayed longer than four years with any team. There's little time for sentiment. By bringing him in, Manchester United have switched their priorities and re-focused. It's now about the short-term. About instant results. And the arrogance of the man already gives him an advantage. Speaking in front of the press, a mere twenty-minute display, he seemed so non-plussed by the stage, the spotlight, the pressure. And it's because he relishes it. It's because he knows he's right.
The story goes that from his earliest days as manager of Ajax, there was a regime that extended far beyond a playing philosophy. It was a code, a way of being because something larger was at stake. This wasn't just a football club. It was so much more. Players were taught how to become a team. There was an identity, a common bond, a common goal. Players were encouraged to address the entire group at training. David Endt, the club's former press officer, recalled recently how Van Gaal would greet staff members on a Monday following a weekend win with a handshake and the words 'Congratulations on your club'. Those involved came to the inclusion that it wasn't about individuals, about star players. But something bigger.
Martin Rickett / PA Wire/Press Association Images Martin Rickett / PA Wire/Press Association Images / PA Wire/Press Association Images
To carry that off, to lead like that, one needs enormous self-belief. And that's what Van Gaal brings to United. Unlike Moyes, there is no fear of failure. There is a blinkered, one-dimensional view. But all the greats have it. That's what makes them serial winners. And unlike Moyes, there is no vagueness. There is only definition.
Van Gaal told reporters last week that he's a democratic and empathetic character. And maybe that's a version of the truth he likes to accept. But it's not who he is. He is ruthless and stubborn and extremely single-minded. There is no middle ground. But players appreciate that. Players respond to definition, be it positively or negatively. It's the vagueness that loses them. And Van Gaal, the wily old gym teacher, will always be direct. And Manchester United will be better off because of it.