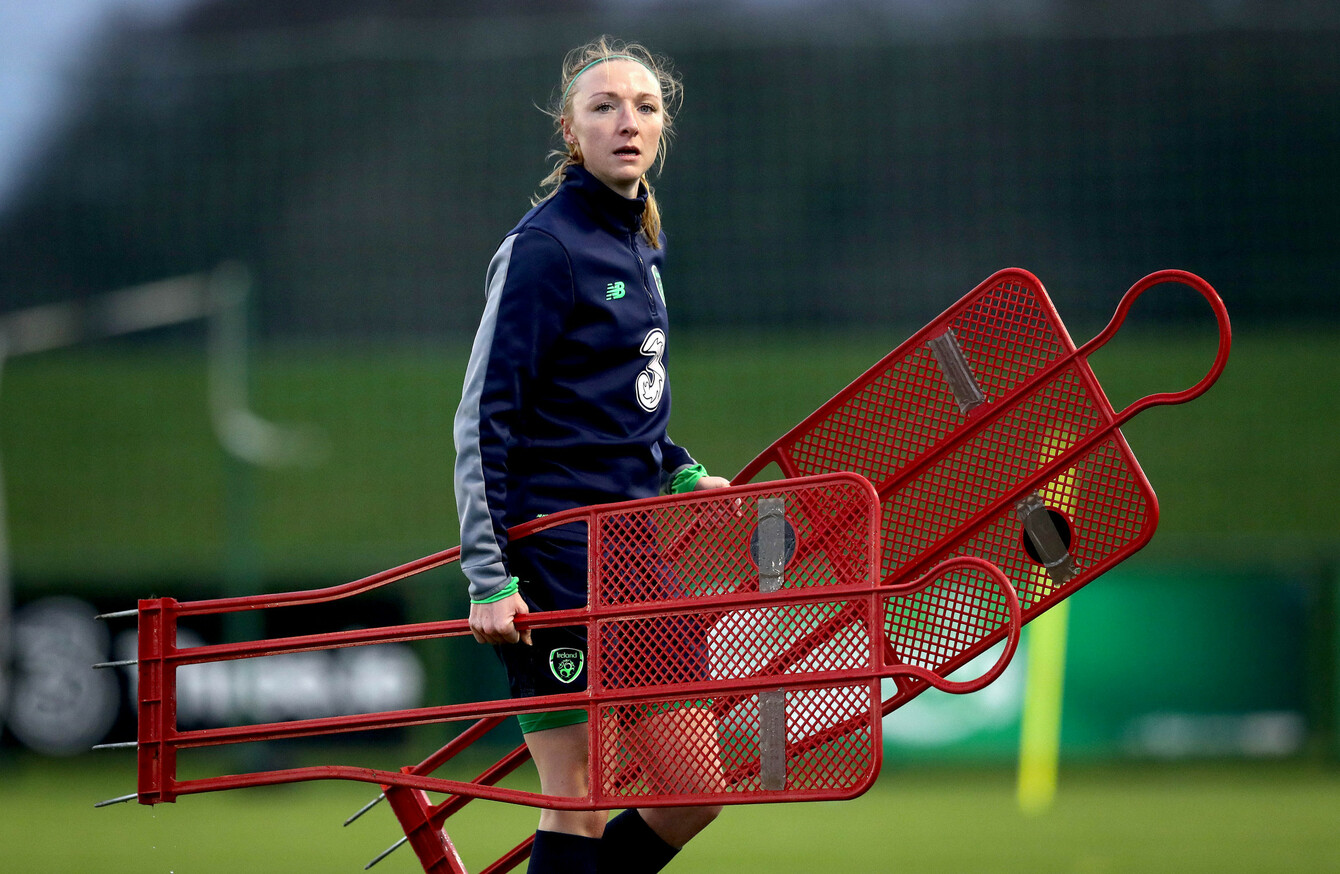 Image: Ryan Byrne/INPHO
Image: Ryan Byrne/INPHO
AHEAD OF THE new club season with Arsenal, Ireland defender Louise Quinn can take inspiration from all quarters.
First of all, there were her own performances last season, which culminated in an appearance in the FA Women's Cup final in front of 45,000 people at Wembley in May as well as a contract extension in June. She scored an injury-time winner in the FA Cup semi-final and also won the FA Women's League Cup in March.
Then there is the thought of what could be to come, with victory at this month's Toulouse International Ladies Cup giving her an idea of what life might be like if Arsenal return to the Champions League. The Irish women's hockey team's improbable run to the World Cup final in London, meanwhile, also provided Quinn with plenty of encouragement.
Part of an Ireland football squad that has come up a little short in their own bid to qualify for the 2019 Women's World Cup, the Wicklow native was hugely impressed by the hockey team's heroics.
"Absolutely, I was all over following them," Quinn told The42 this week, when asked about whether the World Cup silver medallists' achievement can spur other Irish teams on. "I used to play hockey in school so I've always had that interest. The fact that they were playing in London as well, I think that made me that bit more interested that I could go see a game or two.
"They were incredible and I think they've let Irish teams in general believe that you can actually do something like that. It's going to be very hard to top what they've done, getting to a World Cup final. But at least you know it is doable.
"They're just normal girls but they're extremely hard-working and extremely professional in what they do and it's proven with such small resources they've had. I'll be following them all the way through and definitely taking inspiration."
Demanding pre-season commitments prevented Quinn from getting to as many Hockey World Cup games as she would have liked, but the 28-year-old feels that the hockey team's efforts – as well as the recent success of Irish track and field athletes – can have a ripple effect.
"You can already see the huge spark that they've set off in Ireland with the funding that's been going on," Quinn said. "I think in general a lot of things are happening. It's the same in the athletics… I think people have got to take notice now.
"With such small resources, all of these women are still succeeding. So imagine if there was actually investment and everything along with that. I think people have really got to take a look at that because we're not going anywhere soon and we're just going to keep pushing on. I think people just need to realise that women's sport in general is growing. So hop on that bandwagon and join in, support and get involved."
Quinn and Ireland captain Katie McCabe return to competitive action themselves this weekend with a League Cup group match against West Ham United, the team that recently signed Irish international Leanne Kiernan.
The Gunners' preparations saw them travel to France last weekend, where they were unbeaten winners of the Toulouse International Ladies Cup – a pre-season competition co-organised by former Ireland international Tara MacMahon.
Arsenal won 2-1 against last season's Champions League quarter-finalists Montpellier and – in 34°C heat – drew 2-2 with Paris Saint-Germain – who reached the final of Europe's top competition in 2017.
"You've got to play the quality to reach those standards," Quinn said. "It being pre-season and even the hot temperatures and everything, it brings out a different kind of side to your footballing game and you really have to dig deep in some of those situations.
"Unfortunately, we haven't been in the Champions League for a while but that's what we're aiming for again and there's obviously big potential to get there. To see that we can perform against the top teams that do well in the Champions League, it's hopefully going to be looking good for us. But we've just got to do the right things in the league now first."
Following Arsenal's third-place finish behind Chelsea and Manchester City last season, Quinn and McCabe will meet a few more of their international team mates next term. The FA Women's Super League has moved to a purely full-time status and West Ham – who signed Cavan native Kiernan from Shelbourne last month – have earned a spot in the expanded 11-team top flight.
What are they
really like?
Rare insights on sport's biggest names from the writers who know them best. Listen to Behind the Lines podcast.
Become a Member
Former Arsenal and Chelsea midfielder Niamh Fahey has returned to England after a year in Bordeaux, and she will travel south with Neil Redfearn's Liverpool to face the Gunners in their opening league game next month.
First up, though, is a reunion with Kiernan this weekend, before Quinn and McCabe get another chance to see how rapidly the teenage striker's game is developing when they all meet up for Ireland's final World Cup qualifier against Northern Ireland on 31 August.
"It's going to be great playing against her but then we'll be going into camp soon as well," Quinn said of Kiernan. "It's going to be really exciting to see her progress. She'll be playing around some great players (at West Ham) and they have a very good coach there as well.
"Then Claire O'Riordan has also gone to Germany (to join MSV Duisburg) so it's great that she's getting full-time training.
"Niamh Fahey is back in the English league, which is always great. I obviously highly rate Fahey. She's a friend and a good team-mate. She's always been quality and I think she still has all of that going for her so she deserves to be back in this league. But I think she enjoyed her time away as well in France and just discovering new things."
Arsenal, meanwhile, have been steadily rebuilding since Joe Montemurro took over as head coach in late 2017. Quinn feels that her game has been progressing too, since joining the club from Notts County only a few months before the Australian's arrival.
"I just think it's more about actually wanting the ball and keeping possession under high-pressure situations," she said when asked about what aspects of her game have improved.
"Arsenal's a club where the main thing is the best form of attack is just to keep the ball. I think that's something that's definitely improved for me. I'm still a straight-up defender. Number one is just the defending – get rid of the ball away from the goal.
"But I've added aspects where I'm able to do this under high-pressure situations and just to be better with the ball basically, which I think is really important overall. Confidence, and the fact that I'm still adding to my game – I'm pushing on. I'm still just learning a lot so it's really enjoyable then as well."
Commitment, continuous improvement and enjoyment – as the hockey team also found out this summer – can take you a long way.
The42 is on Instagram! Tap the button below on your phone to follow us!