SCROLLING THROUH THE Division 2 table of the Allianz Football league, there are few surprises to be found at the top end of the table.
Derry, who stormed to Ulster senior football success last year, are currently in pole position. Promotion-chasers Dublin are slightly behind having suffered their first defeat of the campaign to Rory Gallagher's side at the weekend.
The third spot belongs to Cork for now. Another side that we expected to thrive in the second tier, they still have an outside chance at promotion. So far, so standard.
However, the team that sits next in line is where the intrigue lies. Meath, Kildare and Clare are also in this division but they're further down the table at the moment. After racking up three wins, it is, in fact, Louth who are next in line.
The expectation was that last year's Division 3 champions would struggle to survive in this group but they've battled against those odds. 
And depending on how the provincial final pairings work out — and the final standings at the end of this league campaign — the Wee County could still squeeze into the Sam Maguire competition. 
Some important factors are behind Louth's impressive climb.
Mickey Harte Impact
Ciaran Culligan / INPHO Louth boss Mickey Harte. Ciaran Culligan / INPHO / INPHO
Following his departure as Tyrone boss, the three-time All-Ireland winning boss quickly found a new home in Louth. His appointment in late 2020 was a surprise announcement, and the full effect of his strengths as a manager are starting to show.
Their current run in the league is the culmination of back-to-back promotions from Division 4 and Division 3. And Harte's legendary influence as a mentor is a core aspect of their surge.
"He still has the passion and still has every bit of spirit in him that he had throughout his time in Tyrone," Louth legend Darren Clarke told Off The Ball about Harte's input in Louth.
"The passion he has brought has been fantastic and you have to commend him for that. Himself and Gavin Devlin have really increased the standards in Louth. Mickey has a sister lives in Knockbridge, so there is a bit of a link there. But it's phenomenal for Louth to get Mickey in. The crowd has got behind him and he's brought that buzz back in."
Key Results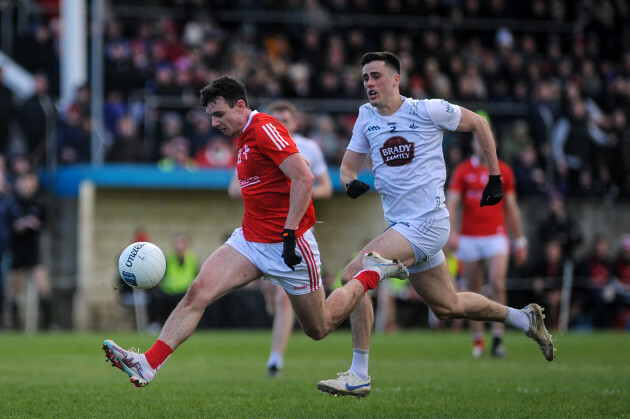 Ciaran Culligan / INPHO Craig Lennon on the ball for Louth against Kildare. Ciaran Culligan / INPHO / INPHO
Aside from a first-round blip against Clare and a three-point loss to Division 2 leaders Derry, Louth have made major advances towards preserving their league status for another year.
The wins over Leinster thoroughbreds Meath and Kildare have been particularly striking. Last year, Louth were on the receiving end of a 16-point hammering against the Lilywhites, but on Sunday, there was a major reverse in fortune.
First-half goals from Tommy Durnin and Conor Grimes propelled Louth to a five-point win on a scoreline of 2-11 to 0-12. Harte remarked to the media afterwards that last year's defeat to the same opposition "still hurt the boys" and was, in essence, the foundation of their victory.
Previously, Louth also got the better of Colm O'Rourke's Meath. Trailing by five points in the closing 14 minutes, Louth mustered a late 1-6 to 0-1 rally to secure a vital win.
Adapting to loss of Ciarán Byrne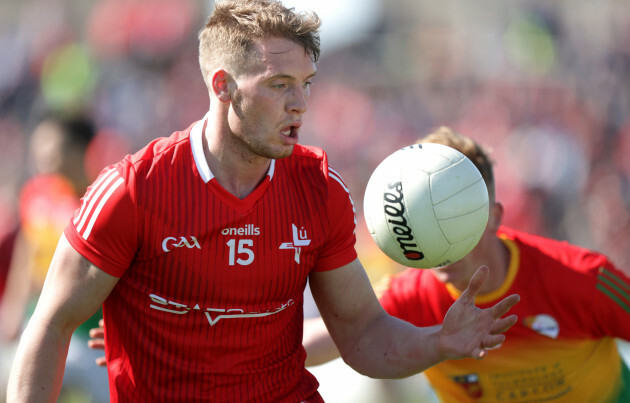 John McVitty / INPHO Louth's Ciarán Byrne. John McVitty / INPHO / INPHO
Louth's progress is underlined by the fact that they have made these gains in the absence of star player Ciarán Byrne. The former AFL player suffered a torn cruciate in Louth's Division 2 opener against Clare.
The St Mochta's forward previously suffered the dreaded knee injury in 2016 while plying his Aussie Rules trade with Carlton. It's also a huge personal setback for Byrne who declined an offer to return to the AFL at the end of last year.
Louth also lost their captain Sam Mulroy to a hamstring injury on Sunday against Kildare. He kicked two frees before being withdrawn late in the first half.
Get instant updates on the Allianz Football and Hurling Leagues on The42 app. Brought to you by Allianz Insurance, proud sponsors of the Allianz Leagues for over 30 years.