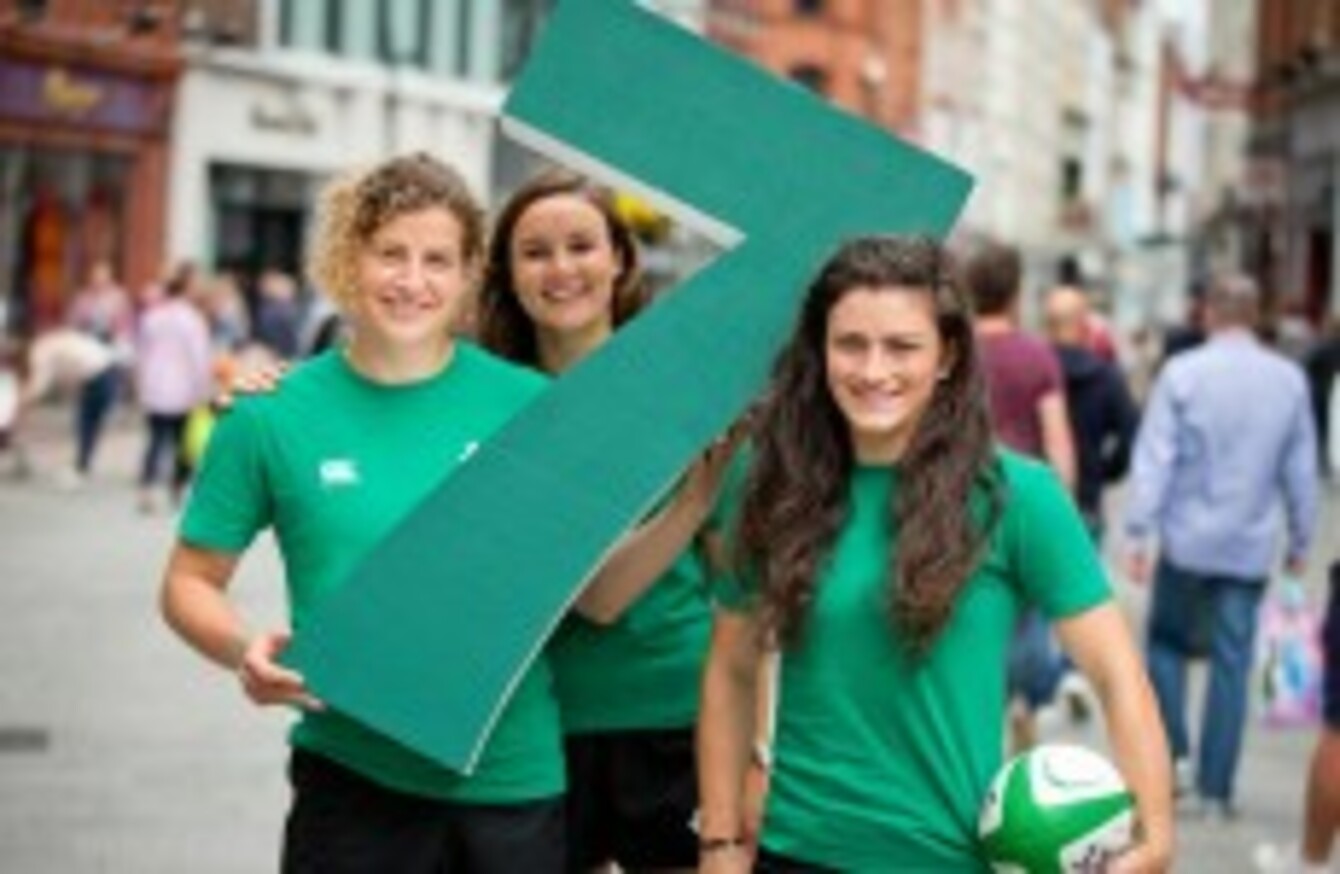 Mulhall (right) with her Sevens teammates Jenny Murphy and Louise Galvin.
Image: Morgan Treacy/INPHO
Mulhall (right) with her Sevens teammates Jenny Murphy and Louise Galvin.
Image: Morgan Treacy/INPHO
TWO FIFTH PLACE finishes may not seem groundbreaking so far, but it's all been about tiny margins.
On their opening Olympic qualifying weekend in Kazan, Ireland started poorly. They lost to Spain and France, but victory against Ukraine allowed them to claim the seventh seed and a place in the quarter finals.
The following morning against England they fronted up against one of the tournament's best sides, but fell just short in a three point defeat.
The Plate victory and a fifth place finish built confidence for the tournament in France, and they looked a new side from the off. Scotland and Germany were both hammered before a rematch with England and a chance to claim top seed in the quarter finals.
A controversial English try was all the separated the sides, and as a result Ireland found themselves in a much tougher quarter final against France. Defeat followed, but they recovered to claim another Plate, and fifth place finish.
However, a Plate won't be enough for Anthony Eddy's side in Lisbon this weekend, with both the men's and women's sides needing a top three finish at the European Repechage to continue their Olympic dream.
On the plus side, England and France – who have inflicted four of the women's five defeats in their previous weekends – won't be at Saturday's tournament, with Ireland heading in as one of the highest ranked teams in the competition.
Captain Lucy Mulhall says that the improvements made since the opening weekend in Kazan have been enormous.
"We relish the opportunity to come up against England, and they're small margins and they're going to close and close, and we will get that win.
"They're also gains that when you lose by that small margin you learn so much from them and I'd be confident that if we got to play them again that we'd close them out this time.
"I think there's a belief that's kind of found its way into the team over the Euros, that we found out we can match it up with the top teams, and I think going to this tournament we will be confident.
"We won't take any chances in any games and we'll give all the teams respect, but we're also going there with expectations on ourselves to finish in the top three and win the tournament," she says.
With so may new faces to the sevens game – and indeed to rugby – there was bound to be a learning curve for the women's side. Mulhall herself is coming from a gaelic football backgroud, as a full forward with the Wicklow ladies.
In part, the opening day rustiness can be attributed to a lack of experience, but as each game passes, more and more lessons are being learned.
"There were so many new caps in June and although we train all year at a high intensity and a high standard, you can't beat match experience and you learn so much from that so I think each day we develop so much and I think the more match experience we get, there are no limits to the team then.
"We've trained a lot together and we've looked back on the games and we've learned from our mistakes and we've learned what we're good at and now we're confident going into these games that we can step it up another notch and meet that intensity."
Exclusive NZ - IRE
Rugby Analysis
Get Murray Kinsella's match analysis and Garry Doyle's updates from New Zealand exclusive to members
Become a Member
Much like the men's captain Tom Daly, Mulhall isn't thinking about the Olympics until she knows for a fact she'll be there. A top three finish is required to move onto next year's World Repechage, where they can then compete for the final spot at Rio 2016. 
Captaining her country – be it in an Olympic Games or not –  still feels like a novelty.
"I wouldn't let myself get that far yet, I'm already pinching myself that I'm the captain of this team so we're taking it a tournament at a time.
"Surprised (to be made captain), but also very honoured. It's such an honour because of the players we have in our team, and the talent we have in the team, and we've such experience and so much talent from other sports and I'm just really honoured to represent them as captain."
The progress made since the first tournament in June is largely down to the environment they're immersed in. Mulhall was one of 19 women given centralised contracts by the IRFU in October of 2014, allowing them to do high-performance training on a full-time basis.
For her, and indeed any sportsperson, it was simply an offer she couldn't refuse.
"It's been incredible, I never dreamed that I'd get to train Monday to Friday, it'e been a huge opportunity and it gives you the best chance to be in the best shape possible. You're training day in day out, and I'm just so grateful to get the opportunity, especially in women's sport."