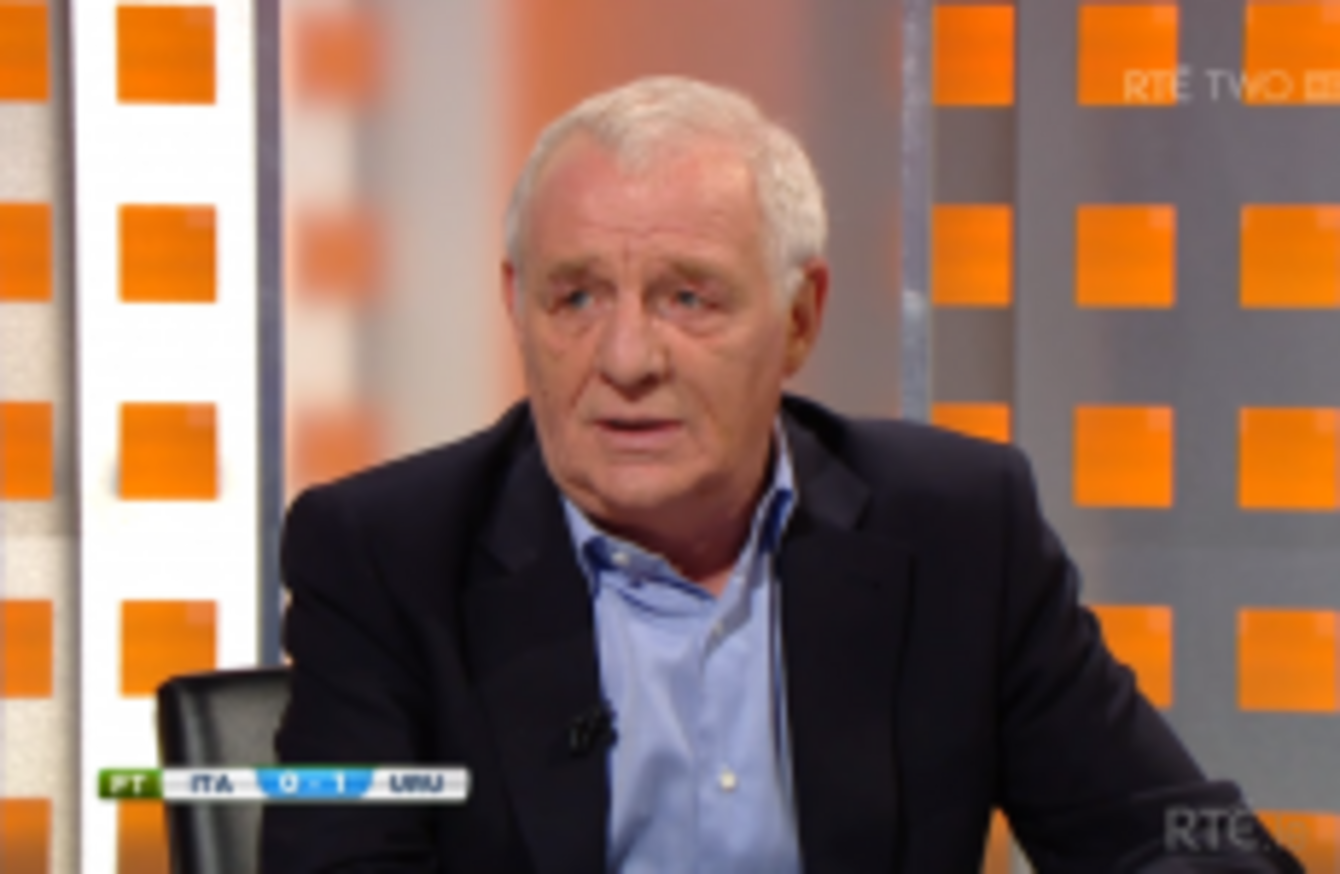 Eamon Dunphy discusses Luis Suarez' latest indiscretion.
Image: RTE Player
Eamon Dunphy discusses Luis Suarez' latest indiscretion.
Image: RTE Player
THE RTÉ PANEL jumped straight into the debate over Luis Suarez latest biting allegations. Following Uruguay's 1-0 win over Italy, the RTÉ pundits were all in agreement that Suarez had taken a nibble out of Giorgio Chiellini's shoulder.
No action was taken over the incident, which occurred minutes before Diego Godin scored the goal that sent Italy home from the World Cup, despite Chiellini's protestations.
John Giles began , "I think it was a bite. When I saw it first, I thought it was a headbutt."
Liam Brady suggested that Suarez and Chielini had been tussling all game but stressed his belief that the Liverpool forward had made 'a biting gesture'. Brady, who played in Serie A for eight seasons, remarked that Chielini has a reputation as an Oscar winner when looking for free-kicks but added the Italian's strong reaction pointed to a serious indiscretion from Suarez. "He wouldn't [react like] that if he didn't feel there was something [from Suarez]," said Brady.
Giles commented that Suarez had gone to ground soon after and was holding his teeth, to which fellow pundit Eamon Dunphy remarked, "He's a bit of skin in it."
Be part
of the team
Access exclusive podcasts, interviews and analysis with a monthly or annual membership.
Become a Member
Dunphy continued, "It's a huge incident because it raises prfound questions about his psychological fitness in stress situations."
The discussion turned jocular as Giles, after pointing out that Liverpool had 'bent over backwards to protect him' following a bite on Branislav Ivanovic in April 2013, considered whether Real Madrid or Barcelona would want to buy him during the summer.
"Barcelona could do with a bit of bite up front," Giles chimed.
Returning to the incident after a commercial break, Dunphy said Suarez had 'crossed the line' but argued against host Bill O'Herlihy's proposal of a two-year ban. "I'd be very reluctant… it's a career wrecker."
It was left to Liam Brady to conclude the debate. He said, "I think [Suarez] should get longer than he did back after the [Ivanovic bite]. Then he should be taken to the dentist and have his teeth extracted."