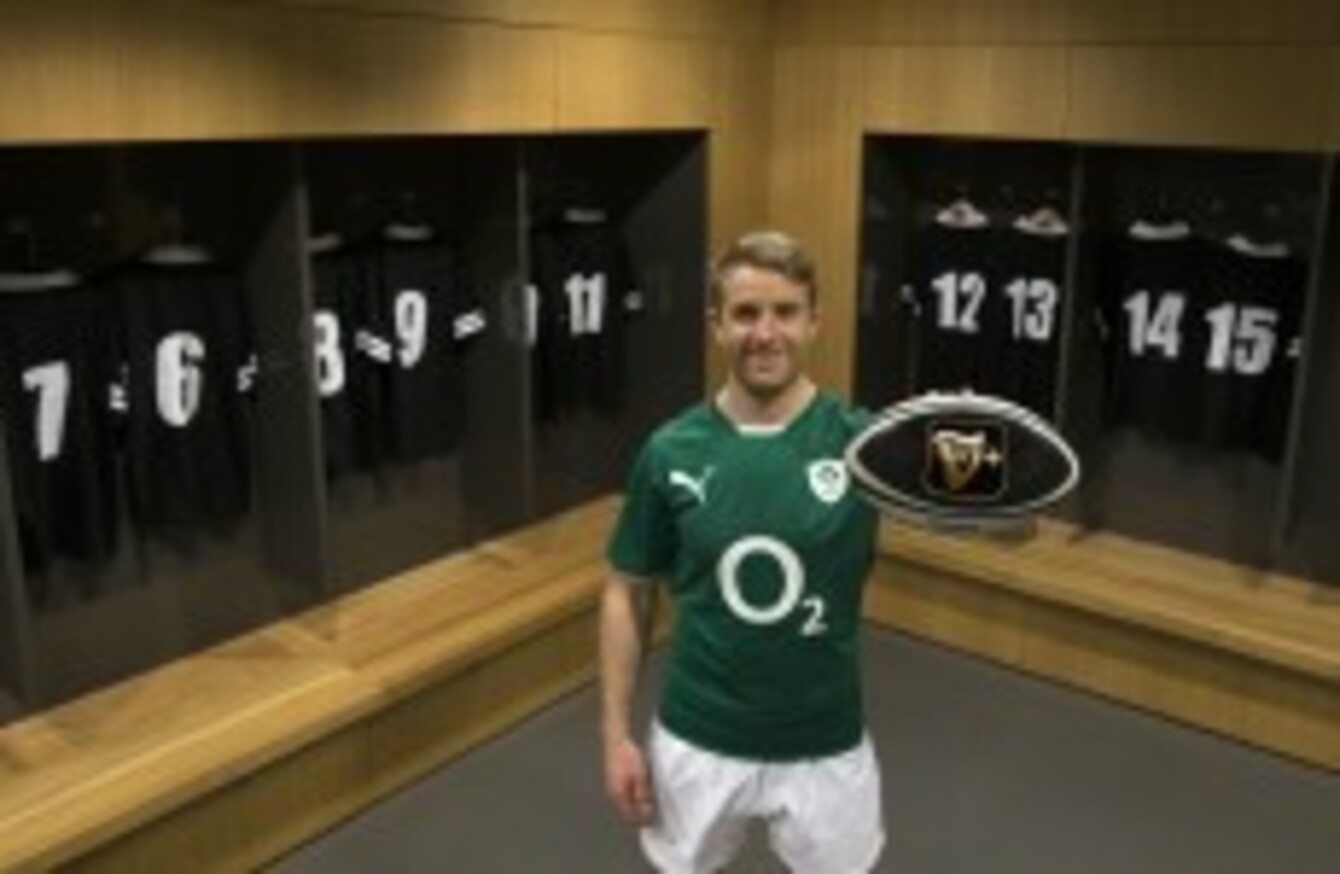 Luke Fitzgerald has teamed up with the Guinness to promote the Guinness Plus App.
Image: ©INPHO/Billy Stickland
Luke Fitzgerald has teamed up with the Guinness to promote the Guinness Plus App.
Image: ©INPHO/Billy Stickland
LUKE FITZGERALD IS back, and it's hard to argue with those who suggest that the 26-year-old has been enjoying the finest provincial season of his career to date.
His decisive attacking contributions for Leinster have been thrilling to watch, as well as vital to the performances and results of the Matt O'Connor-coached side. Finally clear of crippling and cruel injuries, Fitzgerald appears to be brimming with confidence as the Six Nations looms.
One of the more noticeable features of his form in recent months has been the improved patience, the diminishing instances of overrunning the pass. It was something that plagued Fitzgerald's effectiveness in the formative professional years, that over-eagerness to get on the ball and do damage.
In typically mature fashion, the Wicklow wing says he used his long stints on the sidelines to understand why it had been happening and figuring out how he could eradicate it.
I suppose I had a pretty thorough look at my game during those injury periods and the two times I came back playing, I think a big part of playing better has been patience. I kind of feel like I'm a good guy for seeing things very early. I see opportunities early but you can't just go for the opportunity without working with your team-mates.
"I think I've got a little bit better at that, just waiting for my time to get the ball. People would say over-running; I'd say yeah, that's definitely right, I definitely did that quite a bit. And I suppose I've tried to be more – and this has helped me in attack – of an option for longer.
"I don't know if that makes any sense but just to be an option for longer, to get the ball, because I feel once I have the ball I'm going to be hard to stop. I can come off either foot, I can hand off as well and brush out of tackles a bit more this year which has helped me as well."
Fitzgerald has been a threat in attack for Leinster all season. ©INPHO/Donall Farmer.
That Fitzgerald himself highlights that he spots attacking opportunities early is certainly revealing. Many of his line-breaks this season have come from exposing relatively slow forwards in the defensive line, picking off those weak defenders with his footwork and pace.
Are those instances something he specifically looks for?
"I don't try to make anyone look bad, just make myself look good! For guys like me, for guys like Keith Earls, Andrew Trimble and Tommy Bowe [, it's something we look out for]. You can learn things from watching Tommy.
He ends up in the middle of the park there a bit, creating a second option for the 10. You're hoping that with two options down that channel, the defender will take the wrong option and we'll pick the right one.
"It's trying to create opportunities like that, and coming up against guys who have been pushing in the scrum or in the maul for 50-60 minutes, that's pretty ideal if you're running and probably weighing 20 kilos less than them. That's the right time, whereas for the first five minutes you're trying to avoid those guys when they're fresh!"
Repeated injury breaks are usually seen as a negative, but Fitzgerald's mental strength has turned them into positives. That mention of his improved hand-offs is an indicator of how he used time on the sidelines due to last year's ACL knee injury to work diligently on improving his upper body strength.
The compact mass on his chest and arms is clear evidence of hard work in the gym, but far more important has been his increased power output on the pitch.
"I'd say I'm a year away from where I want to be in the upper body area but I've seen exponential growth in the meantime, so it has been pretty positive. I can feel, especially with things like hand offs, and when you are wrestling with guys that I am definitely in a better place than when I came back last year."
Fitzgerald made an eye-catching cameo off the bench in November against the All Blacks. ©INPHO/Ryan Byrne.
A further aspect of Fitzgerald's form that has impressed for Leinster has been the sheer volume of work he has been getting through. The former Blackrock College wonderkid hasn't been content simply to wait for the ball to arrive into his hands. Instead, he has roamed infield to offer options to his halfbacks.
That bodes well for Ireland, particularly as we saw the wingers being used in such a manner more regularly last November. There were a number of plays involving inside passes to the likes of Fergus McFadden from the scrum-half against Samoa particularly, and Fitzgerald will be looking to benefit from similar moves.
I've been trying to be involved a bit more, to be an option more often around that part of the pitch, trying to work with our nines and our 10s quite a bit because obviously they're touching the ball the most. So you try to get around them as much as you can."
Despite his excellent form on the left wing, Fitzgerald sees himself as an outside centre. That much has been repeatedly and clearly stated by the 2009 Lions tourist; he believes his defensive strengths are well suited to the position, while his pace and step should allow him to make repeated attacking incisions.
See Sport
Differently
Get closer to the stories that matter with exclusive analysis, insight and debate in The42 Membership
Become a Member
Fitzgerald has realised that he will need to "trust the things I am good at" when he does eventually make the positional switch, rather than "trying to be a bit too much like Brian [O'Driscoll]". They are "very different" players, and Fitzgerald recognises that "getting some time" in the 13 shirt will be key if he is to make that switch.
For now, he is thriving out wide, free to roam off his wing and contribute elsewhere. While he has strong ambitions to play 13 for Leinster and Ireland, he admits he would take a spot in the 2015 Rugby World Cup team at 11 if it was guaranteed at this point.
Having been promised time in the 13 shirt when he turned down Munster to stay with Leinster last year, Fitzgerald says it took a conversation early in the campaign with new head coach Matt O'Connor for him to accept being utilised out wide.
The Leinster man is enjoying his rugby and feeling confident. ©INPHO/James Crombie.
"Maybe I had been a bit like that [wanting to play at 13] at the start of the season because Joe had said he was going to definitely give me opportunities. I said to Matt, 'Obviously you're the boss and you've got to do what you've got to do but I'd love a couple of opportunities there.'
"He just said 'Mate, you've gotta just go out and play' and he's right. I think I could play well if given more opportunities there because I'm doing the right thing more often."
Whatever about his positioning, Fitzgerald feels like he has plenty of unfinished business in the green of Ireland. Having clearly stated his ambitions for the competition, Fitzgerald admits that he feels a sense of having missed out on many highs in his career so far.
I'd be lying if I said otherwise, I could play it down but that wouldn't be true. I'm pretty hungry. I mean, the only reason I came back from the neck injury was because I felt very unfulfilled with how my career had gone in terms of where I feel I should get to and where I felt I left it.
"So yeah, there's a big hunger there. I've tried to improve the patience on the pitch but the patience off the pitch I'm not trying to improve. I want to be playing and training every day, I want to be playing every match."
- Luke Fitzgerald has announced the first two extraordinary rugby experiences for fans on the Guinness Plus app. Supporters who use the app to 'check-in' at a participating pub on the match days against Scotland and Wales will be in with the chance to win 'Money Can't Buy' experiences for them and their friends. The app is available to download for iPhone and Android smartphones.