SUNDAY LUNCHTIME. It's the bum draw of Heineken Cup kick-off times and one that seems to pop up for Munster more often than the other provinces.
Every team will mix and match, but each side has their preferred start time. In France, they like a late one on Sunday, prime time for their TV audience. In Ulster meanwhile, Friday night at Ravenhill is an institution.
In Munster, they like their rugby just after dusk on Saturday evening. This is one of the weeks they have not had their way.
Many previews will look to the proximity of the kick-off time to pub opening hours and speak in codes about 'crowds warming up' when they really mean that the average supporter will have enough time to get enough drink on board to create a raucous atmosphere all by themselves.
Obviously, there is truth to the theory that players will feed off the noise levels generated from the crowd. But they are also professionals who do contact training twice a week without any outside encouragement from the sideline.
As BJ Botha explained to us this week, an early kick-off changes everything about the normal dynamic of approaching a match-day.
For starters, a player's average breakfast is no use. The body needs a steady flow of blood sugar to commence.
"These early kick-offs you need to focus early, so things do change," says Botha, who will surprisingly have an extra hour to focus tomorrow after being named on the replacements bench.
"You need to get up a little bit earlier; you need to be thinking about the game a bit earlier.
"Even over breakfast – you start eating more carbs. Stuff like spaghetti for breakfast, it's a little bit different and we have to get used to that just to be a little bit sharper earlier."
We must stress that the South African was by no means offering his pasta breakfast by way of an early excuse – far from it – but in response to a query about pre-match rituals.
The human body is adaptable, yes, but it also loves routine, which is why team nutritionists set out a strict pre-match timetable for drinks which not only hydrate, but top up carbohydrate levels.
It's roughly the same principal that can hush supporters: they're later out of bed than usual; they've had less food throughout the day than usual and, yes, less drink taken too. However, if there's a drop-off in noise, captain Peter O'Mahony either hasn't noticed or is only interested in positive reinforcement.
"They do [back us] every time we come to Thomond Park. They're the best supporters in Europe and I know they'll turn up."
Botha was also asked about the impact of an intense atmosphere when that first scrum 'sets', but with his head usually buried in his opposite man, the prop seemed unconcerned by how the crowd react the early tussles.
Exclusive Six
Nations Analysis
Get Murray Kinsella's exclusive analysis of Ireland's Six Nations campaign this spring
Become a Member
Marker
"[The first scrum] will set the tone in the tight exchanges, the drive possibly as well. To get good go-forward ball there can set that mental note, to lay down a marker.
"So for sure it will be a tense time, but we need to back it up from scrum to scrum, because we're aware that they're team that plays for 80 minutes in that area."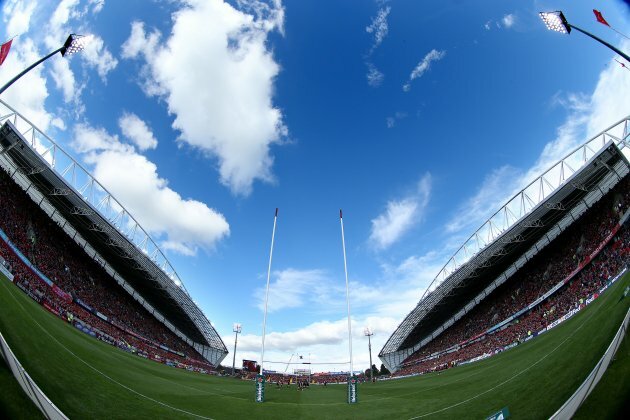 INPHO/Billy Stickland
Come that 80th minute, Botha will hopefully be relatively fresh off the bench. It's up to players who start to set a tone for the crowd to follow.
There's more to Sunday afternoon intensity than just an early house.