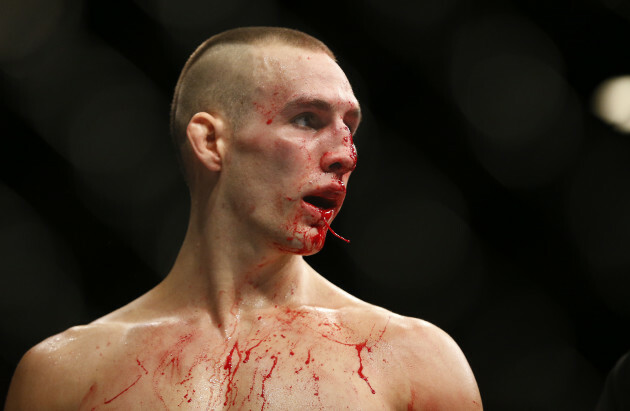 John Locher UFC welterweight Rory MacDonald during his fight against Robbie Lawler at UFC 189. John Locher
IT MAY HAVE been overshadowed by Conor McGregor's win against Chad Mendes, but last month's UFC 189 co-headliner between Rory MacDonald and Robbie Lawler was widely regarded as one of the greatest fights in the history of mixed martial arts.
It was certainly one of the bloodiest and most brutal, as Lawler retained his UFC welterweight title thanks to a TKO stoppage in the fifth round of an incredible contest at the MGM Grand Garden Arena in Las Vegas.
In a bout described afterwards by UFC president Dana White as not just the fight of the night, but 'the fight of the ever', the pair spent four rounds chipping away at each other until Lawler landed a powerful left on MacDonald's already-broken nose early in the final frame, which forced the challenger to surrender despite being ahead on the scorecards.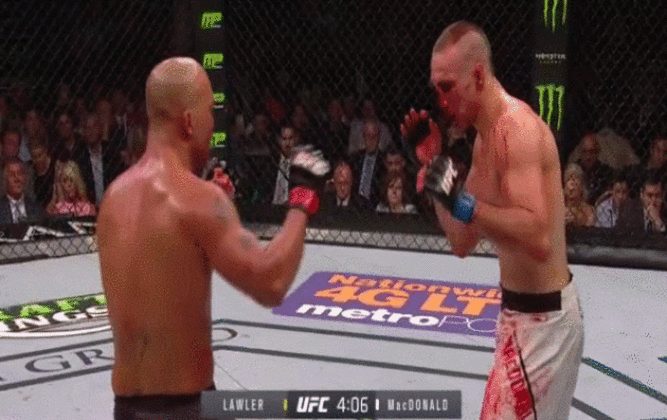 MacDonald, who also sustained a broken foot during the fight, gave his first interview since the loss when he was a guest on The MMA Hour with Ariel Helwani this week.
"The reality is, he stopped me," said MacDonald. "I wasn't slipping his punches when I should have been, I wasn't using good technique and movement, you know?
"The foot was keeping me stationary, and he did what he had to do. He's the champ for a reason. I learned from it."
If you thought Rory MacDonald might struggle to come back from such a gruelling experience, think again. He's already eager to return to the octagon and begin his journey towards another shot at the 170lbs belt.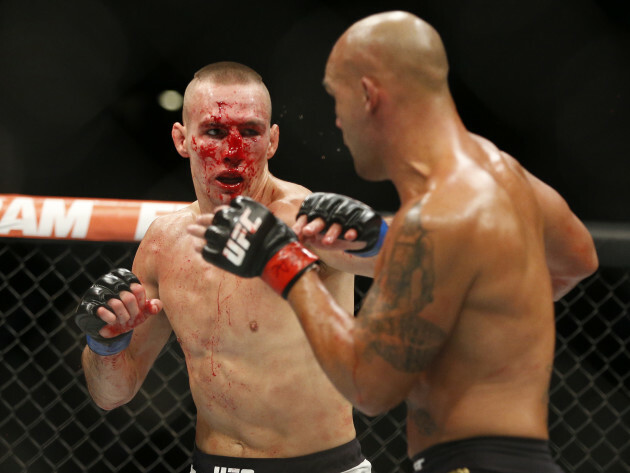 John Locher A bloodied Rory MacDonald in action against Robbie Lawler. John Locher
"The greatest moment of my life," is how the 26-year-old Canadian described the fight. "The best experience, it was a real experience, it showed me who I was. It was the best moment of my entire life.
"Obviously I'm disappointed that I didn't win, I wasn't able to push through and stop him, but at the end of the day, it was just a once-in-a-lifetime experience and I'm grateful for it.
"I think it's going to help me grow as a martial artist. It shows me what it's going to take to be a champion, and the changes I need to make to get to that level; to get a little bit better so I can get to that level.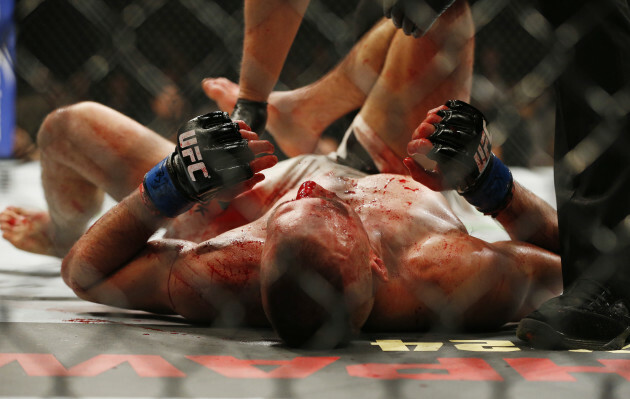 AP / Press Association Images MacDonald lies on the canvas after being stopped by Lawler. AP / Press Association Images / Press Association Images
"He was really finding his spot with his left right on my nose. It was giving me shock waves through my brain and my body. It just stopped me. Never broken a bone in my life, so it was an interesting feeling to fight three rounds with a broken nose. I was doing okay until the fifth.
"When the blood was all in my mouth and leaking in my face, that was incredible. That one describes my career and my personality perfectly."
MacDonald was also respectful of Lawler, a man he has now lost to twice: "Robbie's an amazing fighter, it's amazing to fight against him. Can't wait to fight him again, we're going to fight five more times, I bet. He's the funnest guy in the world to fight. That guy brings the best out of you for sure."