"I LOVE FOOTBALL. Football is my life."
Maciej Tarnogrodzki says these words almost immediately as our conversation begins. Over the course of the next 50 minutes, before he makes a quick exit to take a training session, it becomes clear that he means what he says.
Irish underage football, Polish-born Tarnogrodzki says, is a subject he could talk about for hours on end. It is a topic he is particularly passionate about having spent seven of his 15 years in Ireland managing various underage teams.
Moreover, the 40-year-old coach was unexpectedly cast into the spotlight last April. Following the resignation of Alan Mathews and his entire backroom staff at Bray Wanderers, U19s coach Tarnogrodzki was unexpectedly asked to take charge of the first team on a temporary basis.
The former footballer, whose promising career in Polish football was curtailed by injury problems, began life in senior football encouragingly. With Bray losing all five of their opening league games, Tarnogrodzki oversaw a 3-1 defeat of Sligo in his first game in charge, followed by a 4-0 win over Limerick.
However, a 0-0 draw with Derry, coupled with 3-0, 5-0 and 8-1 losses to Shamrock Rovers, Galway and Dundalk respectively, prompted Tarnogrodzki to step aside from the position. Trevor Croly and Mick Cooke have since managed the club, with the latter guiding the Seagulls to their current position of seventh in the Airtricity League Premier Division.
Tarnogrodzki, meanwhile, has returned to his previous post as Bray U19s manager — a job the young coach always knew he could come back to once his interim stint with the first team ended. The ex-Shelbourne Reserves boss does plan on returning to senior management some day, he says, but is reluctant to "rush into things".
"A lot of ex-players go straight into a job with a senior team and they fail very quickly," he tells The42. "Football is like any other industry. To be successful, you need to understand all the aspects and gain experience… You have to be patient, you have to go to school."
He was happy to "steady the ship" and help out at Bray when needed, but both Tarnogrodzki and the players knew he was in charge on a short-term basis, with the club lacking stability as a result. Tarnogrodzki's other commitments, meanwhile, added to the pressure.
"I'm a part-time coach. When I was with the first team, it was at the middle of the budget time in my company, so I had to work many hours — that was the busiest time of the year. So you only have a couple of hours to prepare for training or matches."
Donall Farmer / INPHO Many of the findings of the Conroy Report struck a chord with Tarnogrodzki. Donall Farmer / INPHO / INPHO
The Polish coach has seen many Irish youngsters go to the academies in England during his years coaching various underage sides with Shelbourne firstly and then Bray. He is well aware of Irish football's many problems, and says aspects of the recently published Conroy Report, such as the proposed implementation of better facilities and increased marketing, resonated with him.
"I agree that there has to be more positivity from the public towards Irish football," he says. "I understand there is rugby and GAA, but I don't understand the scale to which people support clubs abroad.
"In other countries, everywhere people can go and watch Bundesliga games. Sometimes, there were 20-30 Polish players playing in Germany, and people got interested in those leagues, but not to such a degree as there is here in Ireland (with the Premier League)."
And as an experienced underage coach, Tarnogrodzki has witnessed far too many Irish youngsters' dreams being shattered.
"Ireland is a unique country in that there are so many players are going abroad at such a young age. I did an analysis myself a year and a half ago – I took international teams from U17s and U19s level across Europe. But I didn't even take the big countries like Spain and France. I took small countries like Romania, Moldova, Austria and Belgium — 15 countries — and for most of those countries, the players at U17 and U19 level were playing domestic football.
"Ireland had 10 or 15% players playing in the League of Ireland. Already, 90% play in England. I know there is a big connection and a lot of players going abroad, but that for me was very weird. Even Wales were 50:50. But maybe something will change with the introduction of U17 and U19 leagues in the future."
Tarnogrodzki believes players who are "unique" and have "a big chance" of making it should be allowed make the voyage to England, but feels the majority would be best advised to stay at home and develop in the League of Ireland initially at least, as several current internationals such as Wes Hoolahan and James McClean did.
"With players and parents, there is an obsession with English football. So when they hear an English team — even from League Two — are calling, they jump (at the opportunity). I've been at academies in England and coaching is not necessarily better than here.
"There's just an obsession and mentality — of course, League of Ireland will never be as good as the Premier League, but it could be a good league and a path for more players. Ireland should be taking the example of the Swedish, Norwegian and Belgian leagues."
The problem, he adds, is not necessarily players leaving Ireland, but the age that they choose to go.
"Of course, players can always go. In every country, they go. Usually, they play in the domestic league, and if they go, they go for bigger money at the age of 20 or 21, not at the age of 15 — I think that's wrong.
"From what I've heard, 95% of the Irish players are coming back. The problem is that they are coming back as failures. I see those players. I coach them. I see their enthusiasm has gone. Some of them even gave up football.
"The focus in Ireland is only on players and not on the system, which is wrong. In other countries, the focus is on the system. The system will help out players as well.
"Here, I see the arguments with schoolboys' representatives, they say 'this player can go and make a living in England,' which is true. They get wages of £1,000 a week, but the system here should be developed for Irish football to progress. At the same time, it could help the players make a career for themselves. That's how it's done in other countries. Here, it's vice versa."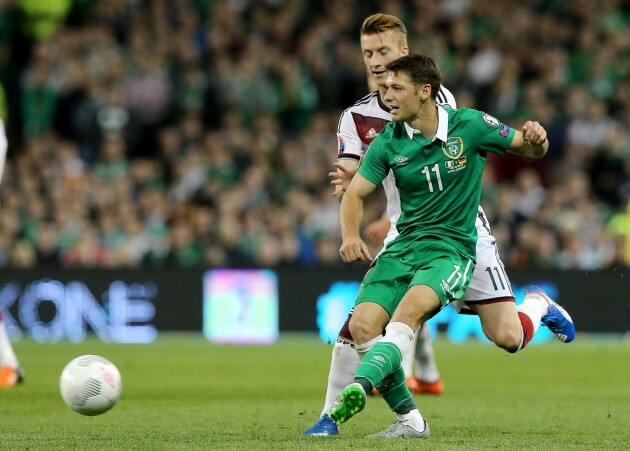 Ryan Byrne / INPHO Wes Hoolahan is on of the few genuinely creative players in Irish football. Ryan Byrne / INPHO / INPHO
Despite its many positive traits, Tarnogrodzki says the lack of creative Irish players is a problem.
"Ireland have a lot of solid players. There is not enough number 10s and those are the players that win you games. Playing in the final third is not developed here. Here, it's about being solid, good shapes, defending, counter-attacking — and I'm not saying it's wrong, you have to have that in the team. But if you really want to make a difference in football, the top teams always have creative players.
"Paul Scholes once said 'I realised that I wasn't quick enough and I wasn't good enough to dribble with the ball, so what I focused on was passing the ball as quick as possible' and that made him the best midfielder in English football. He was coached that way.
"In Ireland, it doesn't happen. I usually take those players, but a lot of coaches wouldn't take them, because they are slower and skinnier. But I see that they have good vision to pass the ball into channels. They are omitted and they do not develop, and when they get to the age of 20, it's too late.
"It comes from mentality. You have to have coaches who see the game that way. Maybe a lot of coaches don't see the game that way and coach differently."
Few people would disagree with Tarnogrodzki's sentiments. Wes Hoolahan aside, the current Irish squad lacks anyone capable of playing the classic number 10 creative role and as fantastic as the recent victory over Germany was, the gap in technical ability between the two teams was there for all to see.
"You see, everything here is played into feet. You need to encourage and coach players at the age of 12 or 13 to play into spaces, to make runs into channels and to develop wires in the brain.
"Players are very technical in Ireland, but the habits from an early age are difficult to replace. In GAA, there is skill but also an emphasis on pace and toughness, and I can see those attributes in football as well."
Another problem in Irish and British football, which many people including Gary Linker have lamented before, is the issue of overly competitive parents, who insist on a win-at-all-costs mentality, perpetually pressurising and screaming at their kids from the sidelines.
"That was one of the reasons I didn't want to coach at U15 level anymore," he says. "I did only one year at U15 and one year at U17 and it was difficult to deal with parents in general. It's a challenge for every coach at schoolboy level.
"But there is a huge improvement. I see coaches in League of Ireland and U19 — they really want to improve, they really want this league to be better.
"There is a competitiveness embedded in people from parents and there is a lack of patience. At the age of 12 or 13, you need to be thinking about the future. To have a future you need to have a process or system, there should be no pressure to have a result at U15s. But I think here, everything is driven by results.
"At schoolboy level, the top teams attract the best players and they are winning everything. They go to small clubs and beat them 10-0. So I think the introduction of U15s in League of Ireland will really help to implement the structure that (FAI High Performance Director) Ruud Dokter is trying to achieve. You need to have a go and you need to change, otherwise it's going to be the same for the next 20 years."
Oatt O / YouTube
Tarnogrodzki, who believes at least a couple of League of Ireland players should be given a chance at international level, cites BATE Borisov as one potential model for Irish football to follow. Bohemians knocked the Belarusian side out in a Champions League qualifier in 2003, however they have improved immeasurably in the years since then.
In addition to knocking out Irish champions Dundalk in the Champions League preliminary stages this year, BATE have also beaten Bayern Munich and (more recently) Roma in the group stages of the competition.
And at the root of Irish clubs' problems in Europe, according to Tarnogrodzki, is a familiar failing.
"The reason the League of Ireland is not successful is lack of creativity and not coaching players in the final third. Everything is a about being solid, being tough. In Europe, it is not enough."
The coach watched back the Champions League games between Dundalk and BATE "three or four times" and noticed how the Belarusians picked up on the Irish side's weaknesses from the first game in the second leg.
"I think tactical stuff in the League of Ireland is not good enough at the moment. The coaches need to challenge themselves. They need to go outside of the comfort zone. It's not good enough to be successful in Europe at the moment if you only play a certain way.
"Dundalk are playing very good football. In the first game, they played well, but in the second game, they should have been beaten 3-0 or 4-0, because BATE didn't take their chances.
"I saw the little details BATE picked up. Dundalk are very good at set pieces and they usually block opponents. They try to block when (Brian) Gartland is going for the header. They didn't outmuscle BATE… They picked up those small things and there was other stuff from a tactical point of view.
"I think League of Ireland is quite predictable and there's a lack of discipline, usually in the second half. If you look at the top teams in Europe, of course they chase the game at the end, but usually the discipline is kept throughout the game. Here, very often, the games open up after 10 or 15 minutes in the second half. And that's lack of discipline. That's not good enough — in Europe, they pick you off."
Tarnogrodzki partially attributes Irish players' lack of creativity to a fear factor stemming from high-pressure situations, while dodgy pitches and bad weather don't help matters either.
"Players do it in training. The problem is, in the matches, everything is forgotten. The match is coming, the adrenaline is going up and everyone is going to the mode of 'fight'. They forget about the discipline and being consistent. It should be about how we play at a young age and not only about results. There is a fear and results-driven mentality.
"I'll give you an example. You have technical players, it happened with me, even this season. We did well in pre-season, everything is going well, and then we played against a very physical team. The pitch was not great and they won because they are more physical. We conceded goals from corners and all of a sudden they are 3-0 up.
"I like beautiful football. But if you don't have those players, you need to have an alternative style. But if you build a team to have technical players, you have a poor pitch, bumps, rain, what can you do? You have no chance. Of course, you have to change tactics, you need to play more directly. You can't touch the ball, the quality of pitches don't help.
"For schoolboys, it was worse when I was coaching. The structure was ridiculous. We were training September, October, playing a couple of games. Then we hit November, December, January, there was unbelievably bad weather.
"All the games were called off every week. So where is the progression? We trained and then we didn't play sometimes for six weeks. Then you hit April and May, and teams played Sunday, Tuesday, Thursday, Friday. The whole league was played in the last month. The best teams usually won, players lost interest, it was crazy.
"I think playing on Astro pitches, for schoolboy level, would help. Of course, if you have grass that's good quality, you can play on it. It's perfect now in the Carlisle Grounds. There's a summer football league now, so it's a bit different, but schoolboy football — U15 or U14 — they should be playing on Astro pitches, especially during December, playing with a lot of touches. Then teams who have a lot of technical ability have a chance."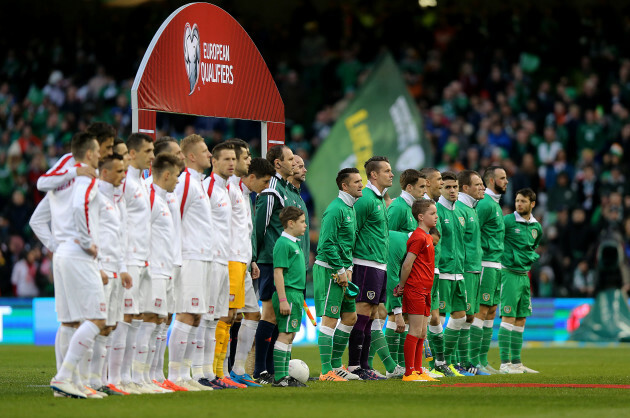 Donall Farmer / INPHO Tarnogrodzki will have mixed loyalties when Ireland meet Poland tonight. Donall Farmer / INPHO / INPHO
In addition, as someone born in Poland but who has lived almost half his life in Ireland, Tarnogrodzki will have mixed loyalties for tonight's big Euro 2016 qualifier.
"Polish football has improved in the last couple of years," he explains. "There were not many players at the top level. Now it's changed. We have players like Lewandowski, Błaszczykowski, Krychowiak, Glik at the back from Torino and we have good goalkeepers. If everyone is fit, they can be successful. If one or two of them are out, it's going to be a problem. We don't have so many players like Germany have to play.
"But Ireland are playing mostly direct football. Ireland, on a good day, can beat everyone sometimes. But in the tournaments, you have a big problem with this system of play. You have to produce five or six games at the top level, so you have a problem even if they qualify."
And despite his interest in this vital match, Tarnogrodzki cannot resist returning to his favourite topic as the interview draws to a close.
"I always say to young Irish players, look at the best players — like Alexis Sanchez — and see how many runs they make. They don't get the ball but they are patient. Again, they try to make the run.
"Players sometimes here aren't patient. My players tell me 'I made three runs and didn't get the ball,' and I tell them: 'Make 10 of them.' This has to happen from schoolboy level and it's what makes the difference."