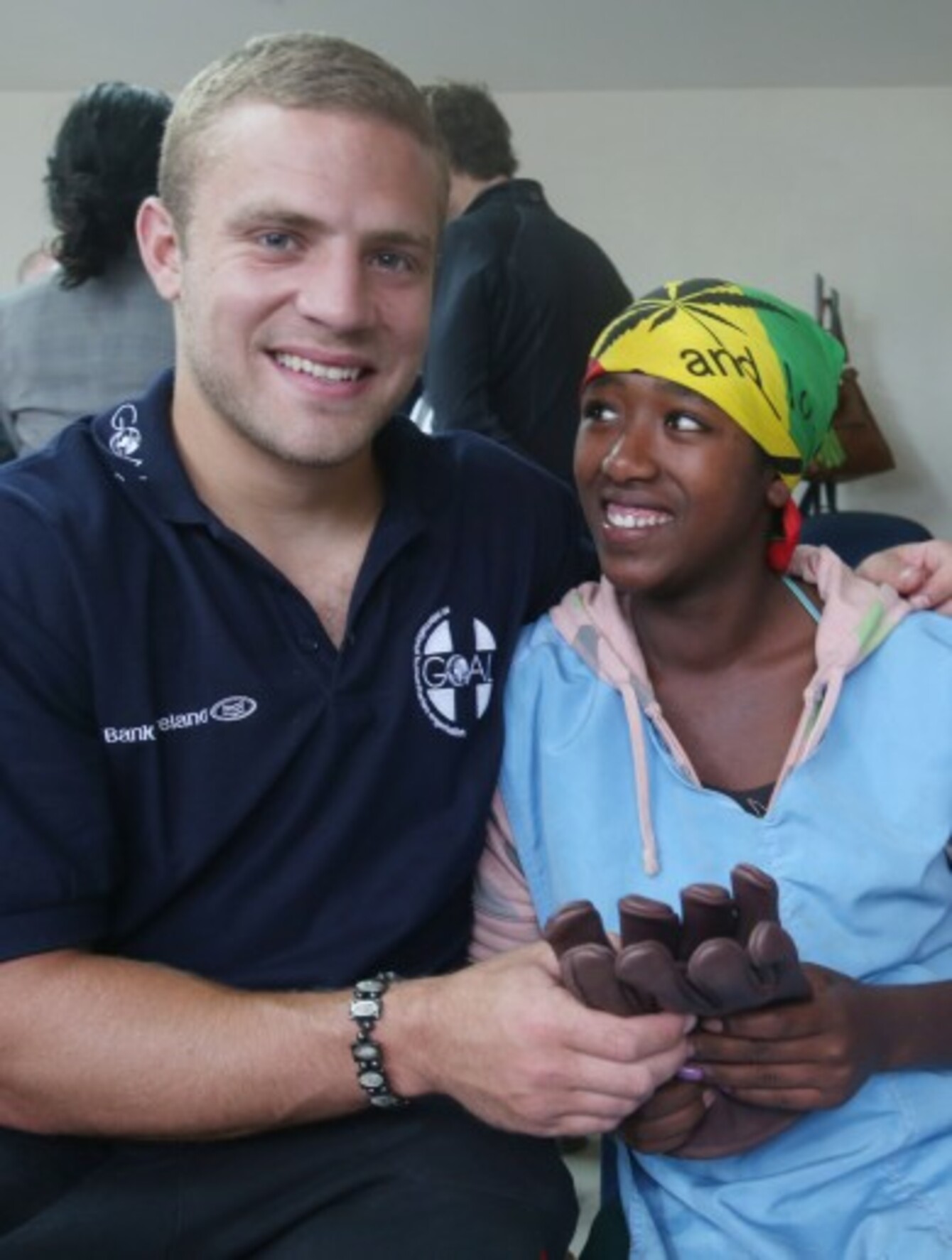 Ian Madigan with a female worker from the Pittard factory.
Image: Leon Farrell/Photocall Ireland
Ian Madigan with a female worker from the Pittard factory.
Image: Leon Farrell/Photocall Ireland
LEO CULLEN AND Ian Madigan are back in London after a three-day awareness trip to Ethiopia with the charitable organisation GOAL.
The Leinster rugby stars were thrown in at the deep end on their first day, in the country's capital Addis Ababa, when they met some of the 60,000 children that live and sleep rough on the city's streets. Days two and three saw them visit a camp for some 40,000 Somali refugees, in the south west of Ethiopia, and a factory were former street dwellers have found gainful employment.
Cullen told TheScore.ie, "On Wednesday, we headed out to Buramino, a GOAL compound, refugee camp, 25 kilometres from the border. One of the first compounds was set up in 2009 but famine and conflict meant, in 2011, there was a flood of Somalis coming over the border. There are now five camps and each of them are close to the 40,000 capacity."
The lengthy drought of 2011 led to the United Nations officially declaring a state of famine in Somalia. A subsequent U.N report, in May 2013, concluded that the famine had claimed the lives of 258,000 people over an 18-month period.
Madigan said, "The camps are cities within themselves, with Somalis fleeing their country due to drought, famine, conflict or a combination of all three. When they first arrive, at Dolo Addo, they have to be screened – interviewed, weighed, medically checked – before they are assigned to a camp. The screens are often needed because people from the town nearby often try to gain access as they are very poor and looking for food."
Ian Madigan and Leo Cullen at the Pittard factory in Addis Ababa. (Credit: Leon Farrell/Photocall Ireland)
Madigan and Cullen heard some harrowing tales of loss and death in Somalia but, two years on from the worst of the famine crisis, have been encouraged by the resilience of many families that are returning to their homeland, and farms, to make a new start. Many refugees are employed at the camp and have found purpose in welcoming and assisting newcomers. Madigan said:
Of the 210 employees in the camp, 89 are refugees. They are trained to be nutritionists, nurses, cooks and cleaners. Non Government Organisations have a set rate of pay for these workers; they get €40 per month. It might not sound like a lot but it is enough to feed a family and put a roof over their head."
The rugby stars returned, on Thursday, to Addis Ababa and visited a leather-goods factory run by Pittard. The company employees several of the street children that have been trained and educated in GOAL's rehabilitation and drop-in centre.
"We were lucky to meet some of the employees," said Madigan, "and the jobs have completely changed their lives. Work is the highlight of their week now. They have a roof over their head, food on the table and they can now support their brothers and sisters. That sense of purpose and drive is inspiring to see."
In the afternoon, Madigan and Cullen travelled to meet some younger street children at a famous training camp run by Haile Gebrselassie and Million Wolde, two of the Ethiopia's most accomplished distance runners and Olympic gold medallists. They went for a training run and got to do a rugby training session with the kids.
"I'm not sure they knew much about rugby," remarked Madigan, "but they are crazy for sport and play with a smile on their face."
- For more information on the trip, and GOAL's work in Ethiopia, please visit www.goal.ie. Madigan and Cullen's awareness trip has been sponsored by Bank of Ireland.