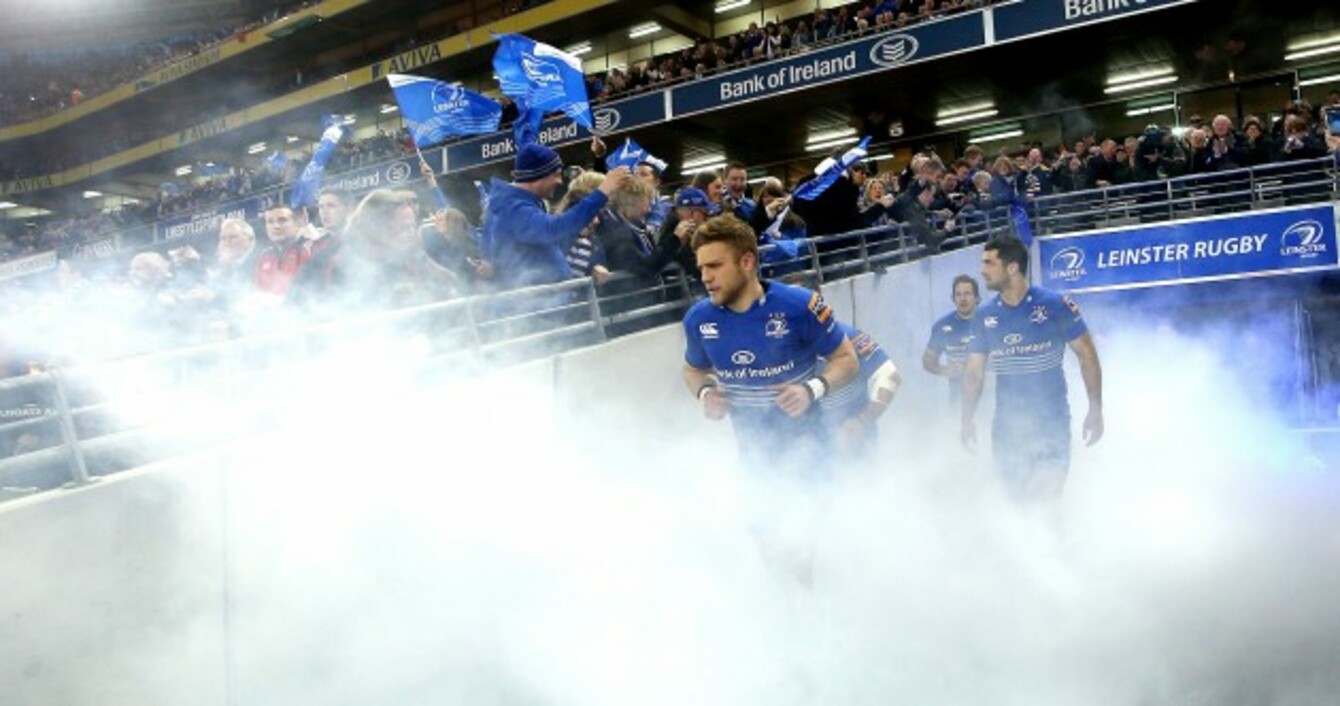 Image: James Crombie/INPHO
Image: James Crombie/INPHO
TOP OF THE Pro12 league, a 10-game winning streak under their belts and a host of Six Nations winners bedded back into the matchday squad. There's not much for Leinster to complain about these days.
Yet despite tasting victory over Munster for the first time as Leinster boss on Saturday, head coach Matt O'Connor was taking a leaf out of his predecessor's book and immediately identifying where there was room to improve.
"You can't afford to not exit your half correctly," said O'Connor with his mind on the tactical kicking from his backs.
Skills coach Richie Murphy yesterday was non-committal when asked if the aspect of the game could be simply mended in training or whether it was a personnel issue. But having watched the European champions score 32 points against Toulouse he was in no doubt of the danger posed by Toulon's back three.
"It is something we have concentrated on in the last two weeks and it's definitely going to be a major part in the game," says Murphy.
Hurt
"If we kick badly to these guys they will really hurt you. Even at Toulouse at the weekend, they made loads and loads of metres when Toulouse didn't kick very well to them. It is a massive focus and something we are trying to get right for the weekend."
As Murphy points out, however, addressing the issue is not always as simple as calling in Jimmy Gopperth or Isaac Boss to pull the strings instead of Ian Madigan and Eoin Reddan.
"Guys kick better if they are given more time and space and they are given more time and space by other guys doing their jobs better. It is a knock-on effect."
Up against a pack containing the likes of Carly Hayman, Juan Martin Fernandez Lobbe and Danie Rossouw, those knock-on effects become much more difficult to create than usual.
"It is everywhere you look. It is hard to just name one or two of them because the minute you focus on one or two, someone else will hurt you.
"That is the big thing. We are going to have to be very good all the way through the board from one to 15 and probably one to 23 really. The guys who come on are going to have to add value and we understand it is a massive task to go down there and win but it is something we are looking forward to."
The Leinster and Ireland coach was one of the first voices in Ian Madigan's ear when the number missed a relatively straightforward penalty with Leinster six points behind Munster before half time on Lansdowne Road.
Murphy's words were a mere reminder of the processes the out-half works through to hit the target, but yesterday he further stressed the importance of taking every opportunity – particularly with Jonny Wilkinson set to suit up in the opposite number.
"We had a quick chat at half-time and just reminded him of one or two of the cues he works off. Him and Jimmy, no matter who it is, it is a massive, massive task for them to manage the game down there and make sure you kick all your goals.
"If you're kicking against Jonny Wilkinson, he's going to kick 9/10 or probably 10/10. We have to be at that level this week and especially being away from home, you can't afford to have any misses."
Either off the tee or from the hand.