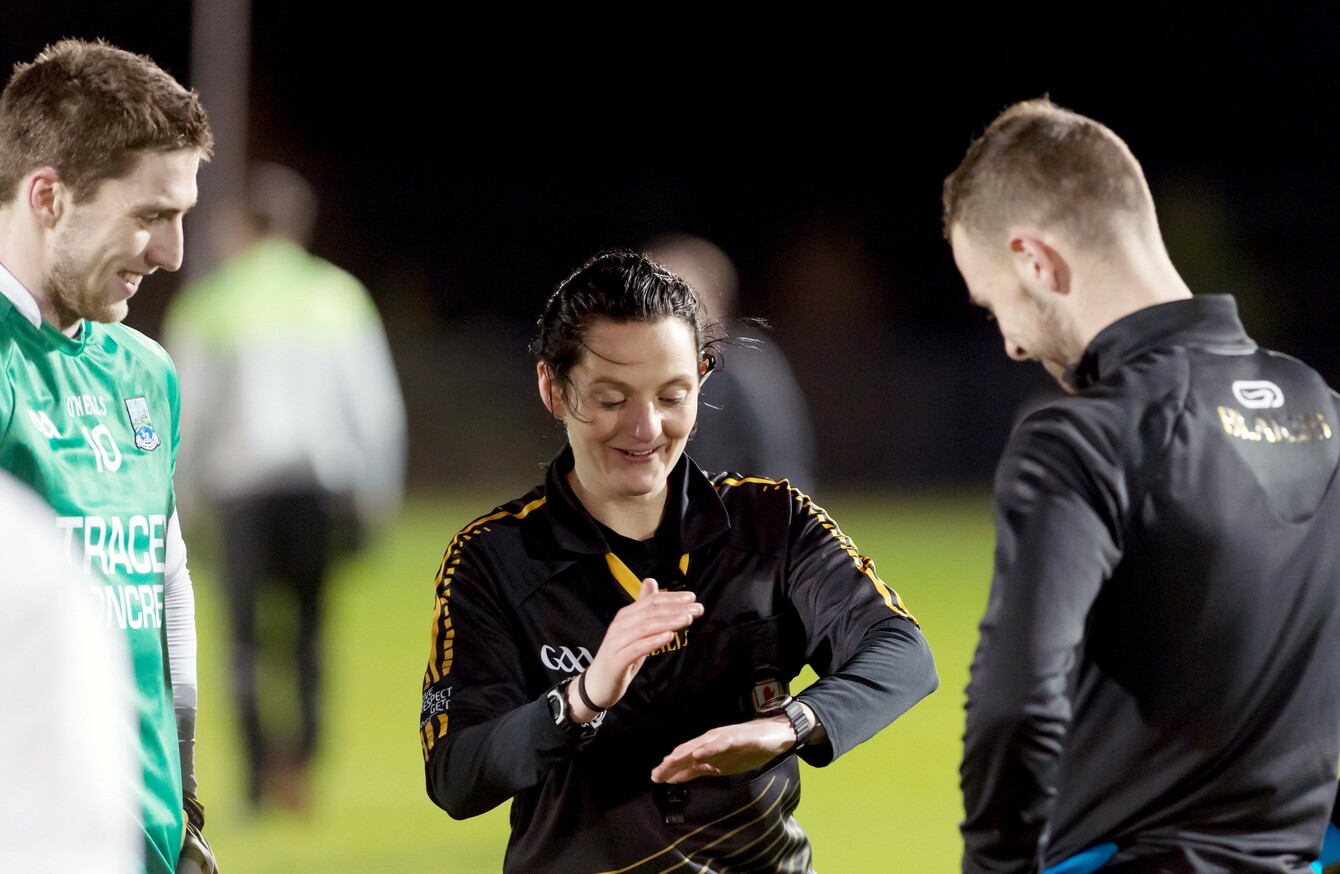 Referee Maggie Farrelly at the coin toss at last night's Dr McKenna Cup game.
Image: Presseye/Trevor Lucy/INPHO
Referee Maggie Farrelly at the coin toss at last night's Dr McKenna Cup game.
Image: Presseye/Trevor Lucy/INPHO
SHE MADE HISTORY at a Dr McKenna Cup game last night but referee Maggie Farrelly is not expecting any red carpet treatment in the GAA.
Farrelly has been blazing a trail in the GAA and last night became the first female referee to take charge of a senior male inter-county fixture for the clash of Fermanagh and St Mary's.
But the Cavan woman insists she is no different to any other upcoming referee in the GAA and revealed the level of welcome she has received.
"Everybody has been very much supportive and respectful and definitely has integrated me into GAA officiating seamlessly," Farrelly told the BBC after last night's game.
"I'm just Maggie Farrelly and I'm a referee. I don't expect red carpets rolled out for me or anything, I'm just treated like everyone else.
I don't have high expectations how I should be treated because I'm no different to anyone else.
"At the end of the day you're only a referee. Regardless of gender, I have the same fitness tests to do, I have the same written tests to do and I get the same support like any other referee."
In 2014 Farrelly became the first woman to officiate at a male inter-county fixture when she was fourth official in a league meeting between Dublin and Kerry in Croke Park.
Last summer she took charge of the Ulster minor championship tie between Fermanagh and Antrim.
But she traces her initial involvement to a simple desire to help out her local club in Cavan,  Laragh United.
"When you're involved with a club, you try to do as much as you can and help them out.
"I initially thought I was going to be refereeing at just juvenile level and then sort of progressed from there.
"Then I got into refereeing reserve football, the all county league and then sort of progressed into Division 1 football.
Then I refereed reserve championship, then intermediate, junior, senior championship. So the sort of progression was there ongoing.
"In 2011, I got invited on to the Ulster Academy. I spent two years on it and basically during that period, basically officiating intercounty blitzes at provincial level and national level.
"Then we've been officiating at minor and senior championship at club level at intercounty level.
"Last year was the first intercounty provincial championship at minor level. So my progress is no different than the lads that are with me. The lads that started out on the same academy with me, they're the very same.
"Everybody's progressing at the same rate. It's just the opportunities that you're given."