DESPITE HAVING A healthy lead at one point, Manchester City are now clear second-favourites to their neighbours in the Premier League title race, though the midweek results will have given them a glimmer of hope.
Failure to bring home a first league title since 1968 would cause City to join a long, ignominious list of sporting chokers, seven of whom are recalled below:
1. The New Zealand rugby team (1999 World Cup, 2007 World Cup)
Every time a Rugby World Cup comes around, at least one commentator claims that "this will be their year" in reference to the All Blacks. In 2011, they actually delivered on their promise, but prior to then, the All Blacks gained a reputation for choking at crucial moments – most notably when they threw away a 24-10 half-time lead against France in 1999 and when they lost to the same opponents in 2007, despite being highly fancied to win the tournament.
YouTube credit: rugbyworldcup
2. The England football team (1996 Euros, 1998 World Cup, 2006 World Cup)
England are perennial chokers at major tournaments. Their media often identifies the side as potential winners and yet they invariably disappoint. This rule, of course, is especially true when it comes to penalty kicks.
YouTube credit: Kazmarazin
3. Tim Henman (Wimbledon 2001)
Tim Henman seemingly wasted endless opportunities to win Wimbledon, however his most agonising failure was probably in 2001. He was in a very strong position – 2 sets to 1 up against eventual winner Goran Ivanisevic – before a rain break curtailed his progress. He never really regained his dominance in the match thereafter, and would never again come so close to winning the most prestigious event in tennis.
YouTube credit: babunski
4. Greg Norman (Masters 1996)
While there is an obvious temptation to include Rory McIlroy's Masters meltdown, the Irishman came back stronger than ever after that setback. The same, sadly, cannot be said for Greg Norman. Despite leading for the majority of the event, Norman somehow blew a six-stroke lead in the final round and with it went a huge chance to secure a long-awaited Masters victory.
YouTube credit: thegachet75
5. Gavin Hastings (1991 World Cup)
The normally reliable full-back's temperament seemed to forsake him during the World Cup semi-final against England at Murrayfield. In front of his home crowd, he somehow missed a kick right in front of the posts. Unfortunately for Hastings, the kick proved crucial, as his side ultimately ended up losing by the narrowest of margins – 9-6.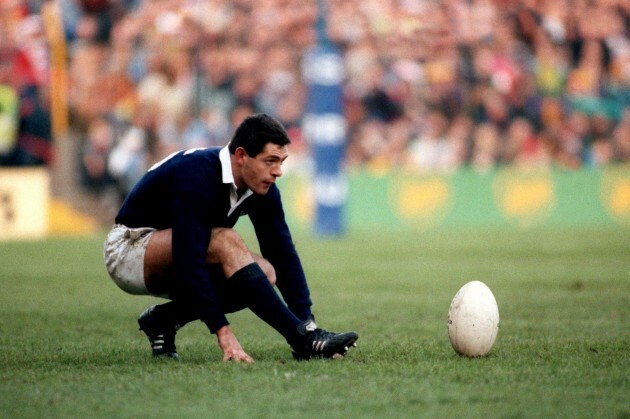 (Hastings endured a day to forget against England – Neal Simpson/EMPICS Sport)
6. Newcastle (1996 Premier League)
Around Christmas time, Newcastle led the Premier League by 12 points, and appeared set to win it for the first time ever. However, United's usual excellent end-of-season form, coupled with some performances as ill-disciplined as their manager's post-match interviews (see below), enabled Alex Ferguson's men to snatch the title from their grasp in the most dramatic of circumstances.
YouTube credit: ChuckleChannel
7. Dublin (All-Ireland Semi-Final 2006)
Dublin, arguably more than any other GAA team in recent memory, have a reputation for choking (at least before they finally won the All-Ireland for the first time since 1995 last September). The most memorable example was probably in the All-Ireland semi-final in 2006 against Mayo, where they had led by seven points with 20 minutes left, only to eventually lose the game by a single point.
YouTube credit: dapos