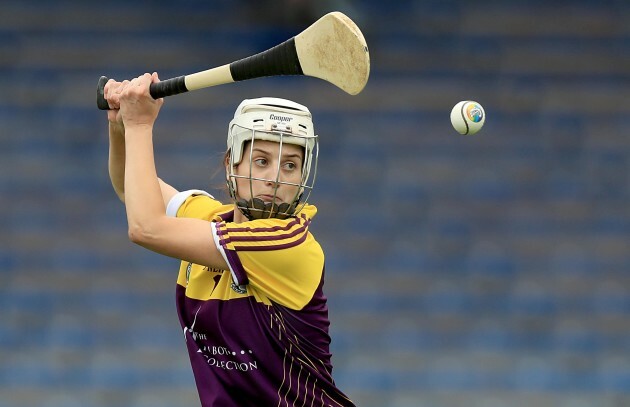 Donall Farmer / INPHO All-Ireland winning Wexford goalkeeper Mags D'Arcy. Donall Farmer / INPHO / INPHO
ON 2 APRIL Mags D'Arcy posted a photo and a powerful message on Instagram.
The photo was one of a thank you card and the caption beneath it read:
We lost today.

Today, I received this card into my hurley bag two minutes after the final whistle blew to what was a disappointing day. Over a month ago, I got a call from a concerned parent asking could I help her daughter out, Kiera, on her primary school project.

Kiera's local GAA club started a Camogie team off the excitement of Wexford Camogie winning three All-Irelands in-a-row over four years ago.

Her teacher said she had to choose a role model, so when I collected Kiera as I was on route to play a League match against Tipperary three weeks ago, I said, 'Do your classmates get to spend the day with the person they chose?' She beamed back at me from the passenger seat paralysed with excitement.

I left Kiera with my Wexford jacket and a sliotar that day to mark our time together and encourage her to continue playing camogie but on one condition: only play for as long as you enjoy the game.

I could spot Kiera in the depleted crowd at Wexford park today, she encouraged her family to come to support us and was still beaming when she ran onto the field to me straight after the game, result aside and hurl in hand, she was enjoying the game.

At every turn we are all ambassadors of our game, choose to respect the next generation, they are the future of our game.
In the beautifully handwritten card, Kiera thanked Mags for 'making the experience of a lifetime come true,' adding that it was a special day that she'll always remember.
The power of sport.
Just short of eight months later, D'Arcy found herself as an ambassador at the launch of the GAA 5-stars centre in Croke Park alongside Mayo footballer Diarmuid O'Connor, Galway hurler Conor Whelan and Armagh's Caroline O'Hanlon.
Before the formalities and speeches, the four ambassadors, or 'superstars' as they were called at several points, took part in games with the primary school students present with their parents watching on.
And low and behold, Kiera's family were up from Wexford for the day with her brother.
Obviously delighted to be reunited and chatting about the various events since their last meeting, the time soon came for D'Arcy to be dragged away for media interviews.
She was more than obliging as per though, and happy to talk about everything and anything from her own club and inter-county commitments to that day with Kiera, the state of camogie in general and life off the field.
"Days like today are massive," she tells The42, settling into the couch in one of the many halls behind the scenes in Croke Park. 
"Playing the participation games, I need to tell Conor the definition of participation! I swear to God it was like the All-Ireland final take two out there.
"But you know, being able to run up the field and give the handpass to Sarah who's from Limerick and she can catch the ball from me and go on and do the best that she can do, that's powerful that you can play with the kids and they can see that we're all just normal.
"We were referenced a couple of times that we were superstars and we're not superstars, we're just a couple of years older than they are."
And that day back in March Kiera got to see that first-hand, just like the other kids did during the participation games.
So, how did it all of that come about originally? There was Kiera's primary school project and her father Eamonn reached out to D'Arcy to have a chat with his daughter.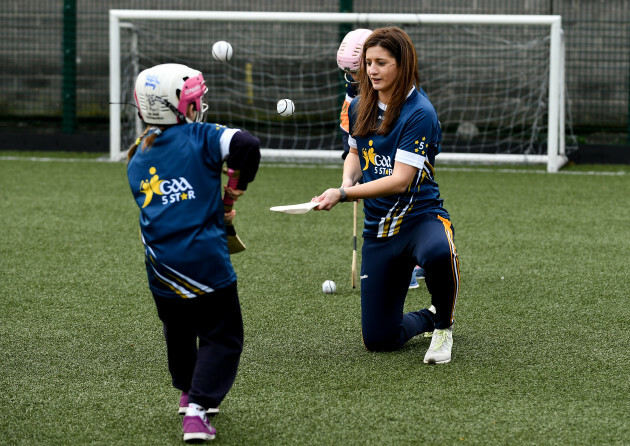 Sam Barnes / SPORTSFILE Sam Barnes / SPORTSFILE / SPORTSFILE
"He said 'Listen, wouldn't it be great if she had a chat with you,'" she recalls.
"When you're in that age bracket of 10, 11, 12, you're developing both physically and mentally and she was struggling a little bit with confidence.
"I said absolutely, Jesus, I'll help out or whatever. We kind of left it at that."
But the next day, D'Arcy picked up the phone.
"I said, 'You know what, the best way to experience these things is to come to a game and let me show you what our day-to-day is like, what it's like to play for Wexford and maybe that will be something you can aspire to. Have a look at us, we're all normal girls, there's nothing special about us and embrace being normal really.'"
Wexford's meeting with Tipperary on home soil was circled as the big day. D'Arcy pulled up outside the house and out comes Kiera. A little bit nervous as she came down the driveway to her role model, but excitement was undoubtedly the overriding emotion.
"It was great, like. It was a huge novelty for herself. We had a good chat on the way to the game; talked about school, talked about things that make her happy in school, things that make her sad in school and had a really good chat.
"Into Patrick's Park and I gave her a little duty job for the day. She had to carry the hurls and the water and she was helping me put out the jerseys in the dressing room before the match. I gave her a little t-shirt to wear as well and she was just beaming.
"It was just really nice; to see a girl walking through the gates of Patrick's Park with her shoulders curved in, and when she was walking out, she was beaming and I'd say she grew two foot taller as well."
Two weeks later, Wexford played their last National League match against Dublin, again at Wexford Park, and were beaten. It would also be D'Arcy's last outing for the Yellowbellies in 2017.
A disappointing 0-16 to 1-8 loss, their League campaign came to an abrupt end. She was gutted. But then came Kiera to bring a huge smile to her face.
"She came up after the game with a thank you card and a big hug. We just got knocked out of the National League, we didn't perform on the day and we all knew that ourselves.
"It kind of hits home then, why you play.
"The funny thing is is that I went into the dressing room afterwards and we had a chat about the performance, where we could improve and what stood out to me was the likes of Una Sinnott and Sarah O'Connor, that was them coming up to me 10 years ago as well, maybe not with the same level of enthusiasm but to come up and have a chat and sign the hurley.
"That moment that made me stand up and realise that's what it's all about, it's embracing the youth and pushing on and giving them the platform. It's so important to be engaging with the young girls in the county.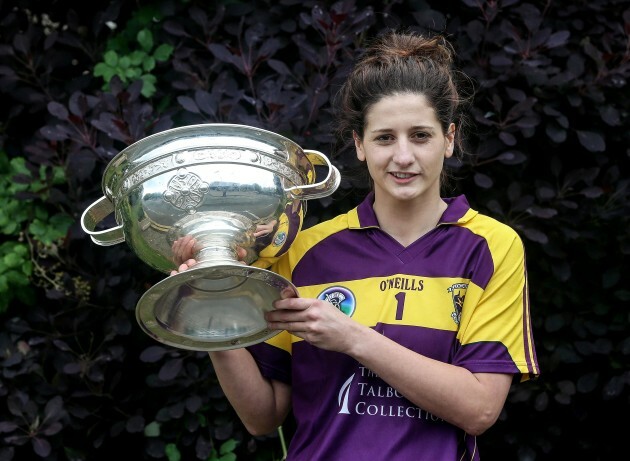 Lorraine O'Sullivan / INPHO Mags D'Arcy at a photocall in 2016. Lorraine O'Sullivan / INPHO / INPHO
"I think there should be more programmes, there should be nearly experience days if I learned anything off the back of that."
There Kiera was, enjoying the game even though her heroes had been beaten. D'Arcy's eyes gloss over slightly as she talks of that realisation of what the game is all about and how important it is to enjoy it.
"Whatever defines enjoyment," she nods. "Make sure you hang onto it because you'll be long enough not playing."
D'Arcy first lined out between the posts for the Wexford seniors in 2003 and has four All-Ireland titles and two All-Star accolades to her name.
As aforementioned, she stepped away from the set-up after that Dublin defeat in April. As of the latter days of November, she was unsure what the future held in that regard.
"I just decided to take some time away to assess," she explains. "It was more of a personal reason to be honest, to assess things.
"I had a lot going on in my personal life so whether I'll go back or not I don't know. I don't know if there's even management put in place at the moment, or whether I'd be asked back. On the basis of whoever's coming in looking to change up the personnel on the panel.
"I just don't know, but I'm enjoying the club immensely at the moment. I always want to play for Wexford. I have no decisions made about the future."
On hiatus, she spent some time analysing games with RTÉ. A 'weirdly enjoyable' experience, she notes, given the fact that she had to comment on Wexford games.
"But listen, I love the game," she adds. "I love camogie. It's my way of staying attached to the game. I have an appreciation and respect for a lot of players throughout the country.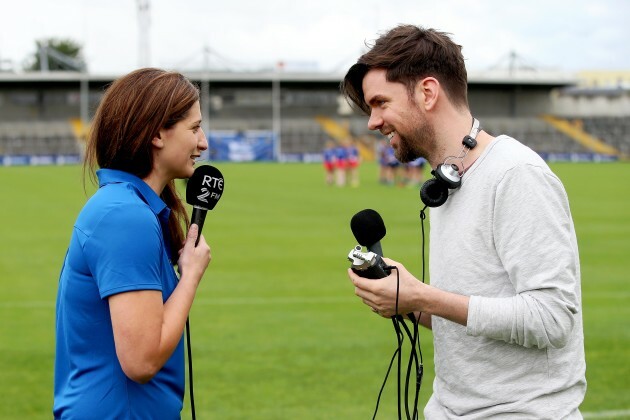 Tommy Dickson / INPHO Tommy Dickson / INPHO / INPHO
"If I was given the platform to enhance the game, why not take it? I love being at the matches, I would have been at the matches watching them anyway so what better way than being involved on the day?"
2017 will be one she'll best remember for the magic with her home club St Martin's though. And she'll remember it with sincere fondness.
Exclusive Six
Nations Analysis
Get Murray Kinsella's exclusive analysis of Ireland's Six Nations campaign this spring
Become a Member
Based in Dublin for many years now, D'Arcy spent three seasons with northside outfit Na Fianna. She was doing shift work, finding it hard to make matches let alone training back home in Wexford so committed to playing in the capital.
A striking characteristic of D'Arcy's is dedication. It's all or nothing. She took the three seasons away in order for St Martin's to progress. Well, there were two and then in 2015 a persistent hip injury led to surgery.
"That made me stand up and say 'Christ on a bike, my body's not going to go forever,'" she grins.
"My Grandad founded the camogie club 35 years ago and I have an emotional attachment as such to the club at home. I felt that it was time to move back to Wexford with the club and kick on."
Working in communications in UCD, her job changed back to 9-5 and she's currently undertaking a Masters in Digital Marketing in Smurfit Business School.
St Martin's won a first-ever senior camogie title in the Model county while the hurlers added their own county title shortly after.
It was a special few weeks as they navigated through the Leinster championship, reaching their respective finals. Both dreams ended on the same day though.
D'Arcy's side were beaten by Kilkenny's Thomastown while Cuala were conquerors of the hurling outfit. Utter disappointment.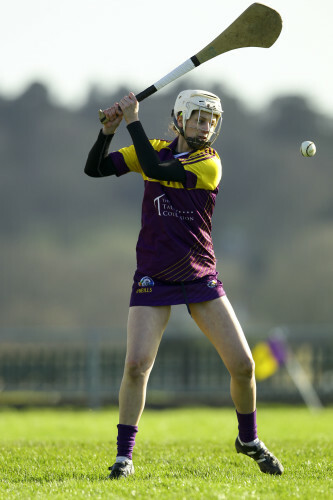 Ken Sutton / INPHO Ken Sutton / INPHO / INPHO
"Stop," she continues. "Very disappointing.
"But the thing that I've got from the year is that I enjoyed it because I was surrounded in a learning-led environment where we learned from every game we played be it a competitive game or a practice game.
"We were challenging each other to do our best on the field and probably do our best off the field as people as well. We became quite disciplined because we saw the fruits of our efforts coming to just deserved.
"It was a great year watching the girls graduate nearly from girls to women. I'm really looking forward to spending the next couple of years in that environment."
But those special few weeks with both sides on the road to the Leinster showpiece, that must have been something else?
"Listen, cloud nine status," she smiles.
"The whole parish. I've said it before, it probably took a few years off the older people in the parish to see, 'Wow, we've looked at all of these kids coming up'. They've gone into primary schools maybe to coach and this is the results of all their hard work.
"As much as we're getting the headlines, it's actually probably the volunteers and the people that gave up their time to go in and coach us as young players and the results are that we won the double, if you call it that with the hurling and camogie. The Ladies footballers are up to senior, men's football got to the senior final.
"The club is very healthy at the moment. It's been a magical year, I'm already looking forward to next year."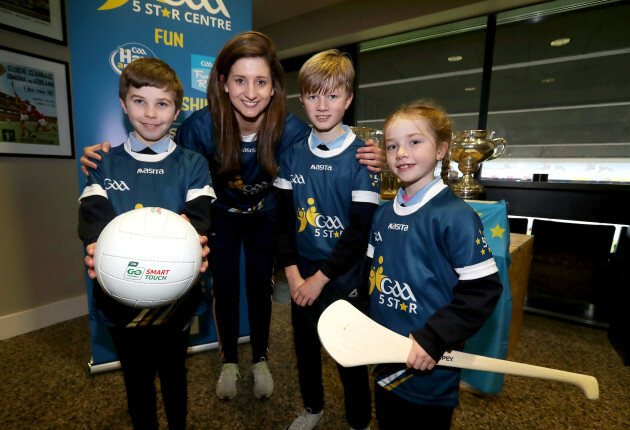 Bryan Keane / INPHO Bryan Keane / INPHO / INPHO
The42 has just published its first book, Behind The Lines, a collection of some of the year's best sports stories. Pick up your copy in Eason's, or order it here today (€10):