LAST UPDATE | Jan 9th 2023, 5:06 PM
BERNARD JACKMAN SAYS it's his understanding that a Munster move for South Africa hooker Malcolm Marx is "a long shot" and unlikely to come to fruition.
The powerful Springbok has been quietly linked with the southern province for several months and, on Friday, Rugby Pass reported that Munster had tabled a substantial offer for the 28-year-old Marx who is currently on the books of the Kubota Spears in the Japanese Top League.
Marx has also recently been linked with a move to France and, speaking on Monday's Rugby Weekly Extra podcast for The42 members, former Grenoble and Dragons head coach Jackman told Murray Kinsella, Gavan Casey and RWE listeners that he didn't believe Munster would win the race for the 50-cap Bok's signature.
"Look, I don't want to crush anyone's dreams but my understanding is that it's very unlikely to happen," Jackman said.
"It's a great rumour. He would be a game-changing signing if he came, he was fit and he played regularly. But I understand that it's not very likely, to be honest, given the budgetary constraints and that reality for Munster. It's a long shot, for sure."
Asked by presenter Casey if he had heard anything to the contrary, The42 rugby writer Kinsella replied: "I've only heard the rumour over the last few months, never strongly enough to write it as a story or to suggest that it's a done deal. Similar to Berch, it's probably around that financial aspect…
"Niall Scannell's contract is up at the end of the season and there's rumours of him potentially going to Bath with Van Graan or elsewhere," Kinsella added. "And Marx is the player they need: really dynamic, world-class. But he would come with a hefty enough salary.
"You never know, the 1014 group (Munster's private investors) might step up again — but it's not looking too likely at the moment."
During Monday's pod, Jackman and Kinsella delved into various aspects of Munster's impressive performance in victory over the Lions at Musgrave Park on Friday.
The performances of Player of the Match John Hodnett and livewire scrum-half Paddy Patterson were discussed in depth, while both analysts also answered Casey's question as to why Mike Haley hasn't featured more prominently in conversations about the Ireland fullback position given his superb provincial form this term.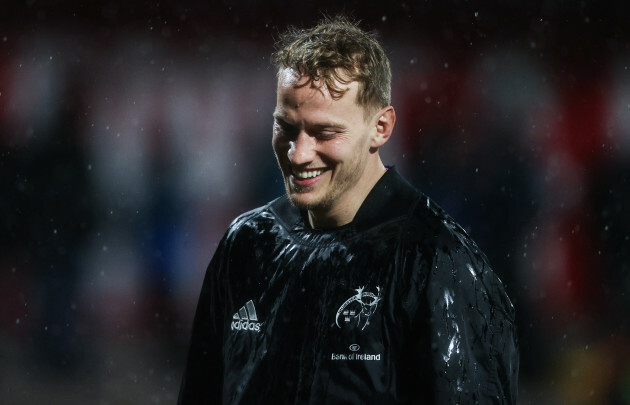 Tom Maher / INPHO Munster's Mike Haley warming up in Cork. Tom Maher / INPHO / INPHO
Jackman and Kinsella also gave their thoughts on Munster's incrementally improving attack which struck for five tries in testing weather conditions on Leeside. It was here that the conversation circled back to prospective signings, with both analysts believing Munster may need to add more explosivity not only to their tight five, which has been flagged ad nauseum for several seasons, but to their backline.
"The players are giving this coaching team everything they have," Jackman said. "The aptitude, the attitude is top-level. The challenge, now, is to make life a little bit easier for themselves.
"Obviously, their maul is a really good weapon so I'm not talking about that — but they have to work very, very hard for [the rest of] their scores. Further out the field, they have to build a huge amount of phases to create mismatches or to create linebreaks or to win penalties — and that's despite a huge amount of ball-movement, a huge amount of passing.
"So, that's the next level for them. And there's probably only so much the coaching group can do in that regard.
If you look at some of the shapes they're playing, some of the ball-movement, it's very similar to a La Rochelle or a Toulouse or a Saracens but with those teams, there's a line-break seven phases earlier because the individuals maybe have a bit more flair, power, pace.
"I think there's going to be a ceiling unless they can add a couple more x-factor players — or unless they get lucky with the likes of John Hodnett, who gives them go-forward, getting an injury-free run of games."
Kinsella added: "I don't look at that squad personally as a Champions Cup-winning squad but I'd love to be proven massively wrong there. And it's fascinating what's going on there with the squad-building because we're looking at it week to week, focusing on performances, but that coaching staff is really trying to get their stamp on this squad behind the scenes.
It will be fascinating to see who the ins and outs are at the end of this period of rumours. Even Malakai Fekitoa, who's now showing his worth: the story continues to come out that he'll be gone at the end of the season, after one season.
"You just hope that the kind of player they want to bring in is available and they don't have to wait another year. That would be frustrating for the coaches who definitely want to change the makeup and the skill-sets within that squad which would allow them to do what they're trying to do, but even better."
Elsewhere on the pod, Jackman, Kinsella and Casey discussed Ulster's rut, Connacht's improved ruthlessness against the Sharks, and Leinster's hard-fought victory over the Opsreys which included a timely, brilliant performance by Jack Conan.
To listen to Rugby Weekly Extra — every Monday with Jackman, Kinsella and Casey — and every Wednesday with Kinsella and former Ireland performance analyst Eoin Toolan — become a member of The42 at members.the42.ie.