5. Coughing and spluttering
After Liverpool are awarded a free-kick on the half way line, the G-Force of Fergie leaving his seat inadvertently sends his chewing gum down his throat.
The 71-year-old begins to choke as he trots down the steps and Brendan Rodgers refuses to offer him the Heimlich Manoeuvre by way of help.
Fergie is saved by a powerful double back slap from Mike Phelan.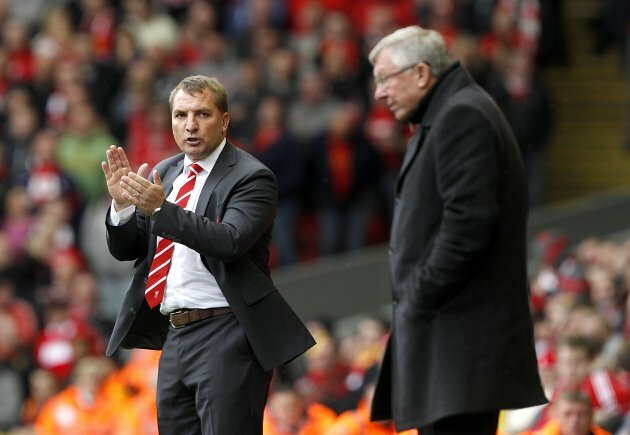 Are you alright, Sir? Peter Byrne/PA Wire/Press Association Images
4. Handshake-gate x 1000
With both parties eager to prove the hatchet well and truly buried, Pat and Luis make firm contact with one another's right hand. All seems to be resolved… but wait: neither is willing to let go.
Officials, team-mates and even David DeGea surround the scene, but neither party blinks.
The game kicks off with Suarez on one side of halfway and Evra on the other. Both are still staring in each other's eyes; grinning, gripping as 20 players go to work in a north-west derby.
They try to join in, but every Suarez touch is interrupted by Evra and LIverpool begin invading the vacant space on United's left. It takes 30 minutes for the managers to jointly decide to substitute the pair of 'em.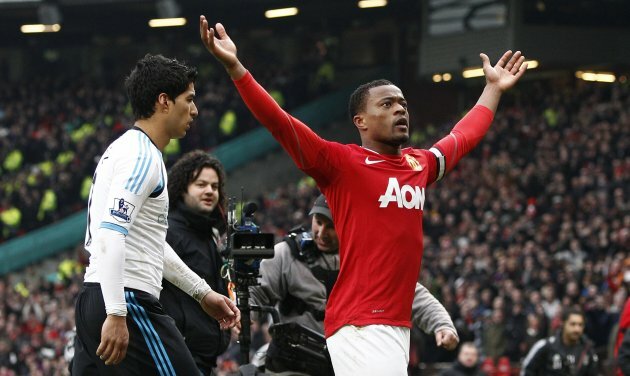 Jon Super/AP/Press Association Images
3. Handball-gate… again
With Suarez otherwise engaged, United take a first half lead after a shot ricochets at lightning speed off the goalkeeper, onto the outstretched palm of Robin van Persie and loops just inside the post.
Howard Webb waves the visitors' protest away, gesturing that the ball clearly hit the Dutchman on that "sweet, sweet left boot of his". Commentary team Martin Tyler and Gary Neville agree that accepting a refereeing mistake is definitely NOT CHEATING and issue no apology within 24 hours.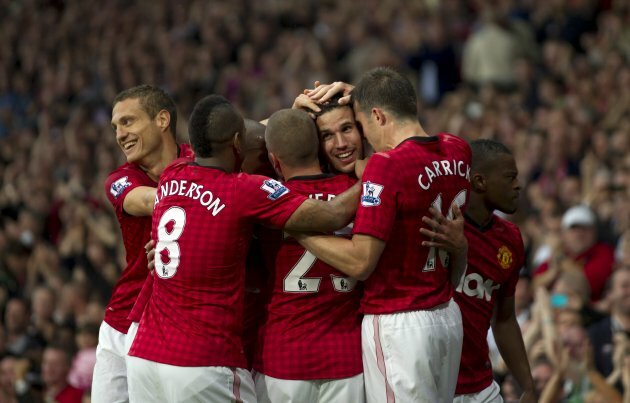 Luis Suarez (not pictured) forced to join United goal celebration. Jon Super/AP/Press Association Images
2. Malicious damage
Steven Gerrard scores an early second half equaliser and repeats his memorable celebration of running to kiss the camera. However, given this goal was a 40-yard screamer, he decides something special is in order so he lays a big slobbery wet one on the apparatus.
The equipment is decommissioned for the remainder of the game as the moisture seeps through to the electrics of the steady-cam.
Enclosed with a strongly-worded letter, a bill from BSkyB arrives at Chez Stevie G by registered post on Monday morning.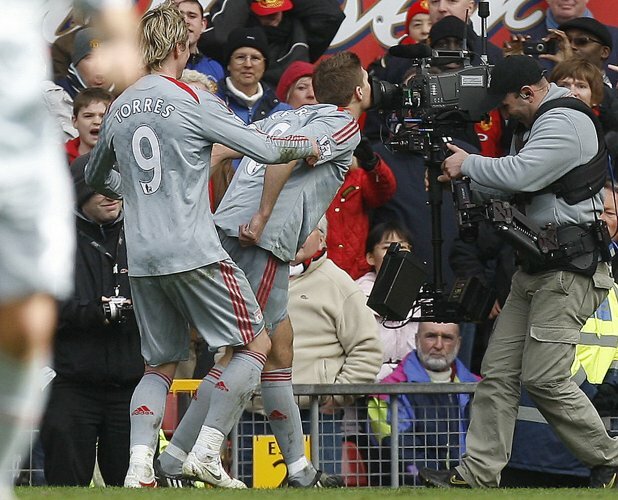 Jon Super/AP/Press Association Images
1. Ryan 'Gigg-zeh' Giggs prompts rebuke from Ofcom
With Neviller's mate curling in a 97th minute winner the co-commentator sounded like he was re-enacting his thrusting, gyrating celebration from 2006. The independent regulator decided that this latest 'goal-gasm', broadcast almost eight hours before the watershed, was far too explicit for a Sunday afternoon family entertainment show.
As punishment, Neville must feature on Songs of Praise for two months and will be tied to his iPad in the Sky studio while Premier and Champions League fixtures are live on air.
YouTube credit: imroadtrippin