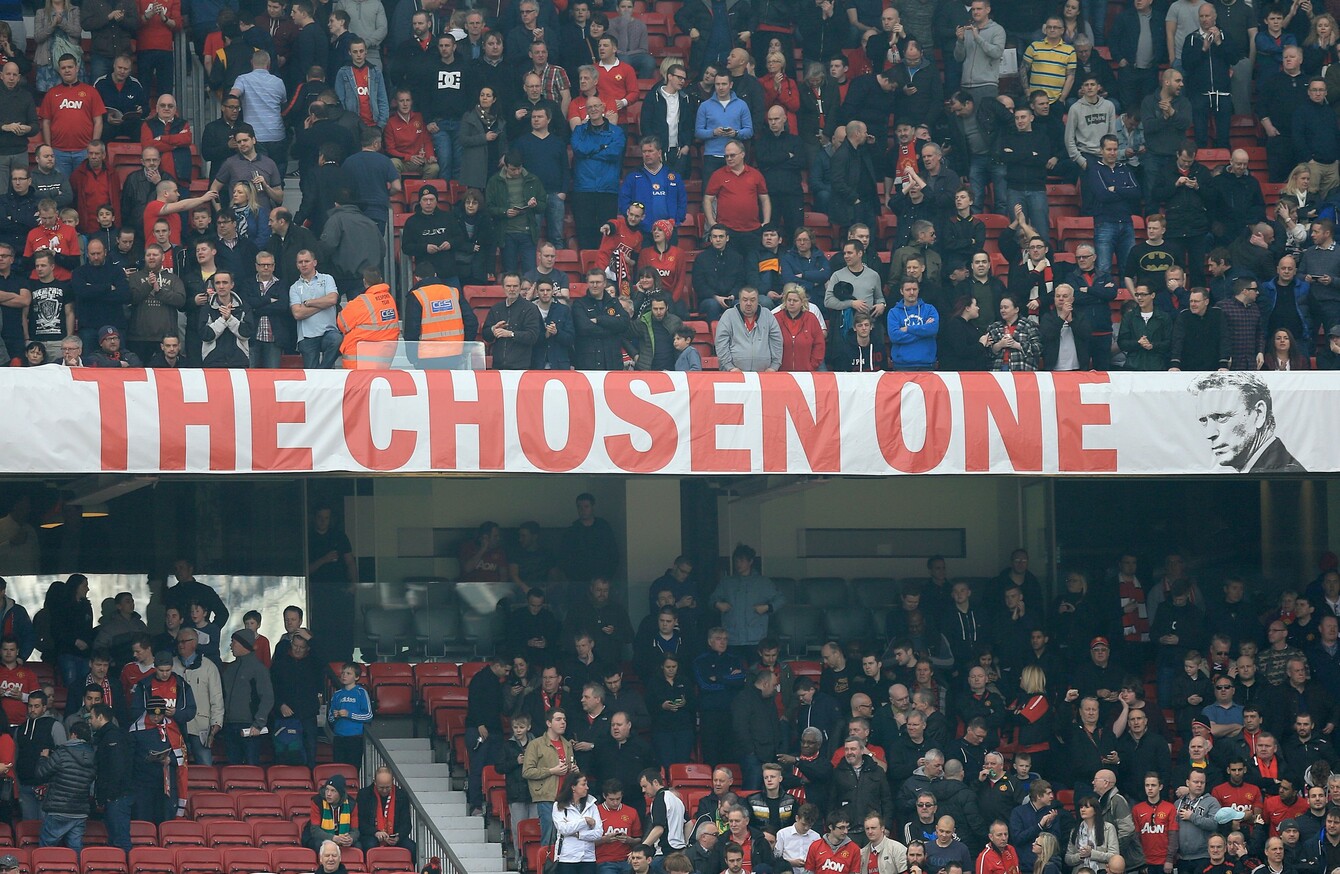 General view of the David Moyes 'The Chosen One' banner at Old Trafford in 2014.
General view of the David Moyes 'The Chosen One' banner at Old Trafford in 2014.
Updated at 09.50
1. Have Man United's tradition's gone?
DAVID MOYES WASN'T prepared to give a diplomatic response when asked about the club he managed for 10 ill-fated months in the Premier League 2013-14 campaign.
The Scottish coach, who on Monday returns to Old Trafford for the first time since his sacking, is unimpressed with developments following that infamous departure, which prompted the cancellation a six-year contract originally offered to the ex-Everton manager.
The club have spent approximately £480 million in the aftermath of legendary boss Alex Ferguson's retirement in 2013, and they have been criticised by some — including Moyes — for failing to persist with the philosophy that had made them successful in the past.
"They were a football club who enjoyed traditions with the way they spent," the Sunderland boss said in a press conference this week.
"They didn't try to compete with all the other clubs. They did what they thought was the right thing to do and spent the right way.
"Maybe that has had to change because of the current situation. (But) Sir Alex (Ferguson) went out and bought wisely and correctly in the transfer market and what he thought he needed to do."
2. Can Chelsea set a new club record?
When Sky Sports pundits Jamie Carragher and Gary Neville came to pick their player of the half-season accolades recently, there was no surprise that one club featured prominently.
The Monday Night Football duo both selected Antonio Conte as manager of the season and Diego Costa as player of the season.
In addition, Neville and Carragher picked six and five of the Blues players in their respective teams of the season.
And what has been so impressive about Chelsea is not simply the fact that they are six points clear at the top of the league but the manner in which they have pulled off this feat.
The London club looked unconvincing early on in the season, with defeats in big games by Liverpool and Arsenal prompting a re-think in formation and approach by Conte.
Since then, the Stamford Bridge outfit have been peerless, as they attempt to set a new club record of 12 successive league wins.
Despite coming up against a Bournemouth side that are in a respectable 10th position on Monday and even without the suspended Costa and N'Golo Kante — arguably their two players of the season so far — few would bet against them continuing their phenomenal run on Monday.
3. Can Hull spring a surprise against Manchester City?
Despite a few surprise results at the start of the season, Hull have for the most part lived up to lowly expectations, as they were most critics' relegation tips at the start of the season.
The Tigers currently sit bottom of the league on 12 points and have been particularly poor since Mike Phelan was given the job on a permanent basis, after Steve Bruce's controversial departure in the summer, despite the ex-Man United defender having guided the club to promotion from the Championship.
Not many people will therefore fancy Hull to get a positive result in Monday's evening kick-off against Man City. Nevertheless, one person who doesn't appear to be underestimating them is Pep Guardiola.
The City manager was very complimentary when asked about Hull prior to this weekend's game.
"I spoke to David Silva, with some players, and they gave me good advice about what it means to play on Boxing Day at Hull City," he said.
"What I learn in my short time here is the gap between the first 10 teams and last 10 is not that big. Other people said before I came here how complicated all the games are, so I am not expecting easy games. We have to be prepared. It's my first year here.
"Hull started quite well. Of course, the situation is not good but I saw many, many games and they are a special team. They try to play more than some of the teams here in the Premier League."
4. Must-win game for Arsenal
It's increasingly beginning to feel like Groundhog Day at the Emirates.
Each season, they threaten to become title contenders with some impressive results. Each season, their big players seem to wilt when pressure is applied. Each season, they persist with Arsene Wenger, who insists unconvincingly that the situation is improving. Each season, they draw Bayern Munich in the Champions League.
Recent back-to-back defeats by Everton and Man City have rendered an Arsenal title challenge improbable in most people's eyes.
Yet another loss to West Brom, who have been impressive at times this season and are currently eighth in the table, could prove catastrophic.
Fifth-place Spurs are just one point behind the Gunners currently, with Mauricio Pochettino's men good enough to capitalise on any slip up and Tottenham seemingly much improved now that the distraction of Champions League football is no longer an issue.
And should the unthinkable occur and Arsenal fail to qualify for the Champions League for the first time since the 1996-97 campaign, and particularly if their bitter North London rivals prevail at their expense, then that surely would be the final nail in the legendary French coach's Gunners coffin.
Therefore, an Arsenal win over West Brom on Monday is badly needed to help restore dwindling morale stemming from the club's recent losses.
5. Were Liverpool too quick to sell Joe Allen?
Since signing for Stoke in the summer, Joe Allen has regularly impressed for Mark Hughes' side.
The 26-year-old midfielder has been a regular fixture in the Potters' side this season, all the while managing seven goals in 21 games in all competitions.
Despite Liverpool impressing in Allen's absence (they are currently second in the Premier League table), Jurgen Klopp expressed a level of regret about the Wales international's departure, as the latter prepares for an Anfield reunion.
"Do we miss Joe Allen? Yes," Klopp said ahead of Tuesday's clash between the two clubs. "Unbelievable, strong player.
"We all knew his quality. He's having a big impact at Stoke.
"It was a common decision. It was clear after the last two years, not being a fixed line-up player.
"He plays a little more offensive now than what he would for us.
"If Liverpool sells a player, then they have to have a real impact at their next club. If you leave us, okay, then show us what you've learned."
26 December (all games kick-off at 3pm unless stated otherwise).
Watford v Crystal Palace (12.30)
Arsenal v West Brom
Burnley v Middlesbrough
Chelsea v Bournemouth
Leicester City v Everton
Man United v Sunderland
Swansea v West Ham
Hull City v Man City (17.15)
27 December
Liverpool v Stoke City (17.15)
28 December
Southampton v Tottenham (19.45)
The42 is on Instagram! Tap the button below on your phone to follow us!