Liveblog
Hello and welcome!
GOOD AFTERNOON AND welcome to our live coverage of league leaders Liverpool's trip to Old Trafford to face an utterly beleaguered Manchester United.
Roy Keane has already said on Sky Sports today that Ole Gunnar Solksjaer and United would bite your hands off for a draw in today's fixture, but recent history certainly favours the hosts: Manchester United have lost only once to their old rivals at home in the last decade.
We'll bring you team news in a few minutes, but firstly, who do you fancy today?

Team news
David De Gea was recently injured on international duty but has been ruled fit enough to start between the sticks for Solskjaer's men. It looks like they'll line out with three central defenders and two wide, with Ashley Young and Aaron Wan-Bissaka presumably given the licence to venture forward in possession.
It's United's youngest-ever starting XI v Liverpool, per Opta, with an average age of 25 years and 38 days.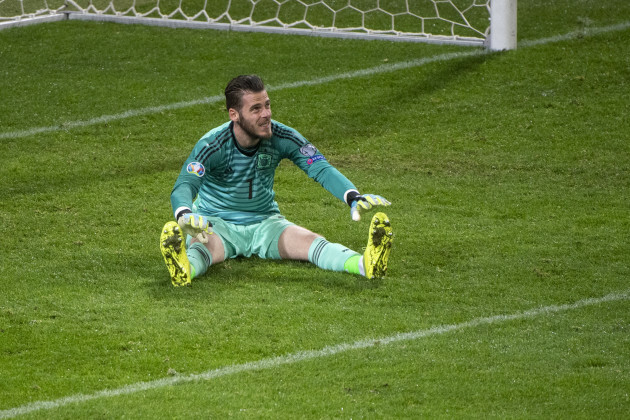 David De Gea down injured on international duty for Spain. Source: Imago/PA Images
Team news today is something of a double-edged sword for Liverpool: Alisson returns in nets but Mo Salah misses out through injury, and is replaced by Divock Origi.
Manchester United
David De Gea
Aaron Wan-Bissaka
Harry Maguire
Victor Lindelöf
Axel Tuanzebe
Ashley Young (C)
Scott McTominay
Fred
Andreas Pereira
Daniel James
Marcus Rashford
Subs: Sergio Romero, Marcos Rojo, Brandon Williams, James Garner, Juan Mata, Mason Greenwood, Anthony Martial
Liverpool
Alisson
Trent Alexander-Arnold
Joel Matip
Virgil van Dijk
Andy Robertson
Fabinho
Jordan Henderson (C)
Giorgino Wijnaldum
Sadio Mane
Divock Origi
Roberto Firmino
Subs: Adrian, Dejan Lovren, James Milner, Naby Keita, Alex Oxlade-Chamberlain, Joel Gomez, Adam Lallana
"It wasn't as bad as feared," says Solskjaer of De Gea's injury. He also comments on Aaron Wan-Bissaka's return and Anthony Martial being fit enough to take a place on the bench.
He adds: "This is the biggest game" for Manchester United, regardless of competition.
Ole insists things are improving on the injury front in our pre-match catch-up...@D_DeGea takes his place in goal ✔️@AWBissaka returns at right-back ✔️@AnthonyMartial is fit enough for the bench ✔️#MUFC #MUNLIV pic.twitter.com/5YIUyq840R

— Manchester United (@ManUtd) October 20, 2019
Team news update
JINX!
Manchester United have been forced into a last-second change on the left-hand side of their back three. Marcos Rojo will replace Axel Tuanzebe who seems to have injured himself in the warm-up.
Phil Jones takes Rojo's spot on the bench.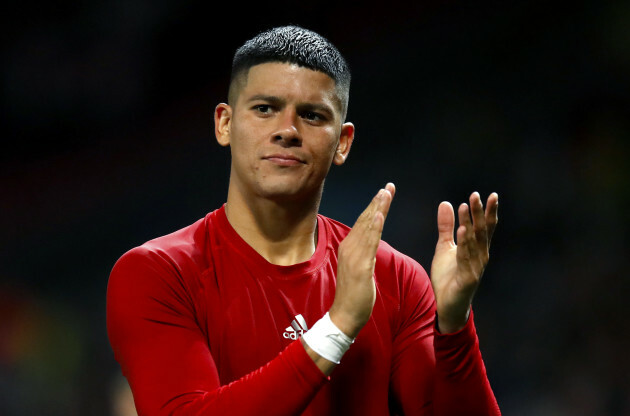 Source: PA Wire/PA Images
Roy Keane is disgusted by scenes in the Old Trafford tunnel as players are seen "hugging and kissing each other".
"You're going to war," he says. "Talk to them after the game."
He adds: "The game hasn't changed that much" since he was a player. "The players have changed… The players have changed."
Flag
Kick-off
0′ – Manchester United 0-0 Liverpool: We're under way at Old Trafford.
2′ – Manchester United 0-0 Liverpool: United launch the first half-attack as Rashword awaits support but can't quite find a man in the middle with his cross from the left-hand side.
Liverpool break through Origi who initially seems to have the gas on Linedlof, but the Swedish defender recovers well to position himself between Origi and the ball and win a free for the hosts.
4′ – Manchester United 0-0 Liverpool: By the way, due a technical issue, I can't display the scoreline at the top of the liveblog post, but I'll provide the score with every individual entry here, and there'll be push notifications for goals, etc, provided we get some.
6′ – Manchester United 0-0 Liverpool: Wan-Bissaka and Young combine reasonably well down the right but the latter's cross has a little bit too much juice on it. Rojo collects it on the opposite wing but slices his own cross out for a goal kick.
United look to have settled the better but obviously it's extremely early doors. Liverpool yet to find their rhythm, but when they do, one would expect their quality to be a lot better than what we've seen of United in their two forays into opposition territory so far.
8′ – Manchester United 0-0 Liverpool: In fairness to United, they've started with purpose — nipping at Liverpool heels, not giving them an inch. Perreira the latest to have his cross cleared, but most of the game happening in Liverpool's defensive third at the moment.
10′ – Manchester United 0-0 Liverpool: Liverpool's first attack sees Mané head Firmino into space at the left-hand edge of United's box but the Brazilian slices his effort high, wide and not-so-handsome from far too an acute an angle to be having a go. The Stretford End let him know what they make of his attempt.
12′ – Manchester United 0-0 Liverpool: Liverpool fans, meanwhile, let their hosts know how many European Cups they've won.
Source: Martin Rickett
13′ – Manchester United 0-0 Liverpool: Girgino Wijnaldum, who has been in good goalscoring form for The Netherlands, skips past Scott McTominay and Fred but drives a low effort straight at the De Gea.
Moments earlier, a Perreira effort dribbled into the arms of Alisson up the other end. No real chances yet in this one, but Liverpool are growing into it.
18′ – Manchester United-Liverpool: Perreira attempts a sort of chopped reverse pass around the corner as he gathers possession at the right-hand side of Liverpool's box but nobody in United red gambles. That's been a common theme so far when they've found themselves in attacking areas: none of their forwards have made runs across their defenders — nobody gambling so far. Lack of killer instinct.
21′ – Manchester United 0-0 Liverpool: Interesting moment as Rashford both outpaces Van Dijk, and then outmuscles the big Dutchman, to pounce on a loose ball and feed Perreira. The latter's effort is deflected wide before it ever really gets going, and Liverpool clear the resulting corner.
As the visitors attempt to mount an attack, Fred dispossesses Mane and then wins a free from the Senegalese star.
United fans have been channeling the spirit of 2013/14.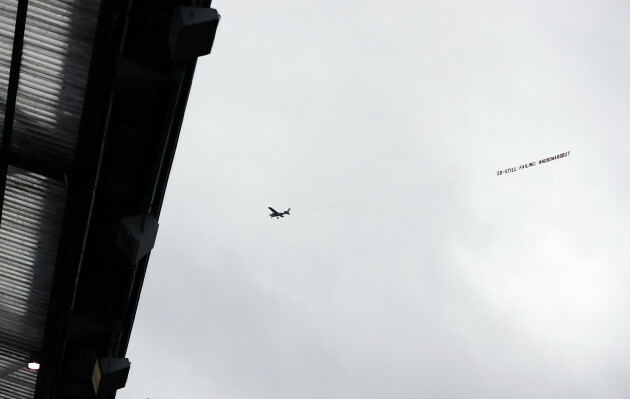 Source: Martin Rickett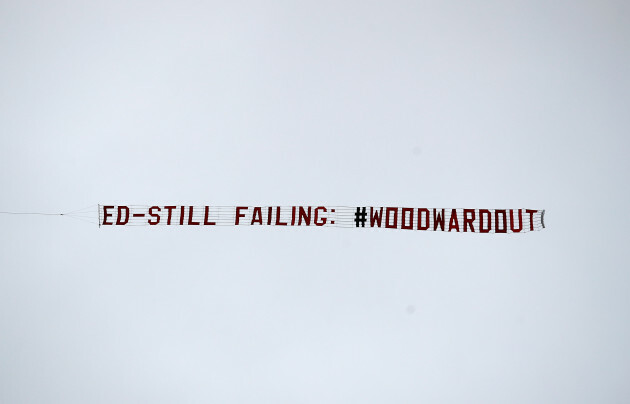 25′ – Manchester United 0-0 Liverpool: Scott McTominay makes an impressive burst through midfield, shrugging off a couple of challenges, but his effort is — like all of the shots so far in this game — far too tame to test the opposition 'keeper. Good play, though, by the young Mancunian.
27′ – Manchester United 0-0 Liverpool: A fine run down the left wing by Marcus Rashford who tears into the Liverpool box. Unfortunately for the 21-year-old Englishman, his attempted pull-back on his left foot appears to clip his standing right leg and dribble to safety from a Liverpool standpoint.
28′ – Manchester United 0-0 Liverpool: The first really dangerous cross of the evening is supplied by Wan-Bissaka and hooked away by Van Dijk, who was typically well-stationed.
32′ – Manchester United 0-0 Liverpool: Liverpool have been a bit disappointing so far. Granted, they've won just once at Old Trafford in 13 visits, but this is a United team with nine league points from eight games — they're just a point off the relegation zone. Liverpool on current form would have expected to have had far more control of this game, particularly given United's midfield is bereft of Paul Pogba.
34′ – Manchester United 0-0 Liverpool: A real chance for Liverpool, at last! Mane breaks down the right wing and provides the perfect pull-back to Firmino near the penalty spot, but the forward attempts to pass the ball first-time past De Gea and doesn't get anywhere near enough purchase on it. Really poor finish — he'll be sickened he didn't just give it a wallop.
Moments later, Firmino forces a good save out of De Gea with a header but he was in an offside position and the whistle had already gone.
GOAL FOR MANCHESTER UNI-- wait, we're going to VAR
36′ – GOOOOOAAAALLLLL! Manchester United 1-0 Liverpool: Hang on a sec, they're going to have another look at this one! Marcus Rashford thinks he has scored, but there may have been a foul in the build-up.
Flag
GOAL FOR MANCHESTER UNITED!
36′ – GOOOOAAALLLL! Manchester United 1-0 Liverpool: The goal stands, and Jurgen Klopp is livid!
It was Dan James who countered down the right and put one on a plate for Rashford with a delicious cross, but Divock Origi felt he had been fouled by Victor Lindelof in the build-up.
There was definitely contact, and Origi definitely made the most of it, but the verdict is…goal! 1-0!
GOAL FOR LIVERPOO- wait, more VAR...
43′ – GOOOAA– wait, no, it's been disallowed! Manchester United 1-0 Liverpool: Sadio Mane is correctly adjudged to have handled the ball before squeezing past Lindelof and finishing past De Gea. The right call here and it took far less time — but Liverpool will feel the wrong call was made for United's goal minutes earlier.
Flag
Half-time: Manchester United 1-0 Liverpool
This is the moment that separates the sides at the break…
Source: Martin Rickett
Liverpool and Klopp will feel aggrieved, but United have been the better side over the course of the first half. Klopp almost sprints down the tunnel — big team talk ahead for the German.
Flag
Second-half kick-off
46′ – Manchester United 1-0 Liverpool: We're back on for the second half.
Per Opta, Manchester United have not lost a league home game after leading at half-time since May 1984.
50′ – Manchester United 1-0 Liverpool: Huge error not going to the jacks at half-time. Could be a highly tense second 45.
Dan James was down, there, after a big meaty challenge by Virgil van Dijk. Martin Atkinson stopped play much to Liverpool's frustration, and upon the resumption, Fabinho makes a hames of a pass and United get a throw-in near midfield.
54′ – Manchester United 1-0 Liverpool: Almost nothing has happened in the second half so far. Pinball in midfield, largely, with United enjoying slightly the better of it but not exactly making it count to any significant degree.
They're closing down space well, though, and are keeping the crowd onside with the honesty of their effort. Even Fred is getting about.
59′ – Manchester United 1-0 Liverpool: Wan-Bissaka presses Robertson whose pass is skewed out for a throw. The crowd roars in approval.
James is down again but despite United's calls for Liverpool to put the ball out, they don't. Neither does Ashley Young, who hoofs the ball down the field but centrally when United regain possession.
Eventually, Henderson does put it out — and it's the right call. It was either Matip or Van Dijk, but they absolutely flattened James in a big challenge. There's blood pouring from his nose, and he had a bad landing, his head colliding with the turf.
While he receives treatment, Alex Oxlade-Chamberlain replaces Origi for the visitors.
James seems okay to continue.
61′ – Manchester United 1-0 Liverpool: This man will be looking for more from his side during the final half an hour or so, but in truth, Solskjaer has had Liverpool's number so far this evening.
Source: Martin Rickett
63′ – Manchester United 1-0 Liverpool: Liverpool have had 61% possession over the last 10 minutes, but are yet to threaten in the second half.
United, though, look like they're set to batten down the hatches and depend on Rashford and James to forage on the break.
64′ – Manchester United 1-0 Liverpool: 'The Ox' fires an effort well wide to the left of De Gea's goal.
Jose Mourinho is in the Sky studio today. No kisses being blown by Roy Keane to the left.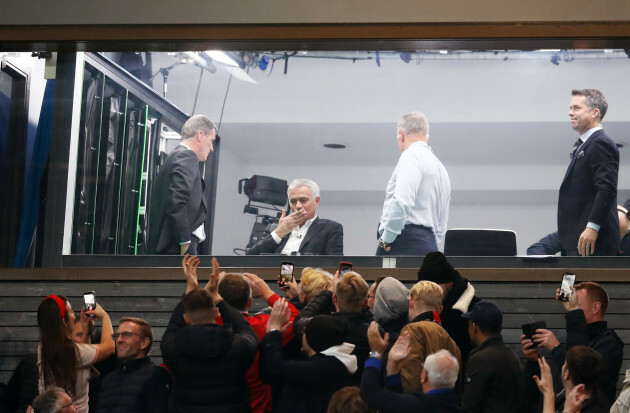 Source: Martin Rickett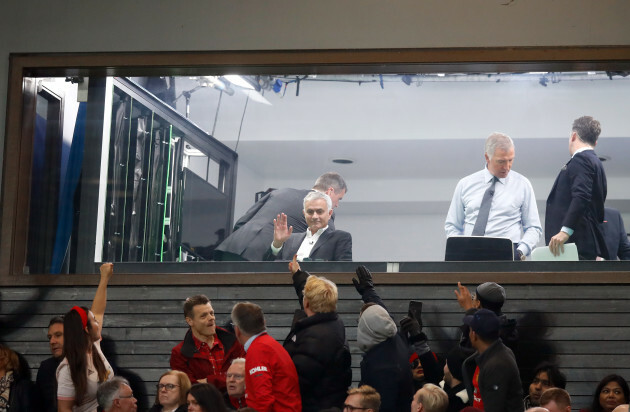 66′ – Manchester United 1-0 Liverpool: A chance for Manchester United as Perreira finds Rashford with a crossfield pass and the young English forward cuts inside, fashioning space at the edge of Liverpool's area before pulling his effort just wide of Alisson's sticks. Rashford's been excellent this evening.
71′ – Manchester United 1-0 Liverpool: Yellow card for Fabinho as he chops down the rampaging Dan James.
Nothing comes of the resulting free-kick.
Adam Lallana replaces Jordan Henderson for the league leaders.
73′ – Manchester United 1-0: Nice play from United: Perreira again finds Rashford with the long crossfielder, and Young's low pass towards the area is turned cleverly into Fred's path — I think by Perreira again — but the defensive midfielder's effort is sliced wide.
Just over 15 minutes plus stoppage time to go at Old Trafford, and it's still 1-0…
Source: Martin Rickett
79′ – Manchester United 1-0 Liverpool: Fred gets a bit carried away and an absolutely wild pass off his unfavoured right foot sets Liverpool away on the counter. In the end, though, Harry Maguire and Fred himself combine to snuff out the danger, Fred winning a free much to the amusement of the home fans.
82′ – Manchester United 1-0 Liverpool: United sitting deep now and Liverpool beginning to come forward in waves. The final ball from Klopp's men, though, continues to leave them down. United look somewhat comfortable and aren't exactly under the cosh despite Liverpool's attempts to sustain pressure.
83′ – Manchester United 1-0 Liverpool: A superb break down the left by the impressive James but his cross — off his left foot — just about evades United's attackers.
Fred gathers the ball on the right-hand edge of the area and fires a rasping shot off his favoured left just wide.
Flag
GOAL FOR LIVERPOOL!
85′ – GOOOOOOOOALLLLLLL!!! Manchester United 1-1 Liverpool: Adam Lallana equalises for Liverpool! Manchester United make a meal of a cross from the left-hand side, and Lallana is on hand to poke home and level it! Goal out of nothing, and Liverpool's unbeaten run is set to continue at the very least! 1-1!
88′ – Manchester United 1-1 Liverpool: Liverpool will really fancy their chances of snatching victory from the jaws of defeat, here, now.
Alexander-Arnold comes reasonably close with a half-volleyed drive towards the top-right-hand corner.
The atmosphere has been sucked out of Old Trafford by that Lallana leveller.
Added time: 5 minutes
All Liverpool, and they have time.
90 +1′ – Manchester United 1-1 Liverpool: The visitors are piling on the pressure now, but with a lot of lateral possession around United's box, just looking for a crack.
Oxlade-Chamberlain drives one! Just wide on his left foot.
90+3′ – Manchester United 1-1 Liverpool: United break through Young and James, the latter of whom wins a corner. It comes to nothing but offers United some respite, at least.
Brandon Williams, a left-back, has replaced Andreas Perreira. Anthony Martial came on for Rashford a few minutes ago, as well.
90+5′ – Manchester United 1-1 Liverpool: Liverpool have a late, late penalty shout and there will be a VAR check! A driven cross hit Fred around the shoulder area… Penalty not given, and upon the replay, it looks fair enough. Hits him right on the point of the shoulder.
Flag
Full-time: Manchester United 1-1 Liverpool
And so, Liverpool's incredible winning run comes to an end, but they remain unbeaten since January following a 1-1 draw at Old Trafford.
They extend their lead over Manchester City to six points, while United overtake Everton and move into 13th — two clear of the bottom three.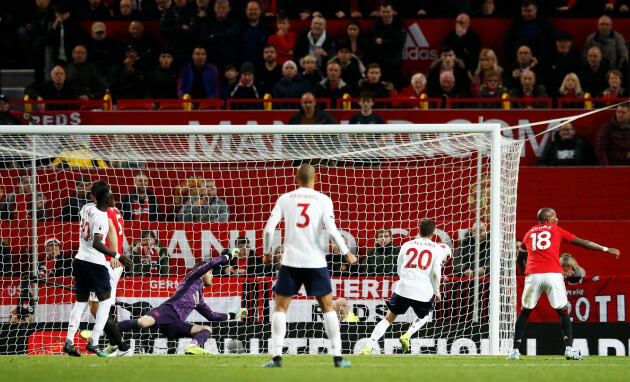 Source: Martin Rickett
Thanks for joining us, and keep an eye on The42 for a report and reaction later this evening!
Contribute to this story: