Liveblog
Good afternoon and welcome to coverage of Louis van Gaal's last game in charge of Manchester United. Reportedly.
The 11-time winners take on a side who've never won a major trophy in their long history in Crystal Palace.
The game, of course, is a repeat of the 1990 decider in which Eagles boss Alan Pardew lined out. After a thrilling six-goal draw, United won a drab replay under floodlights.
How do you see this one playing out?
""It would be nice to say 'fuck you' to a few people, people who never believed in me. I believed in myself. But we'll only cherish it if we win it. We had a meeting earlier this week and spoke as a group about what the Palace team did back in 1990. I have huge respect for what they achieved, getting to that final and then to the replay against United, but they didn't win it. It's important to remember that. They're still talking about that team after 26 years, so imagine if they'd actually won it."
Looking for some before-kick-off reading? This Dominic Fifield interview with Corkman Damien Delaney is excellent. Let's hope he does himself justice this evening.
Oh no!
Former Manchester United winger Wilfriend Zaha is rumoured to be out of the game because of an injury picked up in the warm-up. He left the pitch in tears.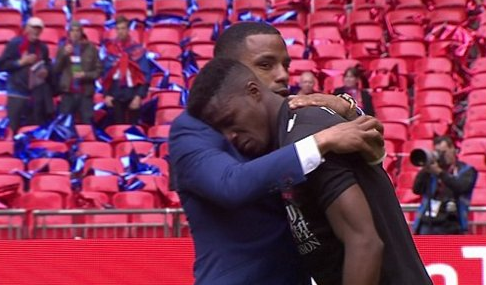 Ooof! Fellaini starts. Here's the United team:
And Zaha will, in fact, start. He's been named in the XI despite that injury rumour. The Guardian report that he was crying because of emotional messages he received. 
Crystal Palace: Hennessey; Ward, Dann, Delaney, Souare; Zaha, Cabaye, McArthur, Jedinak, Bolasie; Wickham. Subs: Speroni, Mariappa, Sako, Puncheon, Gayle, Adebayor.
The hero of 26 years ago:
[image alt="https://twitter.com/RichieMcCormack/status/734043565668601856/photo/1" src="https://pbs.twimg.com/media/Ci_Yu87WYAAD-0B.jpg:large" width="630" height="522" credit-url="https%3A%2F%2Ftwitter.com%2FRichieMcCormack%2Fstatus%2F734043565668601856%2Fphoto%2F1" credit-source="Twitter" credit-via="" credit-via-url="" class="alignnone" /end]
Fergie and Steve Coppell have arrived, continuing the 1990 nostalgia.
Scholesey looks in good form already.
Source: PA Wire/Press Association Images
LVG is talking about the decision to drop Jesse Lingard on BT. It is very, very tough, he admits.
We're about to start the 10-minute pre-game stuff. Steve Coppell and Fergie are about to walk out with the cup and the volume is getting cranked up by the supporters, with the Palace end impressively coordinated as always.
Alex Ferguson's advice to the players? "Go out there and enjoy it… but you can only enjoy it if you win."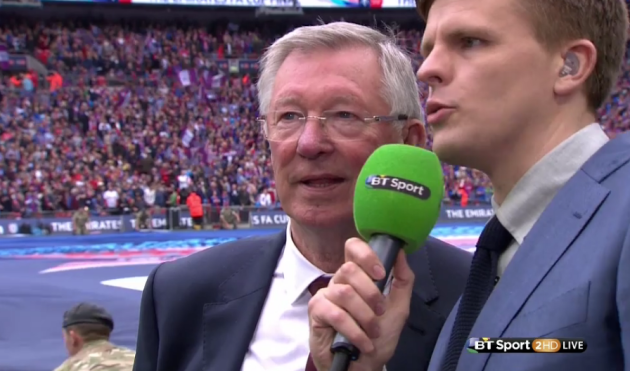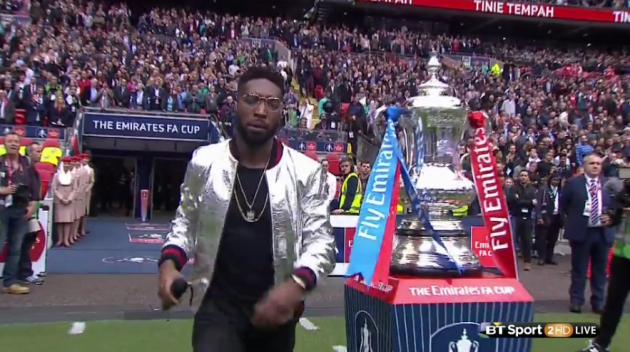 Somewhere in the east midlands, John Giles is spitting his tea across his living room. Tinie Tempah emerges from the tunnel in a nice spaceman bomber jacket to perform an atmosphere-killing medley of his hits.
Kick off is going to be later than billed here after all the preliminaries.
The singer who was to perform the British national anthem missed her cue and joined in halfway through like fellas on the Hill with Amhrán na bhFiann.
And, at last, we're up in and running in the 2016 FA Cup final.
First corner ball of the afternoon goes to Palace, who've started well.
Cabaye plays it to the near post and it's too close to De Gea.
Fellaini could well be the key to success and failure this evening.
The Belgian was lurking with intent on the back post there and was found with a diagonal ball from Blind but his header was tame enough.
Rashford tests Damien Delaney by playing the ball past the Corkman and challenging him to a foot race.
The Turner's Cross man launched a vital last-ditch tackle and conceded a corner. It's been an open start to the game.
Chance! Another Man Utd corner and Fellaini is again the target. The Belgian gets a good header on it, after getting in front of his man marker Jedinak, but it goes wide again.
Rojo has a shot on target but he might have done better putting it across the six-yard box. Wayne Rooney picked him out with a lovely ball from deep.
What have you made of this first 15 minutes or so?
Palace have the ball in the net but it's ruled out!
Conor Wickham gets past Chris Smalling who falls. Wickham drives into the box and tucks it away but Mark Clattenburg calls it back for a free in. Weird one.
Howard Webb says the ref should well have played advantage there and he'll be disappointed.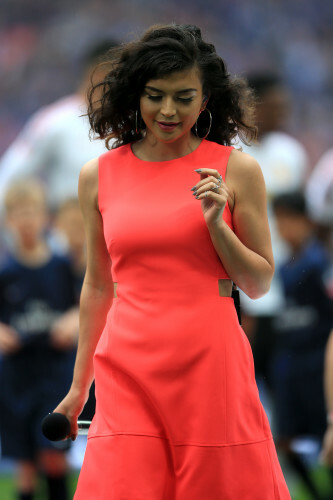 Missed cue: Singer Karen Harding after performing the British national anthem. Source: PA Wire/Press Association Images
Big save! Juan Mata pops up for the first time to shoot after a poor clearance from inside the box. Hennessy got down to get a strong hand to it and the danger is gone.
Fellaini again comes close! He's the target for another corner after getting in front of Jedinak, put he can't steer it home. Another corner.
Palace get two shots off in successive attacks; first from Bolaise and then Wickham. We're half an hour in and it's still scoreless, but there's goals here.
Who had 32 minutes in the Giggsy-off-the-bench pool? Collect your prize at the back of the hall.
Great chance for United! Damien Dempsey dives in a little and is done by Rashford out wide.
He heads goalwards squares for Martial and the French forward's shot is blocked.
Penalty shout!
Daley Blind loses the ball in a bad position and Zaha is in on goal. Rooney slides in and doesn't seem to make any contact with the ball as his former teammate hits the deck. Clattenburg waves play on.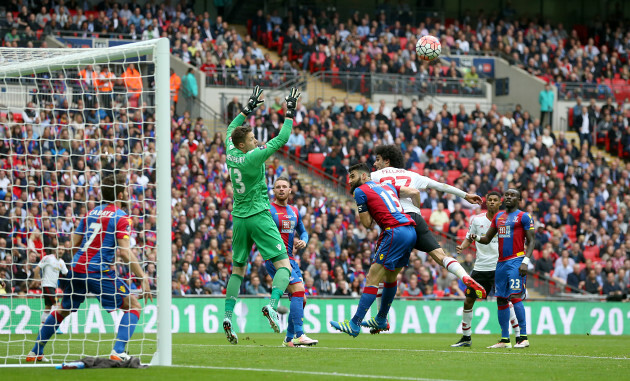 Source: EMPICS Sport
Rojo's booked for a tussle with Zaha, and he'll have to be very careful if he doesn't want to pull a Kevin Moran.
Alan Pardew is furious the ref didn't leave them play on again, meanwhile.
Juan Mata's booked now too to become the third United player in the ref's book after Snalling and Rojo. We're into injury time.
Half-time! Man Utd 0 Crystal Palace 0 
What have you made of that?
Mark Clattenburg — who officiates the Champions League final next week — is getting dog's abuse on social media. The consensus on BBC is that he's not had a good first period.
Finish those drinks and get back to your seat. The second half has kicked off.
Scott Dann's booked for taking out Rashford, who's been United's brightest player if you ask me.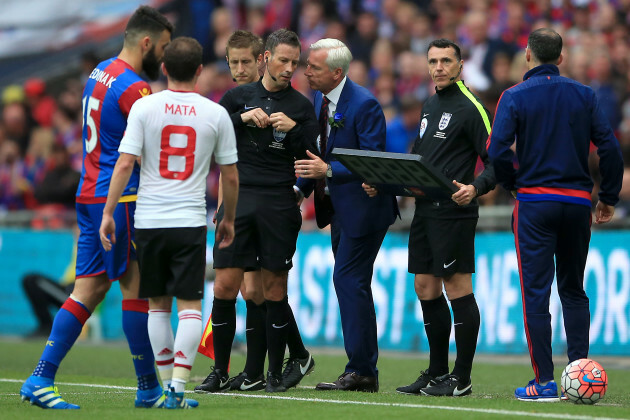 Source: PA Wire/Press Association Images
The Big Belgian Battering Ram is getting closer.
Rashford again is the key. He's been brilliant and again he picks out a teammate — this time with a flick. Fellaini takes it early but his shot canons off the woodwork.
The game is frantic enough now.
Martial hits the post! They're knocking on the door big time now.
Martial headed goalwards from 15 yards or so out after a Valencia cross but it came off the post again.
Meanwhile, Damien Delaney's been booked. He went through Marcos Rojo after a heavy touch and the Argentine is still on the ground.
Matteo Darmian is introduced in place of Rojo who leaves the fray with Damien Delaney's stud-prints as a souvenir.
Jason Puncheon is preparing to come on for Palace. From the shadows will come heroes as Sam Torrance was wont to say in his Ryder Cup pomp.
Ashley Young is togging out as Rashford leaves the dray with a knock. That's a blow for United's chances.
It's Cabaye who trots off to make way for Puncheon. Young goes into Rashford's central role rather than Martial.
LVG loves to play people in the wrong places doesn't he?
Source: Kirsty Wigglesworth
GOAL! Crystal Palace 1 Man Utd 0, Puncheon 78′
What a goal from the south London favourite.
After a Palace corner is cleared, Delaney lofts it back in to Puncehon. The sub takes one touch and blasts it past De Gea.
GOAL! Crystal Palace 1 Man Utd 1, Mata 81′ 
They're level. Wayne Rooney beat three Palace players at least before cutting the ball back. It falls to Mata via Fellaini's chest and the Spaniard drills it home.
I've been trying to find a gif of Alan Pardew's dad-dancing which clearly angered the football gods. United equalised three minutes later.
He's gonna look pretty stupid if he ends up on the losing side.
Mata's off in place of Lingard, meanwhile.
Source: PA Wire/Press Association Images
A downcast and apparently injured Scott Dann's been replaced by Adrian Mariappa.
Wilf Zaha's had a pop at goal under pressure from Valencia, meanwhile, but it fizzes wide.
Full-time: Manchester United 1 Crystal Palace 1 
Extra time!
Both sides have made all their changes and we're set for another half hour of this.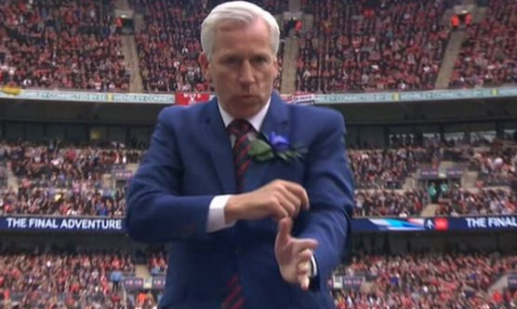 And we're up and running in the first period of extra time.
Palace get their first sight of goal in extra time.
Bolaise plays a lovely ball to Zaha on the half turn. The United defence get back in numbers and sniff out the danger.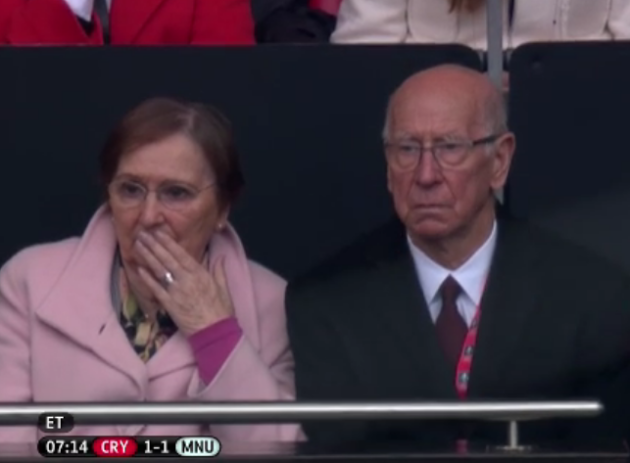 Bobby won't be hugely impressed by the fare in extra time so far. It look like both sides have their eyes on penalties already.
Rooney leaves his foot in on Puncheon to prompt calls of 'off' from the Palace fans. He's already been booked and Mark Clattenburg looks in no mood to dismiss the England skipper.
Moments later Fellaini has his name taken for one of those elbow-first aerial challenges. Had to happen.
Save from De Gea! Bolaise volleys a ball goalwards and the Spaniard has to get down to the corner and palm it behind. Great effort too.
RED CARD! Chris Smalling picks up his second yellow card for dragging down Bolaise. Stupid stuff.
Half-time in extra time: Palace 0 United 0 
What do these managers say to their teams now?
Rio Ferdinand on BT says Pardew needs to gamble on the win in his period.
Is this the last quarter of an hour of Van Gaal's tenure?
We're off in the second period of ET.
De Gea save again! Gayle was played in and should have scored but the legs of the Spaniard are in the way. Massive let off.
Make-shift striker Ashley Young seems to have dropped back to left back.
Michael Carrick — who's never won the FA Cup — arrives late in the box to meet a cross but he heads wide!
GOAL! Man Utd 2 Crystal Palace 1, Lingard 
What a volley! Another sub gets his name on the scoresheet. Valencia plays a ball across the face of goal, it's half cleared but pops up for the young winger and he lashes it home first time.
Van Gaal goes nuts on the sideline.
Damien Delaney's playing at centre forward now. It'd be some story if he got an equaliser.
The Selhurst Road brains trust are looking pretty downbeat now with a couple of minutes left.
Two minutes of injury time.
MAN UNITED WIN THE 2016 FA CUP!
Louis van Gaal has led United to their first trophy in the post-Fergie era while Palace lose another FA Cup final. Their wait for a major trophy goes on.
With the Galzer family looking on, will this this victory be enough to save LVG at Old Trafford?
Wayne Rooney's actually speaking really well to Des Kelly about this — his first FA Cup final — and what it means to him.
The Palace fans are traipsing up the famous Wembley steps to collect their medals.
As the Stone Roses' This Is The One comes on the PA, Carrick and Rooney lift the cup.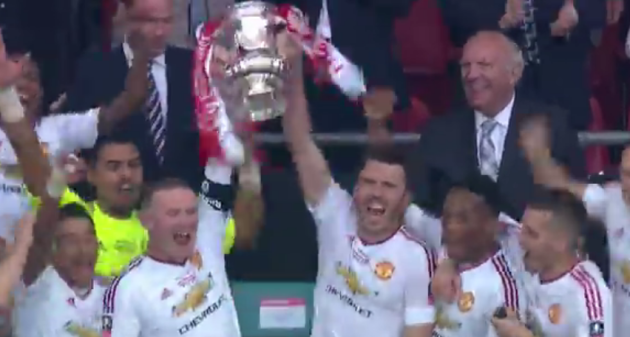 Thanks for your company. We're off to do the Pardew.
Contribute to this story: