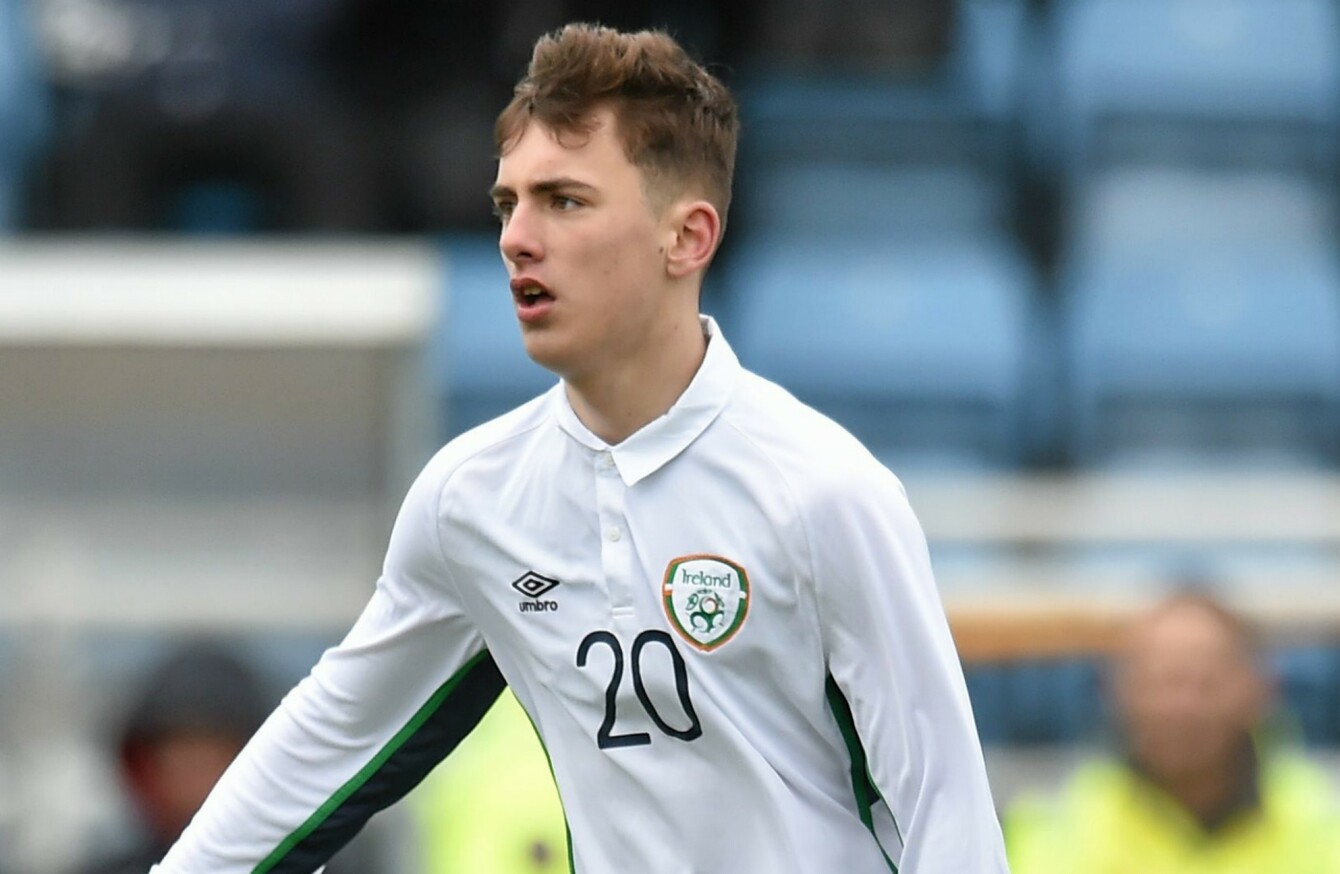 'I'm going there because I want to play football.'
'I'm going there because I want to play football.'
IRISH AMATEUR CLUB Villa has become a fertile environment for producing talented prospects in recent years, with a number of players moving across the Irish Sea with aspirations of carving out a career in football.
Ireland U21 international Kenny McEvoy joined Tottenham Hotspur from the Waterford club, while the current Ireland U17 captain Jayson Molumby, who is now with Chris Hughton's Brighton and Hove Albion, also spent a period there.
They can now add Manchester United to that list of illustrious clubs, after the Red Devils snapped up precocious talent Lee O'Connor.
"It's fantastic recognition [to have a player join Man United]," Villa chairman and academy director Paul Morrissey said. "It's great recognition for Lee and it's great recognition for the club."
It is no surprise that O'Connor is one of the latest additions to the United academy. In March 2016, the club's new Head of Academy Nicky Butt explained his desire to recruit Europe's elite and bolster the youth ranks.
"It's the same as any other club," the former midfielder said in an interview with the club website. "We all want to attract the best young players in Europe, at whatever age, and we're exactly the same."
In the same month that Butt spoke of bringing in the best, O'Connor was recognised as the top U15 talent in Ireland.
The Waterford native, who turns 16 in July, shared a stage with senior internationals Seamus Coleman and Richard Keogh as he was crowned U15 Player of the Year at the Football Association of Ireland's annual award ceremony in Dublin.
Morrissey has witnessed the development of O'Connor from a young age and he is most impressed by the young player's athleticism, noting his competitive spirit. "He's a superb athlete. His ability to cover ground on the pitch is excellent," said the Villa chairman.
"He's not deficient in any department; he's a good passer, he's very competitive, a good tackler and he reads the game extremely well. His athleticism is fantastic."
In addition to his physicality and technical ability, O'Connor is also a leader, having captained the Irish U16 team. His ability was duly recognised at international level by Tom Mohan, who drafted him into the Ireland U17 side in 2015 and, despite his relative youth, he became a key figure in the team
O'Connor made six appearances overall in the Uefa U17 Championship qualifying, supplying assists in two games – wins over Finland and Montenegro – as they narrowly missed out on a place at the finals in Baku, exiting at the Elite stage.
Although in his formative years he had mainly featured for Villa in a central position, he has been deployed on the wing for Ireland and has also featured at full back. Such versatility can be an asset for any young player attempting to make their mark.
The 15-year-old has agreed a three-year deal with Manchester United, which comes into effect at the end of June and, having trained with the likes of new goalscoring sensation Marcus Rashford, there is no doubt in his mind that Old Trafford is the place for him.
"From the moment I went over to Manchester United, I just knew that there was no point me thinking about signing for any other club and I always wanted to go there," O'Connor told the Waterford News and Star.
"I want to develop as a football player and I want to become the best player that I can be by signing for one of the biggest clubs in world football. It was the best place for me to go."
He added: "I'm going there because I want to play football. I want to play for the first-team of Manchester United and I'll be honest, I wouldn't be making this move unless I felt that I was good enough.
"I don't think that Manchester United would want me to sign for them either if that's what they didn't want me to do."
In joining the Manchester United youth ranks, O'Connor is following in the footsteps of Irish professional footballers like Robbie Brady and Paul McShane, but it is his fellow Waterford native John O'Shea, whose journey he should most like to emulate.
O'Shea left Old Trafford in 2011 with a clutch of honours, including five Premier League medals and a Champions League winners medal.
"John O'Shea is from the area and, as we know, was over with United before. It's a path that's been trodden before and he made it all the way through," noted Morrissey, thoughtfully.
"You'd be hoping that something similar would happen for Lee."
- Ryan Kelly, Goal.com