PA Wire / Press Association Images Juan Mata celebrates his opener. PA Wire / Press Association Images / Press Association Images
LEAGUE TWO SIDE Cambridge United earned a draw last time out against the Premier League heavyweights. And tonight's Old Trafford fixture was their lucrative reward.
Get in contact in the usual ways; email adrian@the42.ie, find us on Facebook, tweet us at @football_ie or leave a comment below. 
Is there anything better than unexpected football on a school night?
Richard Money's unfancied U's frustrated the likes of Angel di Maria and Falcao in the first game but won't be expected to do much tonight surely?
It's an unusual five-past-eight kick-off time and the home team is in:
Manchester United: De Gea; McNair, Smalling, Evans, Rojo; Fellaini, Blind, Rooney (c); Mata; Di Maria, Van Persie.
Subs: Valdes, Jones, Falcao, Young, Herrera, Valencia, Wilson.
How do you see this one playing out?
Louis van Gaal has just been interviewed by Ray Stubbs and he seems in top, top form.
And he says its "death or gladioli" for the home side.
"It's fantastic to win and Manchester already have a long time not won this," he added. He means business.
Check out this graphic. It's amazing the value around these days: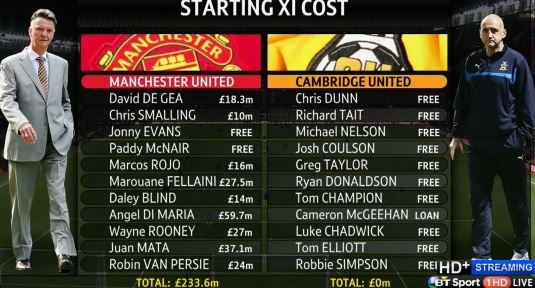 Jake Humphreys and co are working hard to fill the time before kick off due to a delay til 8.05, including grabbing the likes of Luke Chadwick for a chat during their warm-up. The reason for the delay? Up to 25 coaches filled with Cambridge fans are stuck on the motorway reportedly.
Here's the line-ups, then. Fellaini to score for me, Jeff: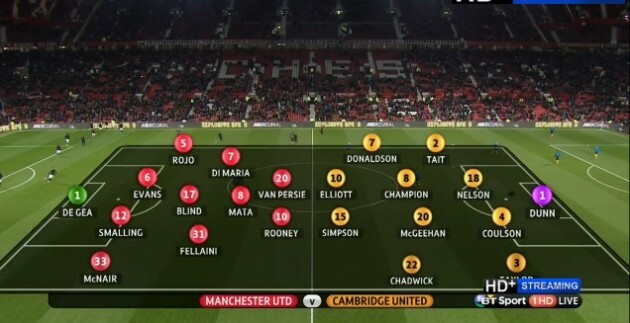 And we're off, with the home side kicking off, and the atmosphere looks pretty good despite the late arrival of the visitors' chairman and fans.
Ooof! Cambridge hit the post! Elliott curls it off the base of the upright. My days.
United gave settled down a little since that ridiculous early opportunity for Cambridge.
It was all down to Daley Blind who mis-controlled in the centre and let Elliott barrel through on goal before his effort cannoned off the woodwork.
Wayne Rooney has his first real sight at goal when he gets his well-plugged head on the end of a long ball, having given the Cambridge defender a canny little nudge at the right moment. It was a good effort but not good enough to break the deadlock.
Feb 3rd 2015, 8:20 PM
15'
Cambridge are under pressure now. Rooney gets a ball into the box towards Fellaini but he can't direct his effort on target. LVG spoke of death or gladioli beforehand but his tactics aren't particularly flowery so far with plenty of direct balls into the area.
Feb 3rd 2015, 8:25 PM
19'
Rooney looks busy tonight and he carved out another chance for himself in the D as he twisted around a defender but dragged his shot at the keeper.
Di Maria has picked up a bit of a knock in the meantime but will be grand.
Feb 3rd 2015, 8:31 PM
24'

Falcao's on the bench for United tonight.
The winner's of this tie (Manchester United) will face the team that comes though the Sheffield United v Preston North End game and the Blades have just taken the lead.
Feb 3rd 2015, 8:32 PM
28'
GOAL! Manchester United have taken the lead through Juan Mata.
Paddy McNair sent in a deep, good cross which Fellaini knocked down — that's why he's there — and Mata knocked it home.
Feb 3rd 2015, 8:39 PM
33'
GOAL! Marcos Rojo scores his first for Manchester United. A corner's pinged in, Fellaini again knocks it on, RVP flicks it square and the Argentine heads home.
Feb 3rd 2015, 8:45 PM
39'
Feb 3rd 2015, 8:49 PM
43'
'That might have been something special' says Ian Darke, and he's not wrong. Juan Mata sends Di Maria down the left and though he's surrounded by three visiting defenders he manages to scoop it out for an onrushing Wayne Rooney in the centre.
The ball was ideal but the England striker hit it back across the face of the goal and wide.
Feb 3rd 2015, 8:53 PM
45'
Half-time: After a shaky start, United are well in control here. Also, Michael Owen is painful.
United won't lose this one from here surely but the game's complexion could have been a lot different if this effort from Tom Elliott curled in after 90 seconds or so.
Feb 3rd 2015, 9:09 PM
46'
The sides are back out and we're up and running.
Feb 3rd 2015, 9:10 PM
47'
Elsewhere, it's now 1-1 between Preston and Sheffield Utd and also between Fulham and Sunderland.
Feb 3rd 2015, 9:14 PM
49'
Van Persie is absolutely dying to score and he might have just now. McNair again got down the wing and left it in for RVP but he headed wide.
Feb 3rd 2015, 9:16 PM
52'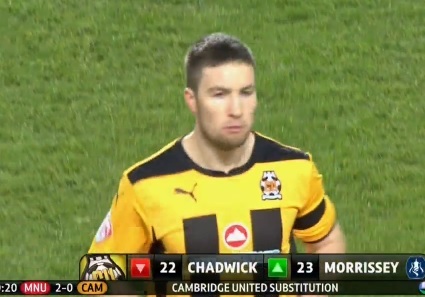 Welcome to the big time. Former Cork City man Gearóid Morrissey is on for his Cambridge debut in place of Luke Chadwick. No biggie.
Feb 3rd 2015, 9:19 PM
56'
Preston have taken control at Bramall Lane and are now leading the Blades by three goals to one. Sunderland have gone ahead at Craven Cottage through Ricardo Alvarez.
Feb 3rd 2015, 9:30 PM
64'
RVP doesn't look particularly happy as he trots off to be replaced by James Wilson.
It's moments after he sees another chance gone a-begging. Di Maria chipped in a great little ball for the Dutchman who strikes it goalwards but Dunn pulls off a great save.
Feb 3rd 2015, 9:32 PM
68'
Di Maria stings the palms of the Cambridge keeper from about 30 yards out. Another good save from Chris Dunn.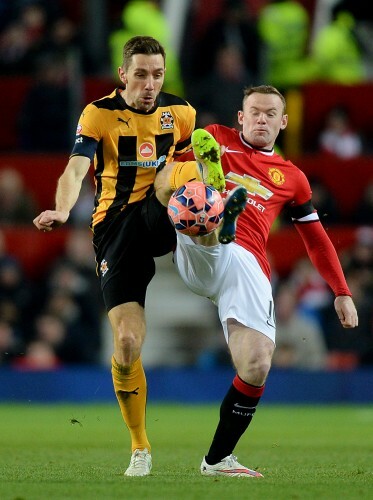 Martin Rickett Martin Rickett
Feb 3rd 2015, 9:37 PM
73'
GOAL! James Wilson scores his first FA Cup goal and wraps this one up.
Feb 3rd 2015, 9:40 PM
74'
Preston have beaten Sheffield United 3-1 at Bramall Lane so they'll face United in the fifth round. Interesting one. Sunderland have come through their trip to Fulham too.
Feb 3rd 2015, 9:51 PM
85'
Great stats for the night that's in it for one Leesider:
Feb 3rd 2015, 9:52 PM
88'
So as this game winds down, what have you made of it?
Fellaini's been pushed forward, Rooney's shown glimpses of what he could do in midfield and RVP hobbled off down the tunnel on his own after a goal-less night.
Is it coming together for Van Gaal?
Feb 3rd 2015, 9:54 PM
90'
One player who has impressed — even factoring in the level of the opposition — is Northern Ireland's Paddy McNair who's been intelligent in possession, have linked up well with Rooney in particular and has delivered some great crosses from deep. What do you think? A young Sheasy, right?
Feb 3rd 2015, 9:56 PM
92'
Here's that Wilson goal that wrapped it up:
As I type, McGeehan — who left his mark on Di Maria earlier — had a half chance to grab a goal at the Theatre of Dreams but couldn't manage it from outside the box.
Feb 3rd 2015, 9:57 PM
90'+2
Full-time: The ref blows it up to applause from both sides. Cambridge can hold their heads high but Man Utd march on as the draw opens up for them.
Feb 3rd 2015, 9:59 PM
90'+3
So, next up Preston away for Louis van Gaal and his side. That's we're we'll leave it tonight. Thanks for your company.