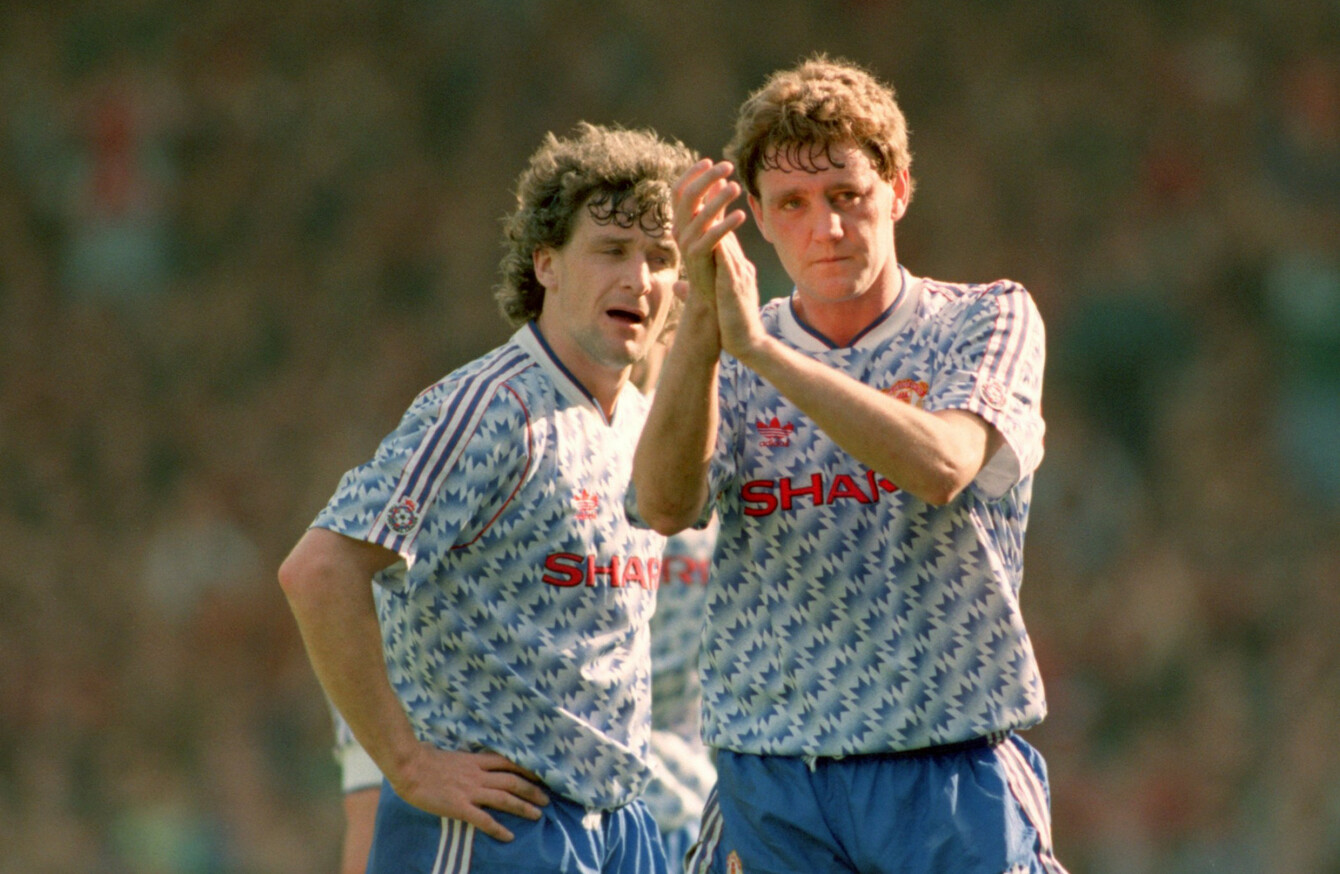 Image: Neal Simpson
Image: Neal Simpson
SIR ALEX FERGUSON has a few stories about Manchester United's visit to Upton Park to face West Ham in April 1992.
The first is of a well-dressed man in a trilby who, as the game inched towards conclusion with the hosts leading 1-0, desperately called out Ferguson's name to get his attention.
When Ferguson finally turned around, the man flicked a 'V' sign at him and screamed 'Fuck you'.
Then there's the devastated United fan Ferguson spotted from his seat on the team bus as it slowly inched its way from the stadium. Slumped by the window and dwelling on how his side's defeat had probably cost them the championship, Ferguson's eyes focused on a man perched on the footpath who was weeping uncontrollably.
As the bus passed by, the man stood up and held his arms out wide in a gesture of exasperation. It was only then that Ferguson recognised him as Andy Gregory, one of the finest rugby league players at the time.
It was a bleak Easter for United, though the build-up started promisingly with a League Cup final victory over Nottingham Forest.
But, later in the month, they played four First Division games in just eight days. The run began when they were two points clear of Leeds United at the top of the table and heading towards their first title since 1967. But, straight out of the gates, they stumbled and never recovered.
The first setback was when they visited Luton and only left with a point. Even more frustrating was that the Hatters' equaliser was scored by Mick Harford, a striker Ferguson had toyed with signing just a few months earlier. Concerned with United's injury problems, subsequent struggles up-front and the condition of the Old Trafford turf, he felt a physical presence in attack could give United something different. But the deal never happened, much to Ferguson's regret.
"We had some injuries but the pitch was terrible. The Old Trafford pitch was a nightmare," he said years later.
I tried to sign Mick Harford [from Luton] before the deadline when David Pleat was manager. Trying to deal with David was a bit difficult. He wanted too much at the time. It was only around £400,000. Mick was 33 or 34 years old and the way the pitch was he would have been ideal as we could knock the ball up to him. In the air there was none better than him. If we had signed him we would have won the league."
Even without Hartford, United still should've been crowned champions. But things got worse 48 hours after the Luton stalemate.
When Forest arrived at Old Trafford eight days after suffering a Wembley defeat to United, they were determined while their opponents were nervous. Peter Schmeichel's handling error ensured Ian Woan gave Forest the lead and despite Brian McClair pulling a goal back for the hosts, Scot Gemmill slipped home a winner for Brian Clough's side.
Late on, Steve Bruce missed with a header from close range and the the grip they seemed to have on the trophy loosened even more.
The same Easter Monday afternoon, Leeds got the better of Coventry and everything had changed.
While Ferguson had dallied in bringing in an attacking reinforcement, Howard Wilkinson took a gamble and signed Eric Cantona in mid-February. It provided the team with a new dimension and other key forward players like Lee Chapman and Rod Wallace seemed to revel in his arrival.
Still, even at that stage and with Leeds on top, United had three fixtures remaining and a game in hand. And it was that fateful night at Upton Park, against a side whose relegation had already been confirmed.
Kenny Brown's fortuitous strike settled matters as the wheels completely came off United's pursuit.
Afterwards, Ferguson was furious, referred to West Ham's performance as 'almost obscene' and wondered why they hadn't shown as much fight throughout the rest of the season.
For their fourth game of a dizzying run, United needed to win to stay in the hunt. Three points from their penultimate fixture and everything would go down to the final day of the season.
But that next assignment was at Anfield. And, it was scheduled for later on Sunday.
By that stage, Leeds had already secured a 3-2 win against Sheffield United and their players gathered to sit down and watch how things developed on Merseyside.
SEE SPORT
DIFFERENTLY
Get closer to the stories that matter with exclusive analysis, insight and debate in The42 Membership.
Become a Member
The guests were behind after just 11 minutes when Ian Rush raced onto a perfect through-ball from John Barnes to finish past Schmeichel – the first time he'd scored against United in his career.
Both sides went close after that. Paul Ince cracked the inside of the upright while Barry Venison missed a sitter at the other end.
Early in the second half, United hit the crossbar twice in quick succession but with Barnes looking dangerous, they always seemed vulnerable to the counter-attack. With three minutes left and United desperately trying to chase things, Michael Thomas broke clear and sent in a low cross. Ray Houghton's drive was brilliantly tipped onto the crossbar by Schmeichel but Mark Walters reacted quickest to knock the loose ball to the net.
"It's all up for Manchester United now," went Brian Moore's commentary on ITV.
The title headed to Elland Road for the first time since 1974.
In a little box in the top corner of the screen, live pictures showed four Leeds players – Chapman, Cantona, David Batty and Gary McAllister – celebrating, though the presence of TV cameras ensured a distinct lack of vitriol. The boys were on their best behaviour, evidenced by Chapman turning to Cantona and shaking his hand in congratulation.
But, things weren't that calm at Anfield once the full-time whistle went.
As the United players sat in an eerie quiet and mulled over a lost title, all they could hear was the shouts of 'fuck you' coming from the home dressing-room.
Afterwards, as they trudged towards the team bus, Ryan Giggs was approached by a Liverpool fan and asked for an autograph. After signing his name and handing back the piece of paper, the man ripped it up in front of him.
"He told me United would never win the league," Giggs said later.
I was 18 at the time. I hope he kept the pieces. That story has been told so many times those scraps of paper would probably be worth something."
Ferguson was publicly magnanimous but privately seething.
"If you make mistakes, you get punished," he said.
United had suffered through a miserable Easter and completely lost their way. Resurrection would take another year but they would get there, buoyed substantially by the acquisition of Cantona.
Ferguson kept hold of the Easter collapse for a while. At the start of the following season,   he pinned a photograph to the dressing-room wall.
It was taken in the final stages of the loss to Nottingham Forest and showed the anguished faces on the United bench after Bruce had missed that excellent chance.
The message was clear: don't let that happen again.
The42 is on Instagram! Tap the button below on your phone to follow us!