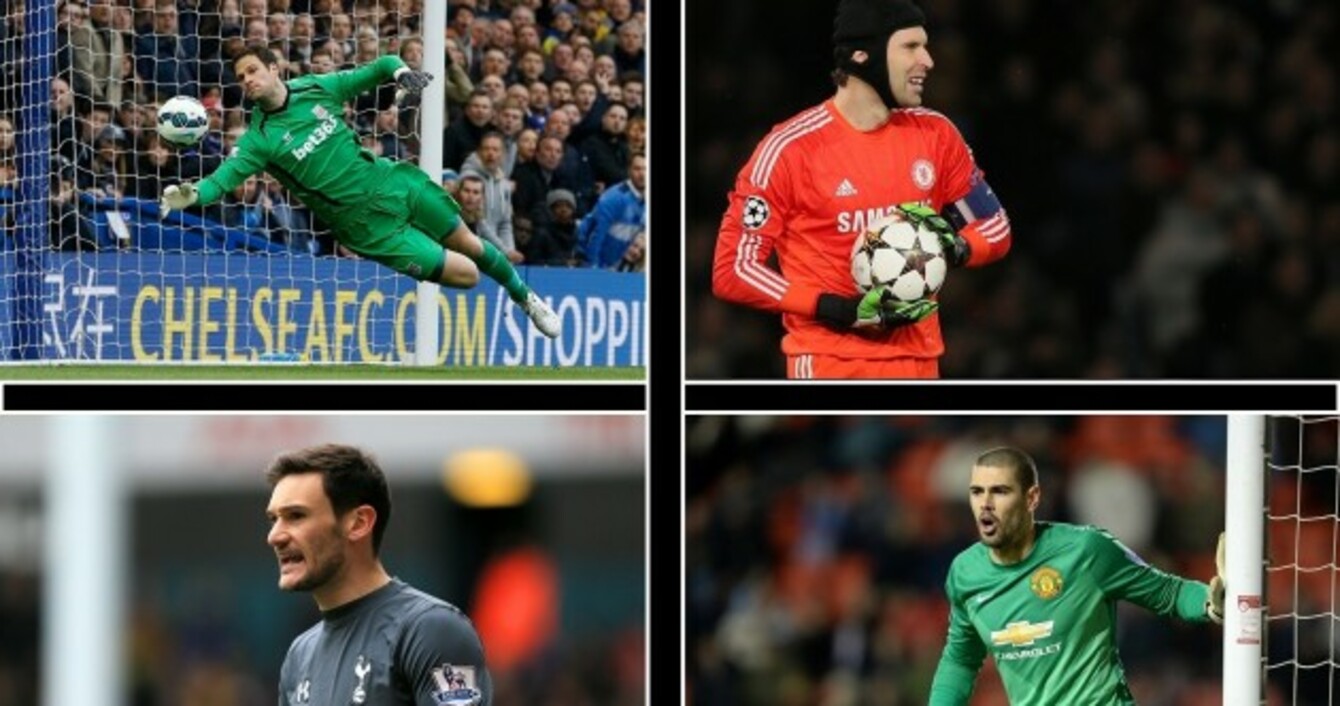 YOU'D FORGIVE THE Manchester United top-brass for having heart palpitations when first told that David de Gea was weighing up his options before deciding whether or not to pen a new deal.
United, infamously, have had just three reliable goalkeepers in 24 years – Peter Schmeichel, Edwin van der Sar and their current number one. Schmeichel stayed at the club for eight seasons while van der Sar was there for six. De Gea, signed when he was just 20, has been at Old Trafford for four. In between though, there were plenty of stop-gap solutions and lots of high-profile errors.
Should De Gea decide a return to Madrid is his preferred next move, United will be under pressure to ensure his replacement doesn't go the way of Massimo Taibi, Roy Carroll and Mark Bosnich. So, who's in the running?
Victor Valdes
Age: 33
Club: Manchester United
A glittering CV (6 La Liga titles, 3 European Cups), he's been reunited with Louis van Gaal since joining United in January. His arrival sparked rumours that the club were protecting themselves in the event of David de Gea moving elsewhere. Right now, it seems an excellent strategy. Also, where Valdes may not be the best shot-stopper or the best at dealing with crosses, he's excellent with the ball at his feet – a key aspect to Van Gaal's 'philosophy' – the goalkeeper can contribute to the playing style and isn't just there to stay between the posts.
There are many positives – he's already in the squad (and on the payroll), knows the players and is clued into how the team plays. But a cruciate ligament injury last year was far from ideal, particularly when medical science shows a decline in performance for footballers who suffer through the painful ordeal after the age of 28. Also, at best, how many more years could Valdes play for? 12 grueling campaigns with Barcelona where he played 45 times per season. It takes its toll. If United are happy with a short-term solution, Valdes is a great fit. Anything more and logic says it'll be someone else.
Hugo Lloris
Age: 28
Club: Tottenham
The Frenchman has been at White Hart Lane for three seasons and the biggest issue to him signing for United would appear to be the five-year deal he committed himself to last July.
Still, money talks and if Van Gaal likes him enough, there won't be much of a problem in United raising the funds. But, Daniel Levy is an intimidating chairman. When Spurs bought Lloris from Lyon, their president Jean-Michel Aulas commented:
The negotiation with the Tottenham directors has been the hardest I have ever had to undergo in these 25 years."
Any deal for Lloris will be a painful ordeal for United and they'll be forced to spend a premium. But there was positive talks last year when Spurs agreed to sell Gareth Bale to United, only for the attacker to choose a move to Madrid instead.
Be part
of the team
Access exclusive podcasts, interviews and analysis with a monthly or annual membership.
Become a Member
Lloris is a leader and a commanding presence. Again, his biggest asset is with the ball at his feet and, like Manuel Neuer, plays far from his goal-line and enjoys rushing out of his area to help out a defence playing a high line. United don't really do it, though the level of indecision that normally permeates the team's centre of defence means Lloris' footballing abilities will be warmly welcomed.
Petr Cech
Age: 33 on Wednesday
Club: Chelsea
In terms of quality goalkeepers that are available, Cech would be an obvious choice. Through no fault of his own, he's found himself as the reserve goalkeeper at Chelsea after serving the side superbly since joining in 2004. Unfortunately for him, Jose Mourinho had a choice to make: the future or the present. And Thibaut Courtois was only prepared to return from Spain if he was going to be first-choice.
Cech is a traditional goalkeeper and known for his physicality in the area, his comfort under high balls and his consistency. He very rarely makes mistakes and after a lengthy period as number one, he's been faced with a frustrating campaign on the bench. That's guaranteed to have wounded his pride and wherever he ends up next, he'll be well-motivated.
It remains to be seen if Cech would be interested in playing for another top-flight team in England. But given the financial benefits (Chelsea have to sell Cech for a discount price because he can leave for nothing next summer), there's little risk attached from United's perspective – he represents a stereotypical 'safe pair of hands'. But, van Gaal rarely takes the easy option and the Czech international may just be a little too traditional for the Dutchman's liking.
Asmir Begovic
Age: 27
Club: Stoke City
Begovic has been linked with a move to a bigger club for quite a while. But a summer switch elsewhere looks certain now after being left on the bench for Stoke's last number of games. His contract is up next summer and with Jack Butland a ready-made replacement, he looks set to be on his way.
The question is where? One report that has been steadily gathering momentum is a move to Chelsea. With Cech leaving, the champions need a second-choice goalkeeper and have tried to paint Begovic the benefits of such an arrangement. But the Bosnian international is a determined character and has enormous self-belief. It wouldn't sit comfortably with him if he was a squad player.
He's got the attitude to succeed at United, certainly. But is he a good enough goalkeeper? This season, there have been slips – the poor throw (ironically) against Chelsea that led to Loic Remy's winning goal. Against Sunderland, he allowed a low cross slip from his graps and Connor Wickham tapped home.
Under the intense spotlight at Old Trafford, similar mistakes have cost other goalkeepers their United careers. One of Begovic's strengths is his mental toughness but United is a different beast and it may be too much of a risk for the club to go for him.