MARCA TOLD CRISTIANO RONALDO 'It's your day' ahead of the first leg of Real Madrid's Champions League tie with Manchester United.
The motivating message from the Madrid-based sports daily worked reasonably well for the former United attacker as he scored a fine, headed goal.
With Madrid level at 1-1 with Alex Ferguson's men going into the return tie in Manchester this evening, the paper is advising Los Blancos to go for broke.
The headline reads 'What the hell' and features Ronaldo running through a flaming tunnel at Old Trafford.
The sub-heading declares, "The devil is white and his name is Cristiano." The Anglicised version of Ronaldo's forename is Christian, which adds nicely to the paper's juxtaposition of good and evil in a sporting context.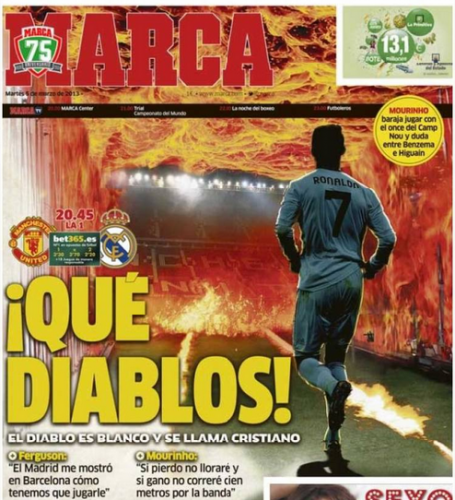 (Credit: kiosko.net)
Alex Ferguson was in a joking mood following his team's weekend league win over Norwich.
The United manager remarked that he had two ways of stopping Ronaldo – Plan A was a machine gun and Plan B involved a machete.
TheScore.ie will follow all the live action from Old Trafford this evening.