Hello! And welcome to our minute-by-minute coverage of this afternoon's meeting between Manchester United and Everton in the Premier League.
Jose Mourinho's men have just one win in their last seven games in all competitions. You get the sense that the incredible pressure which was on his shoulders a few weeks ago has been reduced. With that incredible 3-2 comeback against Newcastle and another equally dramatic 2-2 draw with Chelsea, United have managed to turn things around at least a little bit.
They suffered a one-sided 1-0 defeat to Juventus in the Champions League last Tuesday and, as mentioned, have just one win since 19 September. Today they welcome Everton to Old Trafford knowing a win will further calm the tide, but also realising that anything but three points will resurface some of the discontent which has plagued Mourinho in recent times.
Marco Silva's men sit 8th in the Premier League with four wins in their opening nine games. The Toffees are in a good place at the moment form-wise, defeating Crystal Palace 2-0 last Sunday — with three wins in their last three league outings.
Kick-off is coming up at 4.00pm.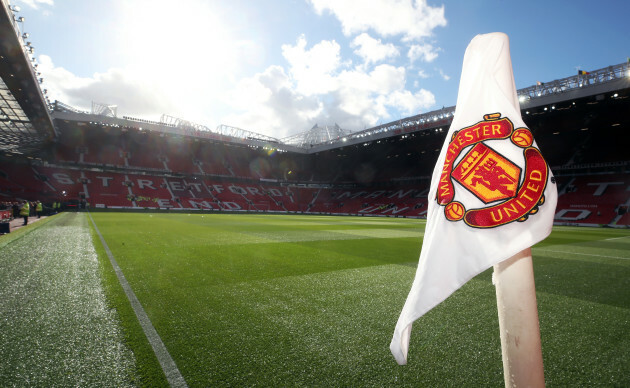 Nick Potts Nick Potts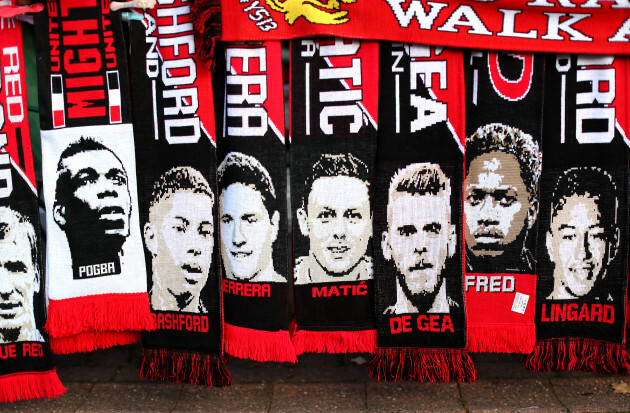 Let's get started with the team news…
So, today's teams will line out as:
Man United: De Gea; Young, Smalling, Lindelof, Shaw; Pogba, Matic, Fred; Mata, Rashford, Martial.

Subs: Romero, Rojo, Darmian, Herrera, Lingard, Sanchez, Lukaku

Everton: Pickford; Coleman, Zouma, Keane, Digne; Andre Gomes, Gueye; Walcott, Sigurdsson, Bernard; Richarlison.

Subs: Stekelenburg, Baines, Mina, Davies, Calvert-Lewin, Tosun, Lookman
After failing to score in his last eight appearances for Man United, Jose Mourinho has dropped Romelu Lukaku to the bench. The manager said during the week that he expects the Belgian's recent goal drought to end sooner rather than later, but he has not put faith in Lukaku to start here today.
"I believe with Lukaku that this will happen, but the reality is that in this moment it's not happening," Mourinho told Sky Sports earlier this week.
"There's been lots of matches in which he's not scored a goal, and not just scoring but also the performances, the happiness in the performances, I think is the problem."
Romelu Lukaku dropped to the #MUFC bench against former club #EFC after failing to score in his last eight club appearances

— Simon Peach (@SimonPeach) October 28, 2018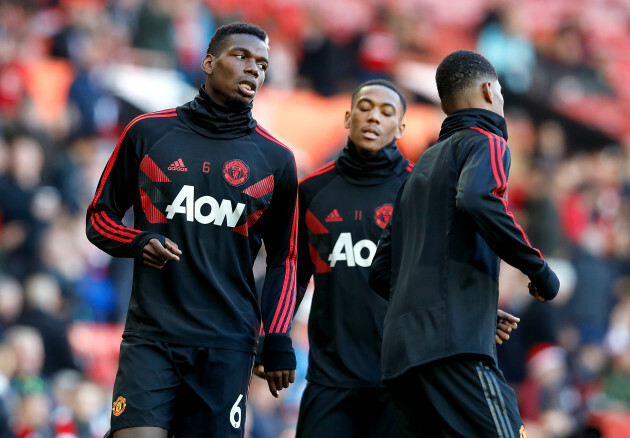 PA Wire / PA Images PA Wire / PA Images / PA Images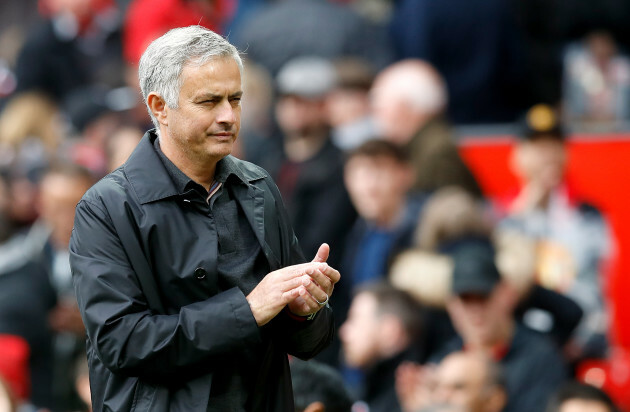 Oct 28th 2018, 4:00 PM
1'
KICK-OFF: We're underway at Old Trafford for the opening 45 minutes!
Oct 28th 2018, 4:04 PM
3'
Oct 28th 2018, 4:06 PM
4'
Richarlison claims an early penalty inside four minutes after going down inside the area. Both the striker and Luke Shaw were competing for a high ball, however referee Jon Moss sees nothing in it and waves play on.
Oct 28th 2018, 4:08 PM
7'
Everton showing a good bit of early promise here. Bernard almost slides in a chance right in front of goal, but narrowly misses the ball. He managed to evade Ashley Young from behind but, in the process of sliding for the chance, appeared to catch the Man United full-back in the back of the leg. Young limps and hobbles for a few moments, but seems okay to carry on.
Oct 28th 2018, 4:15 PM
10'
David Davies Marcus Rashford and Kurt Zouma battle for the ball. David Davies
Oct 28th 2018, 4:16 PM
12'
Everton continuing to apply some early pressure. Silva's men win a corner, Andre Gomes successful breaks free of his marker and the midfielder fires a powerful header narrowly over David de Gea's crossbar. Close, but no cigar.
Oct 28th 2018, 4:21 PM
18'
Shot! Man United storm up the pitch where Juan Mata has his side's first real sight at goal. The Spaniard is completely unmarked inside the box and manages to get his head to the end of Anthony Martial's cross — but Mata's effort is right at Jordan Pickford and is easily gathered.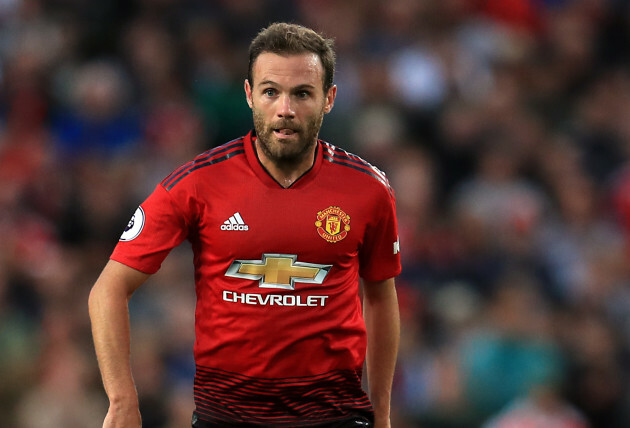 Mike Egerton Mike Egerton
Oct 28th 2018, 4:23 PM
21'
Both Chris Smalling and Idrissa Gueye are shown yellow cards following poor challenges by the pair. Smalling went straight through Richarlison, before Gueye intentionally tried to block Fred. Both men are in Jon Moss's book.
Oct 28th 2018, 4:26 PM
26'
PENALTY! MAN UNITED ARE AWARDED A SPOT-KICK
Oct 28th 2018, 4:28 PM
26'
Jose Mourinho's men have the chance to take the lead as Idrissa Gueye clumsily takes down Anthony Martial inside the area. The French winger tried to slip past the Everton midfielder with a smart turn, and Gueye fell into his trap. He does not receive a second yellow having just been booked a few minutes before.
Oct 28th 2018, 4:29 PM
27'
GOAL! MAN UNITED 1-0 EVERTON (POGBA 27)
Oct 28th 2018, 4:30 PM
28'
Paul Pogba sees his penalty saved by Jordan Pickford, however the midfielder keeps his cool and side-foots the rebound into the back of the net. Pogba had everyone on the edge of their seat with an incredibly slow run-up to take his penalty. Pickford guessed the right way and did well to get his hands to the strike — but he only succeeded in putting the ball right back into the path of Pogba, who stuck it away to make it 1-0.
Souness is going to cane that run-up at half-time and I for one cannot wait.

— Sachin Nakrani (@SachinNakrani) October 28, 2018
Oct 28th 2018, 4:35 PM
31'
You do get the sense that Pogba would have been under a barrage of criticism had he not scored there. The player has always executed that interesting, stuttered run-up. It receives a lot of judgement and opinion, but the key point is that he always scores — rendering the run-up completely irrelevant. Pogba walks the walk, as they say, and he has done so again today. It's his fifth goal of the season.
Paul Pogba, football's ultimate heel, just wants to do mad Cruyff turns, make big diags, and have everyone absolutely hate him. Give him the Ballon d'Or already.

— MUNDIAL (@MundialMag) October 28, 2018
Oct 28th 2018, 4:37 PM
33'
Man United supporters inside Old Trafford think they have a second, but the linesman's flag brings them back down to earth. Pogba picked out Anthony Martial with a brilliant through ball. Martial forces a save from Pickford, before Marcus Rashford stuck the ball into an empty net. The England striker was, however, flagged offside. It's still 1-0.
Oct 28th 2018, 4:38 PM
39'
Some really brilliant work by Ireland skipper Seamus Coleman picks out Gylfi Sigurdsson free inside the box. The Iceland playmaker executes a powerful header, but it flies just over the bar. Reallt nice play by Coleman there, cutting inside before floating a cross into the mixer.
Martin Rickett Paul Pogba celebrates giving Man United the lead with a rebound on his penalty. Martin Rickett
Oct 28th 2018, 4:40 PM
39'
Everton started this game promisingly but the stats don't lie at this stage. Man United have enjoyed eight chances, to Everton's three after 40 minutes. Mourinho's men are comfortably in control at the moment with five to go before half-time.
Oct 28th 2018, 4:46 PM
43'
Theo Walcott with a sight at goal. He cuts inside onto his right foot, but fails to get a decent connection on his strike and fluffs his effort right at De Gea from distance. Everton trying their best to try and level proceedings, but aren't getting anywhere quickly.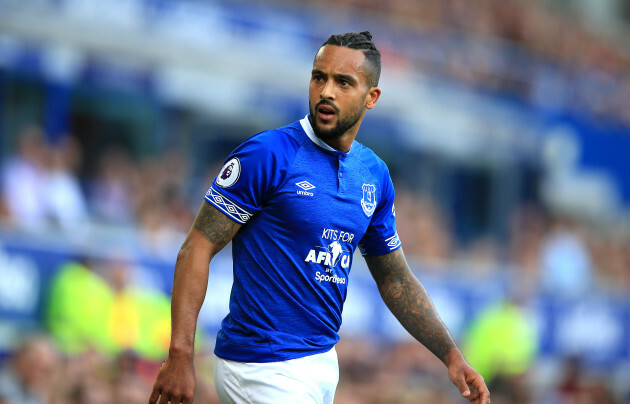 Peter Byrne Peter Byrne
Oct 28th 2018, 4:46 PM
45'
There will be two minutes of stoppage time to come at the end of the first half.
Oct 28th 2018, 4:48 PM
45'+2
HALF-TIME: MAN UNITED 1-0 EVERTON
Oct 28th 2018, 4:49 PM
45'+2
Oct 28th 2018, 4:58 PM
45'+3
That's half-time. Man United lead thanks to Paul Pogba's re-bound just before the half hour mark. Jose Mourinho's men are well worth their 1-0 lead, with Everton only showing glimpses of getting anything out of this game. More action to come shortly!
Oct 28th 2018, 5:03 PM
46'
SECOND-HALF: We're back underway at Old Trafford!
Oct 28th 2018, 5:07 PM
46'
Some great play by goalscorer Paul Pogba sees him dribble in-between a hosts of challenges from Seamus Coleman and Gylfi Sigurdsson inside the box. He makes it all the way to the by-line but just when he tried to pull the trigger, Jordan Pickford arrived to gather.
Oct 28th 2018, 5:07 PM
49'
GOAL! MAN UNITED 2-0 EVERTON (MARTIAL 49)
Oct 28th 2018, 5:09 PM
49'
What a strike! Anthony Martial doubles Man United's lead with a sumptuous effort from outside the box. Possession fell to Paul Pogba on the edge of the area — he looked like having a pop at goal, before picking out his team-mate with a clever pass. Martial hits it first-time and curls the ball along the ground all the way into Pickford's bottom corner. It's 2-0!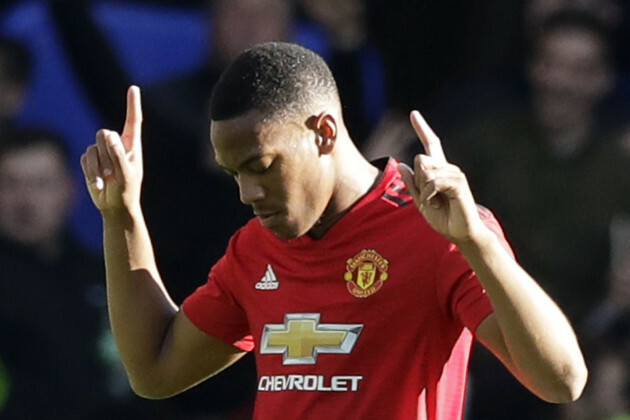 Matt Dunham Matt Dunham
Oct 28th 2018, 5:10 PM
52'
Chance! Bernard responds immediately at the other end and has a brilliant opportunity to halve the deficit. He rounds David de Gea as Man United's backline back-pedals in a panicked state. The Everton did everything right but when a finish was required he could do nothing but find the side-netting.
Oct 28th 2018, 5:13 PM
56'
Save! It's non-stop action at the moment as Marcus Rashford has the chance to make it 3-0. The striker finds himself one-on-one with Jordan Pickford following a killer ball over the top of the Everton defence. Rashford peels out right to try and find an angle, but his shot is saved brilliantly by the feet of the England goalkeeper.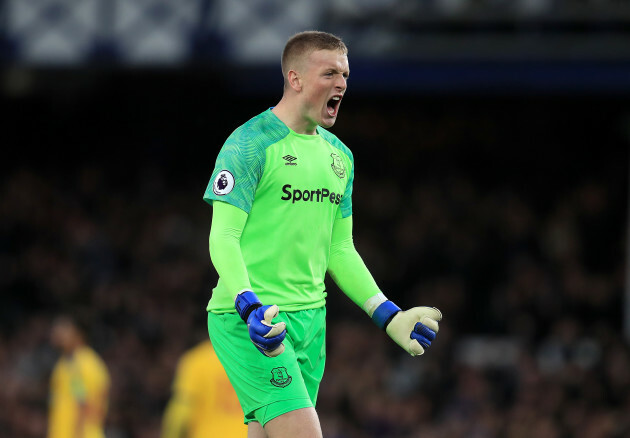 EMPICS Sport EMPICS Sport
Oct 28th 2018, 5:16 PM
58'
Another save! Pickford is just about keeping his side in this game at the minute. He dives low to his left to deny Pogba his second goal of the evening following another low powerful strike. Everton's defence is a bit all over the place right now, with Kurt Zouma and Michael Keane really struggling.
Oct 28th 2018, 5:20 PM
62'
Substitution: Ademola Lookman replaces Bernard for Everton.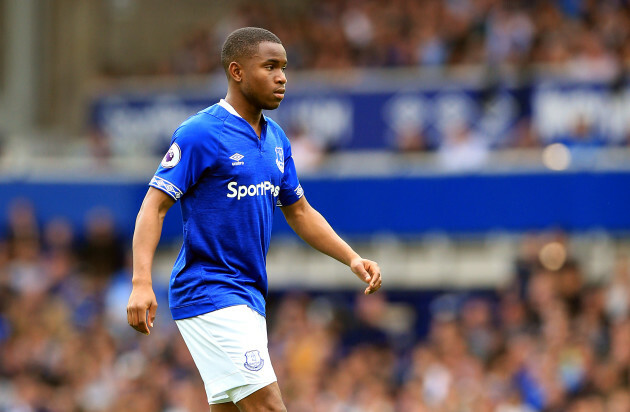 Peter Byrne Peter Byrne
Oct 28th 2018, 5:23 PM
63'
Everton pushing back a bit now, as they try and find some way back into the game. Seamus Coleman earn a free-kick in a promising position out right which Gylfi Sigurdsson curls into the box. It means nothing, however, as a player in a blue shirt is penalised for shoving inside the area. Man United preparing to make a switch here as Romelu Lukaku warms up.
Oct 28th 2018, 5:24 PM
66'
Substitution: Romelu Lukaku replaces Marcus Rashford for Man United.
Tim Goode Tim Goode
Oct 28th 2018, 5:28 PM
70'
Good football from the hosts as Juan Mata and Paul Pogba exchange a host of snappy one-twos up the pitch. Ashley Young takes possession out wide and tries to cross, but his best effort see the ball blocked out for a corner — which is also easily cleared at the first hurdle. Twenty minutes to go and it's quite comfortable for United.
Oct 28th 2018, 5:30 PM
71'
Close! Seamus Coleman bombs forward completely unmarked down the right wing. He takes the ball into the box and tries to side-foot the ball past David de Gea — but the Ireland international's effort is poor and flies over the crossbar. A great chance passed up by the defender.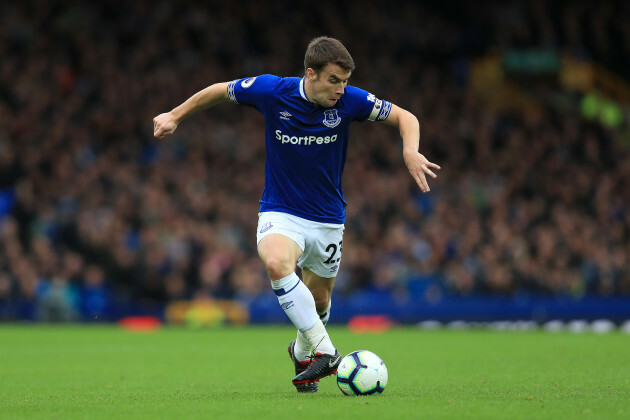 EMPICS Sport EMPICS Sport
Oct 28th 2018, 5:34 PM
76'
PENALTY! EVERTON ARE AWARDED A SPOT-KICK
Oct 28th 2018, 5:35 PM
76'
Richarlison is taken down inside the area following a sliding challenge from Chris Smalling. The defender claims he got the ball, but Jon Moss points to the spot. Gylfi Sigurdsson steps up with a chance to halve the deficit. The drama!
Oct 28th 2018, 5:36 PM
77'
GOAL! MAN UNITED 2-1 EVERTON (SIGURDSSON 77)
Oct 28th 2018, 5:37 PM
79'
Gylfi Sigurdsson steps up and delivers for Everton. He sends David de Gea the wrong way with a powerful penalty which he rifles to the goalkeeper's righthand side. Now then, 2-1 with a little over 10 minutes to go at Old Trafford.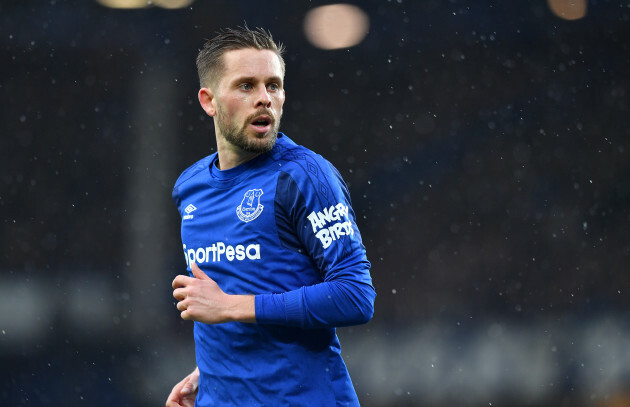 PA Archive / PA Images PA Archive / PA Images / PA Images
Oct 28th 2018, 5:40 PM
82'
Romelu Lukaku with a great chance to put this game to bed. He is completely free inside the box but completely fluffs his header well wide of the target. He really does look like a player short of confidence at the minute.
Oct 28th 2018, 5:43 PM
85'
Substitution: Ander Herrera replaces Juan Mata for Man United.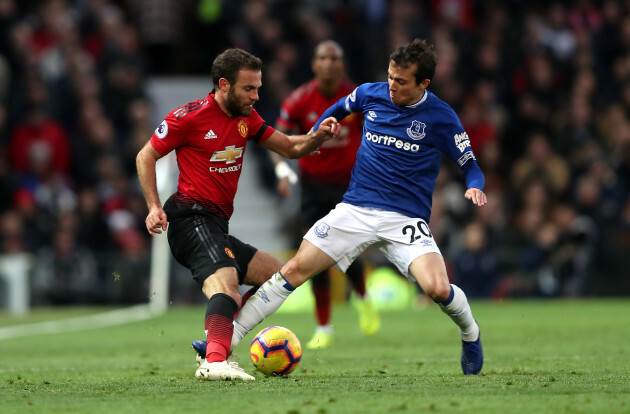 David Davies David Davies
Oct 28th 2018, 5:45 PM
85'
The game is slowly beginning to peter out now. You would have felt that Sigurdsson's penalty might have ignited some kind of a late fight from Everton, but they have been just as pedestrian as they have been all afternoon. Marco Silva will know a point is up for grabs late-on here, but his side are showing few signs of grabbing another with five minutes to go.
Oct 28th 2018, 5:48 PM
90'
There will be six minutes of stoppage time to come at the end of the second half.
Oct 28th 2018, 5:53 PM
90'+4
Miss! Anthony Martial has a chance to put this game to bed. He is one-on-one with Jordan Pickford but, trying to scoop the ball over the goalkeeper, sees his shot saved by the goalkeeper brilliantly. That would have been it, but there's two more minutes of injury time to go.
Oct 28th 2018, 5:55 PM
90'+6
FULL-TIME: MAN UNITED 2-1 EVERTON
There we have it. An important three points for Man United and you have to say Jose Mourinho's men were full-value for the win in the end. They didn't have it all their own way — goals from Paul Pogba and Anthony Martial gave the hosts a 2-0 lead, before Gylfi Sigurdsson's late penalty made a game of it late on. Thanks a million for joining us. You can read our full match report here. Bye!
Subscribe to our new podcast, Heineken Rugby Weekly on The42, here:
Exclusive Six
Nations Analysis
Get Murray Kinsella's exclusive analysis of Ireland's Six Nations campaign this spring
Become a Member