FILIPINO SOUTHPAW MANNY Pacquiao reclaimed the World Boxing Organization welterweight title for the third time with a unanimous decision victory over former champion Jesse Vargas in his comeback fight on Saturday.
The 37-year-old Pacquiao systematically dismantled the former welterweight champion despite Vargas' size and reach advantage.
He used a short right-handed counterpunch to floor Vargas in the second round en route to a one-sided win in front of a crowd of 16,132 at the Thomas & Mack Center.
"I feel happy," Pacquiao said. "I'm trying every round to knock him down but also not be careless."
Pacquiao, 59-6 with two drawn and 38 knockouts, showed he still has a lot left in the tank but he failed to get the knockout victory that has eluded him for the past seven years.
All three judges scored the bout for Pacquiao, two of them by 118-109 and the other by 114-113.
Pacquiao won the WBO title for the first time in 2010 when he beat Miguel Cotto. He lost it two years later to Timothy Bradley, then got it back by winning the rematch with Bradley in 2014.
He then lost it last year to the now-retired Floyd Mayweather, who had a front row seat for Saturday's bout.
"Yes I invited him to come tonight," Pacquiao said of Mayweather.
Asked if he wanted a rematch with Mayweather, Pacquiao said, "We will see."
Pacquiao said he was retiring following his 9 April  two-knockdown victory over Bradley in their third fight.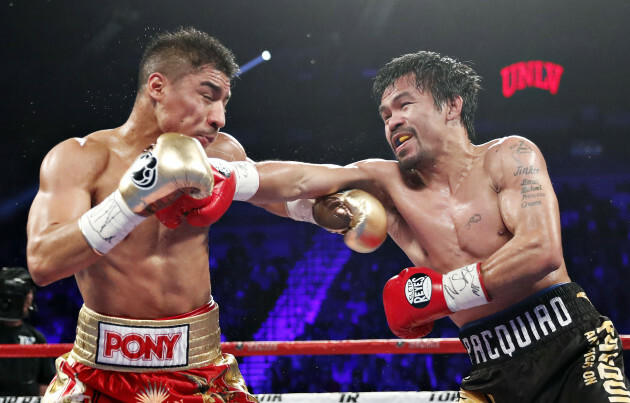 Isaac Brekken Isaac Brekken
Pacquiao looked impressive in stopping Bradley, showing that he has recovered from a shoulder injury which hampered him in his mega fight against Mayweather in May 2015.
Pacquiao took seven months off to concentrate on his job as a newly elected politician in the Philippine Senate. After serving his first stint as a rookie senator, he says the fire was rekindled and the stage set for a return to boxing.
On Saturday, both fighters felt each other out as very few punches were thrown in the first round.
Pacquiao was quicker to size up his opponent as the Filipino learned early on that he could counter Vargas' left jab with a right to the jaw.
That's what happened in the second round when Pacquiao connected on a right counterpunch that sent Vargas stumbling backwards and onto the canvas.
Pacquiao said he had to respect Vargas' punching power.
"I'm very careful to go inside because I knew he would counter me. I felt I could do more but every round I tried to knock him out," Pacquiao said.
Vargas started coming on in the middle rounds. His confidence grew after a strong sixth round which turned out to be one of the few times he was able to trade punches with Pacquiao.
He had a big smile on his face while walking back to his corner after the bell to end the eighth.
"Fighting Manny Pacquiao is like playing a very fast game of chess," Vargas said. "You have to be alert at all times. He was very fast but I was able to get in a few counters."
Las Vegas boxing fans showed their love for Pacquiao. Even with a hometown boxer in the ring, the crowd was chanting his name and cheering for Pacquiao to get the knockout.
The two fighters traded heavy blows in the eighth round as Vargas' face started to show some of the damage from Pacquiao's potent right hand.
The42 is on Snapchat! Tap the button below on your phone to add!