MANNY PACQUIAO SAYS he loves and supports gays and lesbians, even though he does not approve of gay marriage.
The world champion boxer and Filipino congressman has been criticised ever since he was quoted in an interview on the examiner.com website saying he opposed President Barack Obama's support for gay marriage.
Pacquiao said yesterdayday in an interview with The Associated Press that he doesn't support gay marriage because of his Roman Catholic beliefs. But he said he has gay friends and relatives, and supports their rights.
"I'm not against the gay people," Pacquiao said. "I'm not condemning them. … I have a cousin (who is) gay. I have relatives (who are) gay. I have a lot of friends (who are) gay, so I'm not condemning gays. What I said is I'm not in favour of same-sex marriage. That's the one thing I said to the guy.
"I told (the reporter) I'm against same-sex marriage," Pacquiao added. "He said, 'Why?' I said, 'It's the law of God.' That's all I said."
The examiner.com story contained a Bible passage from Leviticus calling for the death of "a man (who) lies with a man," and Pacquiao said many readers erroneously believed he had quoted that verse. He said he had not, and the writer later clarified in a follow-up post that he had included the verse himself.
"My favorite verse in the Bible is 'Love one another,' and 'Love your neighbour as you love yourself,'" Pacquiao said. "It's in the Bible: Do not judge. I'm not judging."
Pacquiao was banned from a popular Hollywood shopping mall after the article was publicised Tuesday, and an online petition encouraging sponsor Nike to drop Pacquiao received 4,868 signatures before it was suspended yesterday morning. The petition site, change.org, posted a note saying that the author of the original article had clarified that Pacquiao didn't cite the Bible passage.
Day of rest
Pacquiao spoke to the AP next to his pool at his comfortable Los Angeles home, where the congressman lives while training for fights at Freddie Roach's Wild Card Gym in Hollywood. The champion had the day off from training, spending the morning in medical exams before a big lunch and some relaxation.
Although Pacquiao is experiencing a new-found passion for his religion and has socially conservative views in line with many Filipinos' beliefs, he was eager to clear his name after a 24-hour avalanche of criticism over the belief that the eight-division world champion boxer had denounced gay rights and even supported the killing of gay people.
Although he opposes same-sex marriage, Pacquiao declined to weigh in on civil unions, the internationally popular alternative, saying he didn't know enough about the concept to form an opinion.
"It's hard to give a correct answer to what's the right situation," he said.
The expansive Los Angeles mall known as The Grove, where the syndicated entertainment-news show "Extra" films its episodes, wouldn't allow Pacquiao to film a segment on its premises, worrying that an appearance by the boxer could be disruptive. Host Mario Lopez, an avid boxing fan, instead filmed an interview with Pacquiao at the fighter's home.
Pacquiao chuckled at the knowledge that his words — even words he said he didn't say — carry more weight than those of an average athlete because of his political aspirations.
"With great power comes great responsibility, so that's my responsibility, to handle everything," Pacquiao said. "This has happened before. You have to explain and understand. It's a lot more fun to train (for a fight)."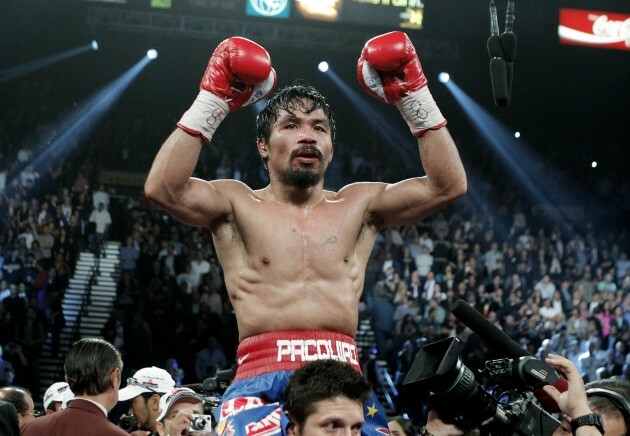 Pacquiao celebrates after his victory over Mexico's Juan Manuel Marquez last November. (AP Photo/Jae C. Hong)
Pacquiao is the Philippines' most famous person and one of the world's most popular athletes. The eight-division world champion is a movie star, singer, pitchman and congressman, representing the Sarangani province in the Philippines' House of Representatives since May 2010.
He has won 16 consecutive fights since March 2005, beating Oscar De La Hoya, Juan Manuel Marquez, Miguel Cotto, Shane Mosley and Antonio Margarito. He will defend his WBO welterweight title against Timothy Bradley on June 9 in Las Vegas.
Pacquiao has embraced Catholicism in recent months after marital trouble with his wife, Jinkee. Although he has always attended Mass before his fights, the boxer has taken up frequent Bible study, and he traveled from the Philippines to the U.S. in the company of a spiritual adviser and pastor, Jeric Soriano, now a regular presence in Pacquiao's life in Los Angeles and the Philippines.
"It's difficult sometimes, but God gave me a talent," Pacquiao said. "He gave me a wisdom and a knowledge."
Although Pacquiao has some conservative social views, he also has ties to progressive American politicians, including Nevada Sen. Harry Reid. The boxer campaigned for the Democratic majority leader during his tough re-election victory over Sharron Angle in 2010.
Pacquiao also visited Obama at the White House last year, discussing basketball and boxing. The fighter says he enjoyed meeting Obama, but didn't share his views on same-sex marriage.
Pacquiao is the fourth of six children born into poverty in the Philippines, and he has four children of his own with his wife. He has spoken out against birth control during his political career, affirming his Roman Catholic faith.
Floyd Mayweather Jr., Pacquiao's only rival for pound-for-pound supremacy in boxing, took to Twitter on Wednesday to tout his own beliefs.
"I stand behind President Obama & support gay marriage," Mayweather tweeted. "I'm an American citizen & I believe people should live their life the way they want."