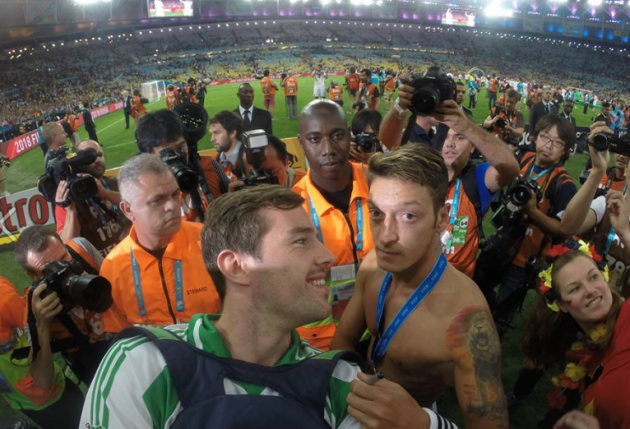 Facebook - 'My Rio World Cup Journey' Mike Griffin with Germany World Cup winner Mesut Ozil. Facebook - 'My Rio World Cup Journey'
A GAA JERSEY that was signed during the World Cup by 24 soccer stars – including Diego Maradona and Mesut Ozil – will this week be auctioned off in aid of the charity organisation CRY (Cardiac Risk in the Young).
Tralee native Mike Griffin travelled around Brazil in June and July with his Na Gaeil GAA jersey and got a huge array of famous faces to provide their autographs.
In total the jersey was signed by:
1. Ruud Van Nistelrooy
2. Roberto Martinez
3. Santiago Solari
4. Ian Wright
5. Diego Maradona
6. Gary Lineker
7. Martin O'Neill
8. Patrick Vieira
9. Fabio Cannavaro
10. Leighton Baines
11. Leroy Fer
12. Michael Vorm
13. Tim Krul
14. Klaas Jan Huntelaar
15. Danny Murphy
16. Robbie Savage
17. Gordon Strachan
18. Phil Neville
19. David Trezeguet,
20. Alan Shearer
21. Christian Vieri
22. Jamie Carragher
23. Mesut Ozil
24. Zico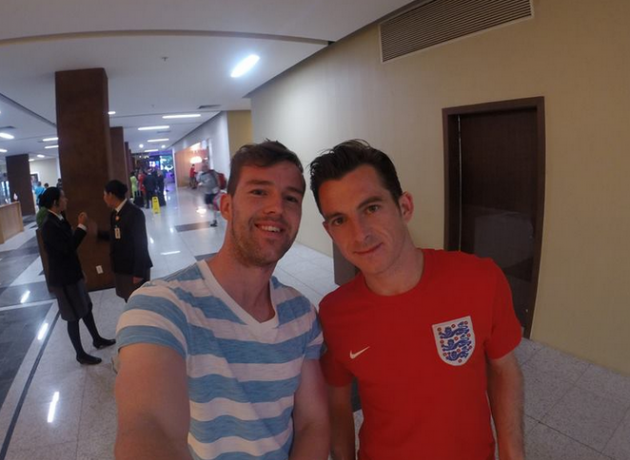 Facebook - 'My Rio World Cup Journey' England defender Leighton Baines Facebook - 'My Rio World Cup Journey'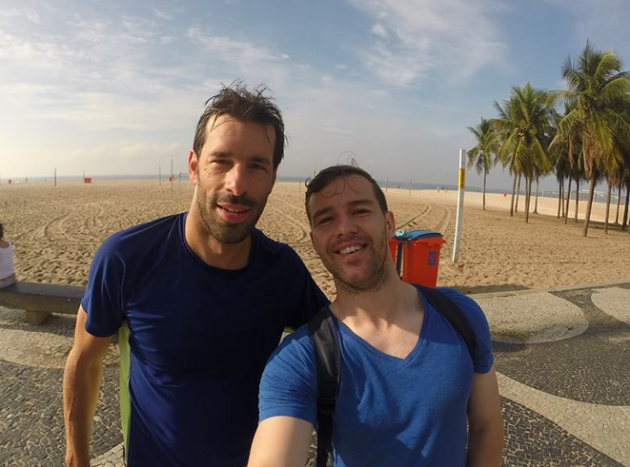 Facebook - 'My Rio World Cup Journey' Hanging out with Ruud Van Nistelrooy in Rio. Facebook - 'My Rio World Cup Journey'
It's an incredible piece of sporting memorabilia and Griffin is hopeful that it will be a major fundraiser for the charity with the auction taking place on E-Bay this Friday August 22nd.
His picture with Mesut Ozil occurred after the biggest game in the world but Griffin selects his brief meeting with Diego Maradona as the biggest highlight.
Diego
"We were only taking a chance going to the hotel that he was staying in and we just got lucky. I was with my host over there Marcelo and we went to the reception where we explained the situation.
"I'd met Ruud Van Nistelrooy, Robbie Savage and Roberto Martinez that morning so we proved it was a legitimate fundraiser. We spoke to a security guard who went into the dining room where Maradona was and he met his personal security guard.
"We waited then for 4o minutes and when Maradona came out, there was loads of people rushing to meet him looking for autographs. I didn't think I'd get him then but Marcelo reached his hand over in the crowd and asked Maradona to sign it, explaining that it was for an Irish jersey. He did it and it was amazing.
Facebook - 'My Rio World Cup Journey' Diego Maradona puts his name to the Na Gaeil jersey. Facebook - 'My Rio World Cup Journey'
"I wanted a children's-youth charity and one that I knew would appreciate the money. That's where CRY came in and the reaction has been great. To make money out of it, we'll need someone who's interested in football collectibles. A GAA club in the US or England, or a big in Ireland would hopefully be very interested."
Griffin has some sporting pedigree himself with a video of his goal for CSKA Tralee in the Kerry District League last November going viral. He also won a Sigerson Cup medal with UCC in 2011 and was part of their team that won the Cork senior football title last that same year.
Jordan Murphy / YouTube
Here's a video account of his amazing trip to Brazil this summer.
Michael Griffin / YouTube
*****
For full details of the auction, check out the link - CRY Auction Ebay