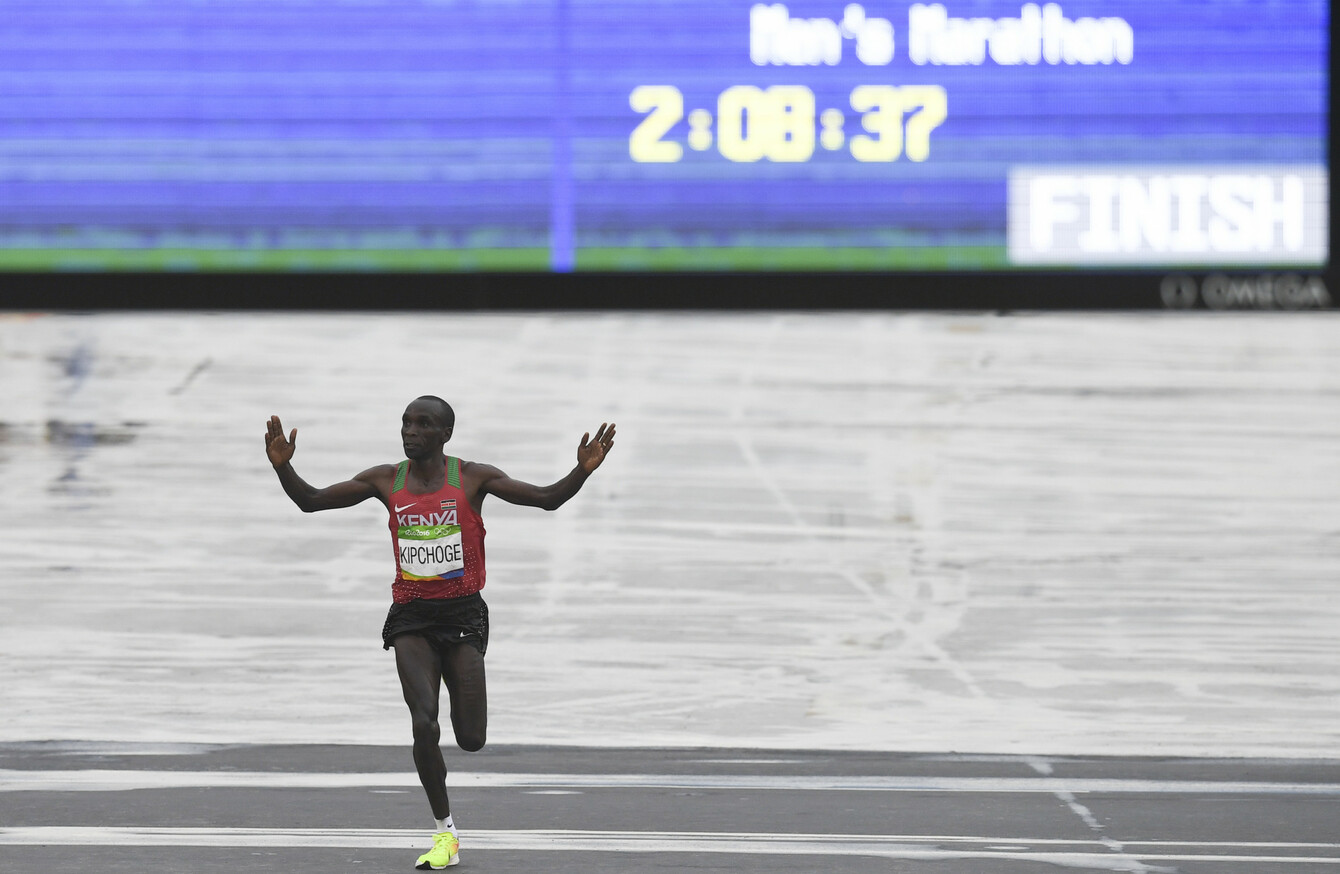 Eliud Kipchoge of Kenya celebrates winning gold in the Men's Marathon at the Rio Olympic Games
Image: AAP/PA Images
Eliud Kipchoge of Kenya celebrates winning gold in the Men's Marathon at the Rio Olympic Games
Image: AAP/PA Images
HEALTH OFFICIALS IN Tokyo have called for the start time of the Olympic Marathon to be moved to 5.30am to avoid soaring temperatures which they say could lead to fatalities.
The Japan Medical Association (JMA) have urged Tokyo 2020 organisers to move the start time from 7am due to the challenging conditions athletes will face in the midst of Japan's hot and humid summer.
"We are seriously concerned about it," Kimiyuki Nagashima of the Japan Medical Association told AFP-Jiji reporters this week.
If the risk of heatstroke is high for not only athletes but also staff members and the audience, there will be a rising demand for emergency services, which will have serious impact on medical institutions and regular patients."
While times for the men's and women's marathon have already been moved from 7.30am to 7am, the JMA believes this will do little to prevent heatstroke or more severe health complications to athletes.
Tokyo, like a lot of cities around the globe in 2018, have already experienced a heatwave this summer where temperatures soared as high as 37°C and 40°C in parts.
"We wouldn't have visited the organizing committee if we'd thought it was only slightly worrying," said Haruo Ozaki, president of the Tokyo Medical Association.
We fear the current plan could lead to deaths."
Tokyo's governor, Yuriko Koike, added: "Taking countermeasures against the heat is one of the major pillars for the success of the 2020 Olympics."
When Tokyo last hosted the Games in 1964, organisers avoided issues stemming from the country's stifling summer heat by holding the games in October.
The upcoming Olympic Games will take place between 24 July and 9 August 2020.
Source: Heineken Rugby Weekly on The42/SoundCloud