ASK RUGBY CLUBS around Ireland about their biggest challenges and you're sure to be greeted with tales of the difficulty of convincing young players to move from the underage set-up into senior rugby.
The drain of youths from regional clubs everywhere is a harsh reality, with many of them going on to fall out of the sport completely.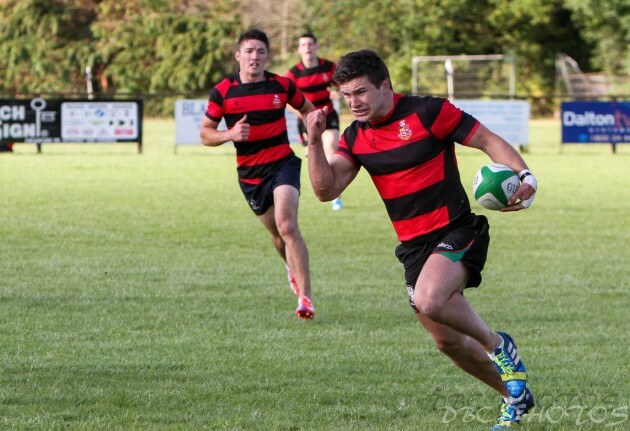 Denis O'Brien An excellent Kilkenny team won last year's Marble City Sevens. Denis O'Brien
Kilkenny RFC had grown used to dealing with this very issue over the last decade or so, but the Marble City Sevens – a sevens competition which takes place at the club's grounds on the Waterford Road for the third time this Saturday – has played a part in reversing the trend.
The event was launched by James Blanchfield and a group of friends in 2013 as a separate entity to Kilkenny RFC, but hosted at the club. The tournament remains independent, although the club is getting real benefits both in terms of funds generated and in keeping young players attached.
"Where we're finding a huge benefit for our club is that it's creating a link between our youths and the senior rugby," says Blanchfield. "It's a great way to integrate them into the club and the senior set-up.
Up until around four years ago, Kilkenny had a huge fall-out after senior rugby, but we got in a new coach in Steve Ashmore. The first thing Stevie did was get young guys into the senior set-up via the sevens, and those lads are all still there. All these young guys are now coming through to senior rugby."
There's potentially a lesson there for other clubs around the country, particularly as the sevens code now looks set to grow rapidly in Ireland.
While the international women's team has been chasing their Olympic dream for some time, the newly re-launched IRFU men's programme has made a positive start to life under Director of Sevens Anthony Eddy.
Sevens is a booming game, with World Rugby fully aware of the potential for the seven-man code to explode after Rio 2016. This is quite probably the beginning of major growth for sevens in Ireland as more and more people become aware of a highly-accessible sport.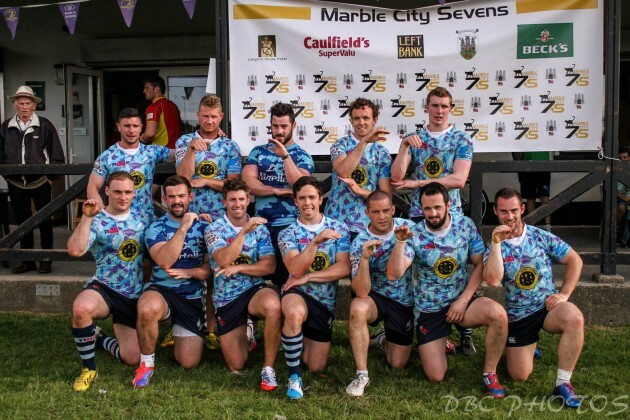 Denis O'Brien Leinster's Mick McGrath was previously part of the Wild Geese team. Denis O'Brien
Blanchfield fully recognises that potential and while he stresses that the Marble City Sevens is "crawling before it walks, then hopefully runs," plans are afoot to link up with other competitions to potentially create a club sevens circuit.
"After this tournament, we're sitting down with Kinsale and Tullamore, perhaps Connemara, about doing a national circuit and developing things in that way," explains Blanchfield.
We want to push that and get a sponsor on board. If that happens we can really attack sevens in this country, maybe even get the IRFU behind it. There's also been talks about building a ladies' circuit, again hopefully with the IRFU."
Now heading into its third year, the Marble City Sevens has made encouraging progress in jumping to 28 teams across the two men's [premier and social] and one ladies' leagues, up from 24 last year.
Kinsale is clearly still the primary sevens competition in Ireland, but the Kilkenny-hosted competition has ambitions of its own.
"We're never going to compete with Kinsale and we don't want to compete with Kinsale, but we're crawling along," says Blanchfield. "A lot of these competitions come and go within two years, so this is a big year for us in year three.
"If this year works, we can start to push it on next year and maybe grow it into a longer tournament using the floodlights on the pitch, finishing the day under lights."
Denis o Brien The Jack McGrath-managed Boris BaaBaas were the social champions in 2013 and 2014. Denis o Brien
Some big names in Irish rugby have lended their support in the last two years, Sean O'Brien acting as an ambassador in 2013 and Ireland teammate Jack McGrath managing the St. Mary's-influenced Borris Barbarians to their back-to-back social titles.
Ireland Women scrum-half Tania Rosser – "a real sevens lover" – and former captain Fiona Coghlan will be in attendance on Saturday, while current Ireland men's sevens internationals Foster Horan and Cian Aherne will be playing for Kilkenny and the Wild Geese respectively.
Homegrown Peter Lydon, now playing in England, is likely to be present after his excellent season with London Scottish.
Exclusive Six
Nations Analysis
Get Murray Kinsella's exclusive analysis of Ireland's Six Nations campaign this spring
Become a Member
Blanchfield and fellow Marble City Sevens founders Gary Brickell, Barry Daly and Eddie Brennan [who have been aided by Julian Hughes and Rory McInerney of Dublin's Fitter Faster Stronger] hope to grow the prize money pot in 2016 and attract more teams from abroad.
This year will see the teams battle it out for €2,500 in the men's premier league, €1,000 in the social division and €1,000 for the ladies competition, with Blanchfield thankful for the support of local and national sponsors.
Equally as important as the competitive rugby, keeping people involved in the club and attracting new players and supporters to the game is the social aspect of the Marble City Sevens.
This Saturday a full moon party awaits in the clubhouse when the rugby is done.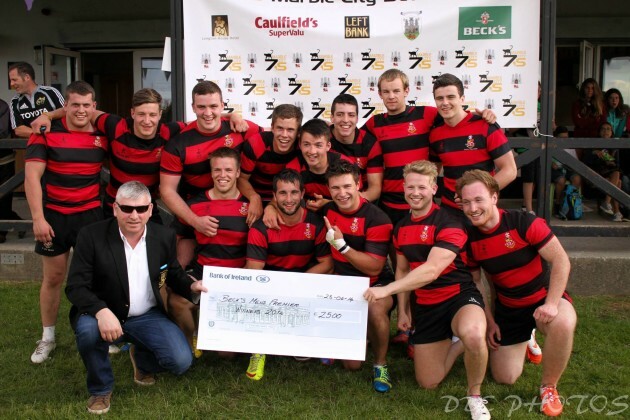 Denis O'Brien 'Kilkenny College' will be out to retain their title. Denis O'Brien
"The social side is what it's all about with sevens, that's what gets a lot of people back," says Blanchfield. "Some people are going to have a great day with the rugby and win a few quid, but that's only three teams.
Another 25 teams walk away empty-handed, so they have to have a good day. We have as much entertainment as possible during the day, feed them as best we can and then we have a party afterwards."
The growth of sevens in Irish club rugby? We'll drink to that.
For more on the Marble City Sevens, check out their website, Facebook page, or Twitter account.