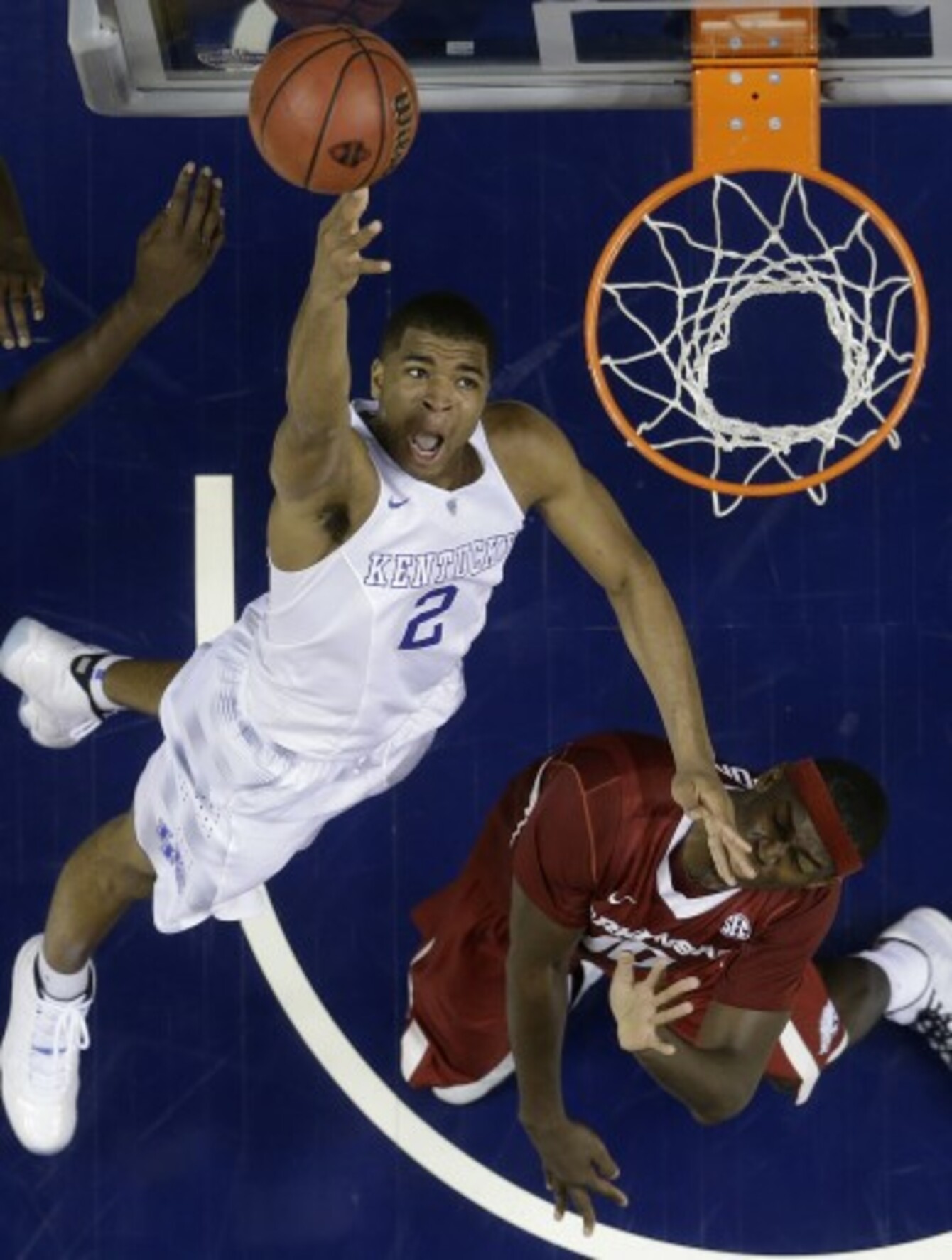 Kentucky are hoping to become undefeated national champions this year.
Image: Mark Humphrey
Kentucky are hoping to become undefeated national champions this year.
Image: Mark Humphrey
FROM THE SECOND week of March, right trough to April, college basketball fever grips the USA as the NCAA men's and women's basketball tournaments — otherwise known as March Madness — reach their conclusions.
But why is it such a big deal?
Well here's The42′s simple guide to understanding just what all those sports fans on Twitter will be going on about for the next few weeks.
Basics
There are 1,100 or so basketball playing colleges and universities in the US and these are divided into three divisions (I, II, and III) based on ability, quality of opponents, number of teams playing other sports, etc. For obvious reasons, Division I teams and tournaments receive the most attention.
Division I is further broken down into 32 conferences and the winners of 31 of those gain an automatic spot in March Madness. The winner of the Ivy League conference also gets an automatic spot but they don't have a finals tournament to determine a champion, unlike the other conferences.
They are joined by 36 at-large teams (those who didn't win their conference) being decided at an event known as Selection Sunday last night.
These at-large teams are picked based on a number of factors including how many games they've won, who they've beaten and even the momentum with which they've finished their season.
The selection committee also decides the seeding of the tournament from 1 to 68 (1-64 in the women's tournament). To nobody's surprise this year's top seed is Kentucky as they attempt to become the first undefeated national champions in 39 years.
First four
March Madness gets underway Tuesday when eight teams in the men's tournament —the four lowest-seeded automatic qualifiers and the four lowest-seeded at-large teams—will play off to enter the main draw.
The eight teams in the first round this year include Boise State and BYU.
Regionals
Once the First Four is out of the way, the main men's bracket will then contain 64 teams, split it into four regions; South, West, Midwest and East. The top ranked team in each region plays the 16th seed, second plays 15th and so on. These games take place between 19-20 March this year.
By 29 March, the final four teams will be crowned Regional Champions and take part in the National Semi-Finals on 4 April, before the National Championship Game on 6 April.
Brackets
Where America's obsession with March Madness really comes to the fore is from filling out brackets. Even the President gets in on the action:
SEE SPORT
DIFFERENTLY
Get closer to the stories that matter with exclusive analysis, insight and debate in The42 Membership.
Become a Member
Source: ESPN/YouTube
But you don't have to be the leader of a nation to get involved. Indeed, punters up and down the US will attempt to perfectly predict the result of every game or, at least, as many as they can.
Last year, Warren Buffett offered $1 billion if any one of the up-to-15 million participants taking part could predict a perfect bracket.
Unsurprisingly, nobody won as — according to Jeff Bergen, a mathematician at DePaul University in Chicago — the odds of doing were an astronomical 9,223,372,036,854,775,808/1.
If you'd like to fill out a bracket of your own — though there's no prize this year from Buffett — you can click here.