WE'RE INTRODUCED TO Mario Sagario and instantly impressed to learn that he can speak four languages.
Our French is a little rusty, while our Spanish and Italian are non-existent, so this interview has to be conducted in English. One of the Munster coaches walks past a little later, joking that Mario's English is better than his own.
Morgan Treacy / INPHO Sagario has settled in quickly with Munster. Morgan Treacy / INPHO / INPHO
The Uruguayan tighthead prop is a well-educated, intelligent and thoughtful man, as well as a rugby player who believes he still has major strides of progress to make at the age of 29.
Sagario has built a positive impression since arriving at Munster in October, initially joining on a trail basis after he impressed at the World Cup, sealing a three-month contract soon after and then extending that deal until the end of the season.
The Montevideo native has featured in six games so far – making his first start in last weekend's win over Stade Français – and will be on the bench again today in Treviso as the province's Champions Cup campaign concludes [KO 1pm Irish time, BT Sport].
Unsurprisingly given his nationality, Sagario's route to playing in European club rugby's leading competition is less than familiar.
The jovial prop is of Italian ancestry – Bologna and Naples to be precise – with both sets of his grandparents having emigrated after the First World War. Sagario's parents, a chef and a taxi driver, were born and bred in Uruguay and Mario is the middle child of three.
His younger brother, Sebastián, was also capped at international level, although the 25-year-old has returned to his studies and left rugby on the back burner for the time being. Mario almost did the same before he earned a move to Europe.
Sagario's playing days began at the age of 11 just down the road from his Montevideo home with Carrasco Polo Club, the most successful rugby side in Uruguay with 27 Campeonato Uruguayo de Rugby national titles.
His father had brought him down to Carrasco to play football, with the sports club also offering polo, show jumping, tennis and hockey.
"I remember half the pitch was for rugby, half for football," says Sagario. "I was playing soccer and I was really, really bad, but I was bigger than the others.
"So one of the rugby coaches came to me and asked me if I wanted to try rugby. I told him I didn't know how to play, but he said come anyway on the next Sunday. I started there, and I never stopped."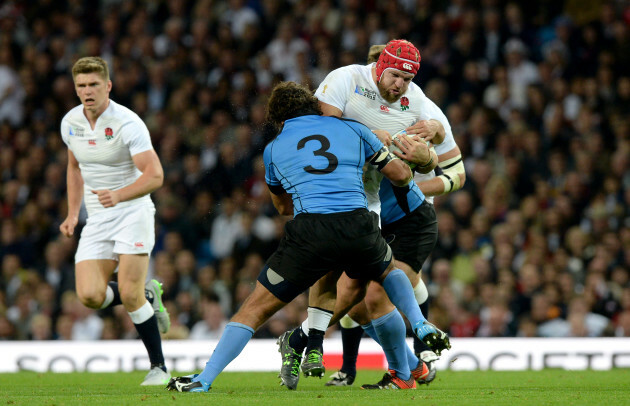 PA Wire / PA Images Sagario, pictured at the World Cup, has over 50 caps for Uruguay. PA Wire / PA Images / PA Images
Sagario was a second row in his youth, explaining that he was put in the engine room initially "because Uruguayans are short!" The prop stands at 6'1″ today.
It was the intervention of a true legend of Uruguayan rugby that changed the whole course of Sagario's career when he graduated into the Carrasco senior team at the age of 19.
Diego Ormaechea was the captain of the Uruguay side that went to the 1999 World Cup, the country's first-ever participation. More remarkably, the number eight was 40 years old at the time, making him the oldest player ever at a World Cup. Scoring a try in the pool win over Spain ensured he will always remain a Uruguayan rugby hero.
Ormaechea – whose son, scrum-half Agustín, scored a try against Fiji at last year's World Cup to make another piece of unique history for the family – was Sagario's coach at Carrasco and suggested a move into the front row.
"He said, 'We need a tighthead and you are the guy who could have the ability.' He told me it could open a lot of doors to play in the national team and I said, 'Why not?'
I started the next day. It was really tough the first year, it was horrible. I suffered but I trained a lot, all the coaches helped me and friends helped me. It was a family club."
Just one year later Sagario was making his international debut off the bench against Chile in a 2007 World Cup qualifier in his hometown of Montevideo.
The main issue for the young tighthead was that his rugby career was not a professional one. Alongside his sporting commitments, Sagario was working with Corporación América, a major economic group that runs the airports in Uruguay and Argentina. On top of that, he was studying to earn his full accountancy qualifications.
"I didn't have one second for myself, so I started to ask myself what I could do to improve this situation," says Sagario.
"I said to myself, 'If we qualify for the World Cup, I'll stop work and just play rugby until the World Cup' or 'if someone calls me to play pro rugby, I will take it.'"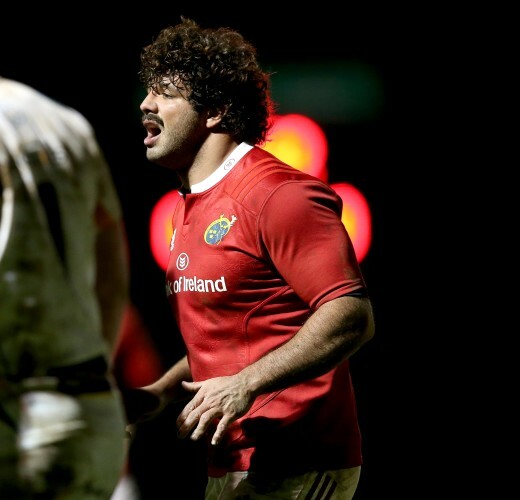 Ryan Byrne / INPHO Sagario made his first Munster start last weekend. Ryan Byrne / INPHO / INPHO
Uruguay missed out on qualification to the World Cup, as they would in 2011 too, but the second scenario in Sagario's thinking transpired and he dropped out of his accountancy studies, which still have a year and a half left to be completed in the future.
It was a French journalist who provided the next shift in Sagario's destiny, approaching the tighthead prop after he had impressed for Uruguay in a Nations Cup clash with Romania.
"We won and this French journalist [who was there to watch France A in another game] came to me and asked if I would like to play in France," recalls Sagario.
"I said, 'Of course, it would be a dream,' and he made a little article or interview in a local newspaper. Two weeks later, Dax called me."
Without a single word of French, Sagario joined the Pro D2 outfit's espoirs [U23] team on a trial basis, but was moved into the senior squad just a week after his first game.
I started there and straight away played a game, speaking no French, knowing no calls or anything. One condition I asked from Dax was to have a French teacher to help me with the language.
"I lived in a building that the club owned, so I was living with all the young players, eating with them, training with them. You slowly begin to understand the words, even if you can't speak it properly. It was a real chain and in about four months I was speaking French."
Two enjoyable seasons passed in France's second tier as his international caps also racked up, before budgetary issues meant Dax had to reluctantly allow Sagario to leave.
The 2011/12 season saw him shift to the Spanish championship on a one-year deal with Santboiana, who are based around 30 minutes from the centre of Barcelona in the town of Sant Boi de Llobregat.
Sagario compares the standard to that in France's third tier, Fédérale 1, but he was fortunate to be coached by New Zealander Bruce Hemara, who played hooker for the All Blacks in three non-Test matches in 1985.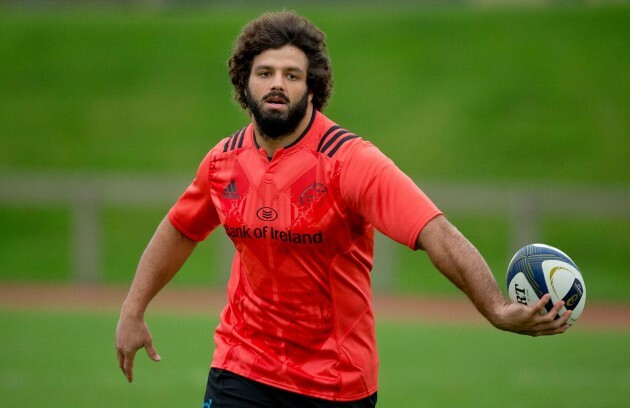 Morgan Treacy / INPHO Sagario is contracted until the end of the season. Morgan Treacy / INPHO / INPHO
"He was really, really good, so I learned a lot from him," says Sagario. "I also had a lot of game time because I played 80 minutes in every game, so that was good for my fitness."
Massy were promoted into the Pro D2 the following season and called Sagario to lure him back to France in 2012, with the Uruguayan staying with the club for three happy years.
Based in the southern suburbs of Paris, the Massy club is famous for producing Mathieu Bastareaud, while Sagario played with Sekou Macalou – scorer of that wonder try for Stade Français against Munster – and Yacouba Camara – the 21-year-old Toulouse back row who has been called into France's Six Nations squad – during his time there.
"It was really different to Dax," explains Sagario of the famed Massy production line. "They put a lot of work into their rugby school and they teach the kids rugby basics, how to work in a team, they're really focused on that.
The difference with Dax is that they take players from everywhere to make a senior team and didn't work as much with the younger players."
Three further seasons in the Pro D2 meant Sagario rapidly developed his scrummaging skills in a league where the 'no scrum, no win' mantra is almost a religion.
"I learned so much about the scrum in France," says the tighthead. "It's a culture in the French second division, all the game is built on a good scrum. If you ask any coach, they'll tell you that if you have a good scrum and a good kicker, you could win the league.
"In Uruguay, the scrum is really important stuff for us too. I had to learn things in France, like a little cheating maybe, the positions, the way you scrum, but in Uruguay the scrum was always a basic thing for us too."
Having tasted disappointment in 2007 and 2011, Sagario and his Uruguayan teammates finally achieved World Cup qualification for last year's competition when they beat Russia on an aggregate score of 57-49 over two legs, the second of which saw a major crowd of 14,000 fill Estadio Charrúa in Montevideo.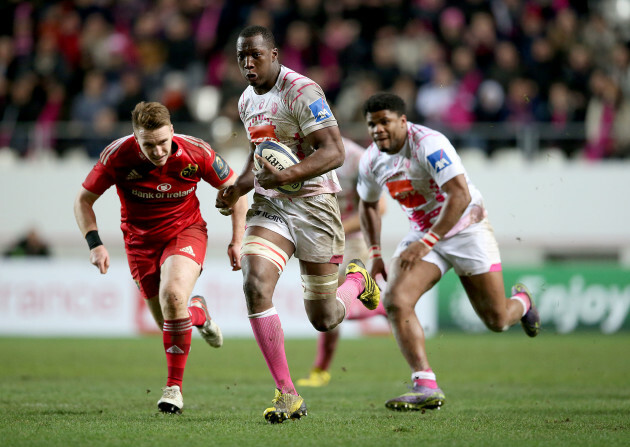 Dan Sheridan / INPHO Sagario played with Macalou in Massy. Dan Sheridan / INPHO / INPHO
Sagario started all four games as the Uruguayans suffered heavy defeats to Wales, Australia, Fiji and England, but his belief is that their involvement on the World Cup stage will inspire genuine growth in the game at home.
The example of Argentina's journey to becoming a genuine power in rugby is one that seems distant for football-crazy Uruguay right now, but Sagario feels they are on the right path.
"The World Cup matches were live on open [free-to-air] TV for everyone, so we started to receive messages from people who had never even heard of rugby. We heard from clubs back home that they were receiving kids who had never played rugby before.
Exclusive Six
Nations Analysis
Get Murray Kinsella's exclusive analysis of Ireland's Six Nations campaign this spring
Become a Member
"Little by little, we are trying to improve things. The World Cup was really important because we all learned lots of stuff as players, coaches, the federation. They understood that they had to make changes to keep moving forward and improving."
Argentinian Esteban Meneses was installed as the new Uruguay coach last month on the recommendation of Pumas' boss Daniel Hourcade, while 10 of the World Cup squad have been handed national contracts.
Pablo Lemoine, the man Meneses replaced, has shifted into a role as director of the Uruguayan union's new high performance centre at Estadio Charrúa, where the nation's leading players will benefit from state-of-the-art pitches, video analysis rooms, and gym and recovery facilities.
Sagario explains that the URU will now also ensure that all of their national teams, from U17s to U20s to senior level, will implement the same game plan. "It's trying to put everyone in the same boat and going forward all together," says the 29-year-old.
World Cup fullback Gastón Mieres signed with Coventry in England after the tournament, while out-half Felipe Berchesi is now with Carcassonne in the Pro D2 and Ormaechea remains with Mont-de-Marsan. Promising U20 international lock Manuel Leindekar has secured a three-year deal with Top 14 side Oyonnax.
All of these Sagario points to as progress, though his own move to Munster is perhaps the greatest illustration of all.
The tighthead had finished his time with Massy last summer, believing he could secure a contract in a higher division on the back of the World Cup. After Uruguay's campaign ended, Sagario headed back to France to take a week's rest, but was soon interrupted.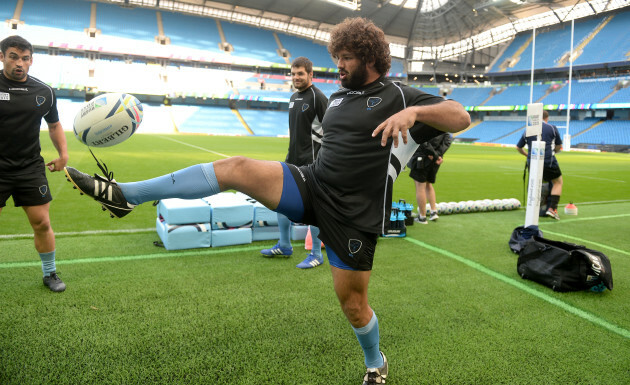 Martin Rickett Sagario practices his skills during the World Cup. Martin Rickett
"I never expected something as big as Munster," says Sagario. "I was talking with my agent, he had a few clubs in the Premiership but nothing happened.
"I finished the World Cup and took the week off to recover in France and on the second day he called me and said, 'Listen Mario, you have to meet Munster as soon as possible because they want to give you a trial.'
"I said, 'Munster? Did they ask for me or did they ask for a prop, because that's not the same?' He told me that they had asked for me. The day after I took a plane to Ireland."
Sagario says the welcome he received from coaches, players and especially the Munster fans was heartening and he has loved the last three months or so. Having come from the French Pro D2, he has found Munster's set-up a completely different proposition.
"Here the work is the real definition of professional," says Sagario. "All the staff focus on little details and give you those little tools to improve your game, you know? From videos, fitness, scrum coach, Anthony [Foley] the head coach, everyone is giving you the right word and the right thing to do.
It's really focused in on your game and you have to learn quick."
Sagario learned English throughout his school years and is extremely proficient in the language, though he laughs that the Irish accent took time to adapt to.
"Playing in another language is sometimes hard also, maybe when you're tired and someone is talking to you in English it's more difficult. But I'm trying to do my best."
He has also enjoyed the emotional element that is part of everyday life with the province, while he has been pleasantly surprised by how physical some of the training sessions are.
"Here it's really emotional. I don't know about the other Irish teams, but as soon as a put a foot on the pitch for Munster training, I understood. I remember I hit someone and I didn't want to do it because it was training. I said, 'Oh sorry,' but they instantly said, 'No, don't say sorry, that's how it works.'"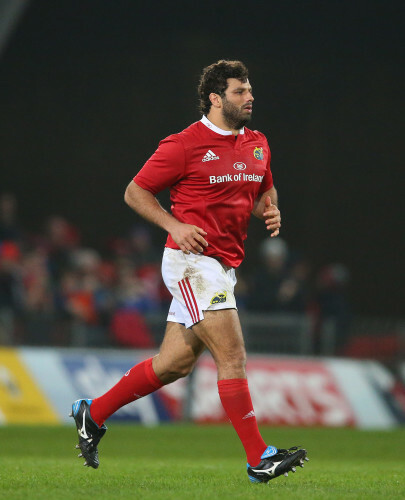 Billy Stickland / INPHO The Uruguayan would like to stay with Munster next season. Billy Stickland / INPHO / INPHO
Sagario is likely to win Munster cap number seven off the bench today in Stadio di Monigo and he is hopeful that many more will come in the future.
The affable Uruguayan says would like to extend his contract into next season, underlining his belief that he can continue to improve.
I really would like to stay here in Munster, I'm feeling really comfortable here, working here and I would really like to stay. It's not my decision, I have to wait and see how the year finishes, what the coach wants. It would be nice.
"I always try to look up, never look down. If you look down, you just accept where you are and you never improve. I try to improve every day."