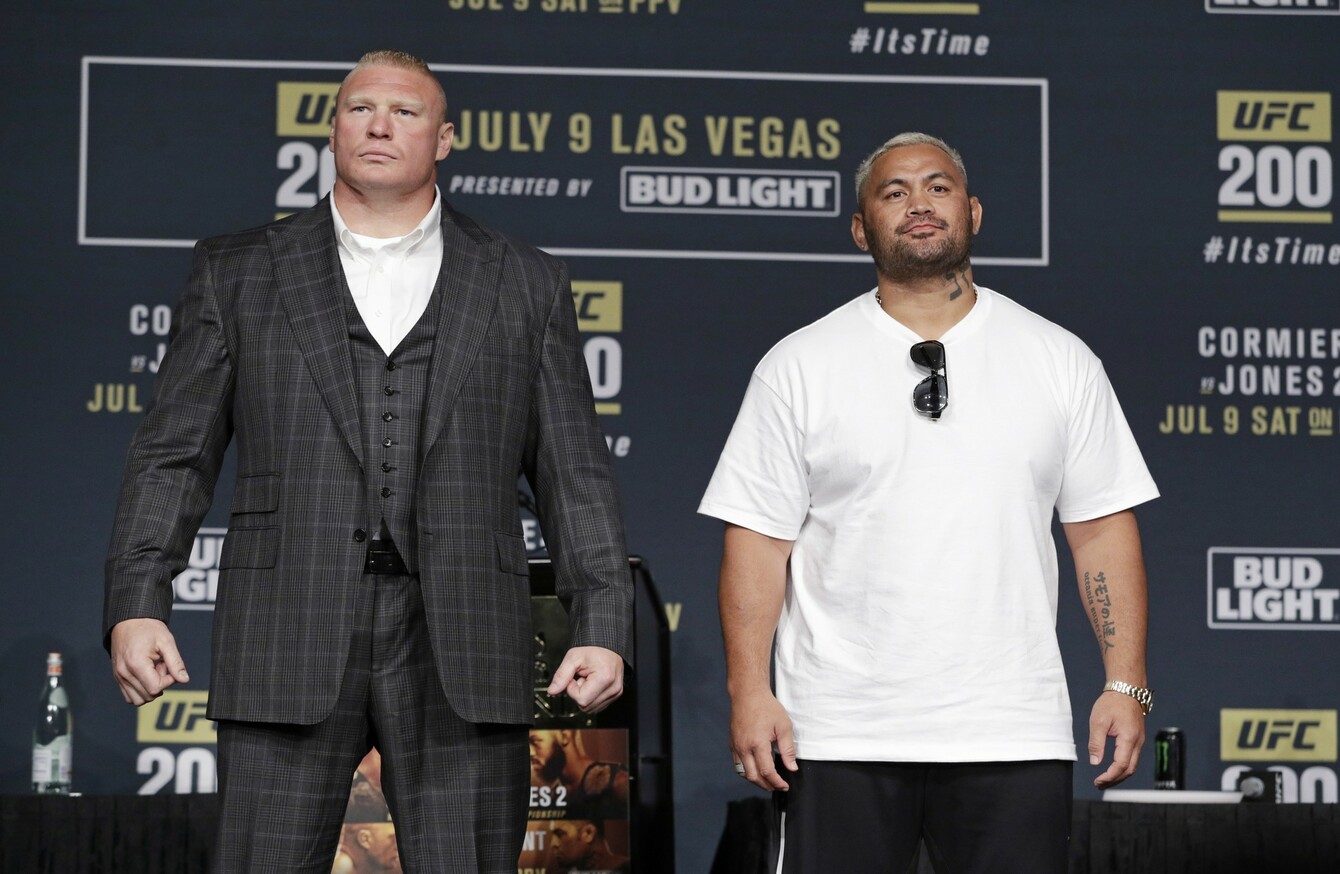 Brock Lesnar and Mark Hunt pose for photographers ahead of their recent bout in Las Vegas.
Image: John Locher
Brock Lesnar and Mark Hunt pose for photographers ahead of their recent bout in Las Vegas.
Image: John Locher
POPULAR UFC HEAVYWEIGHT Mark Hunt has laid into the organisation in a hard-hitting interview, insisting that it's high time his fellow athletes unionised in order to protect their rights.
Hunt has been angered by the UFC's handling of the news that Brock Lesnar, who defeated Hunt via unanimous decision 11 days ago at UFC 200, has been flagged for two potential anti-doping violations — stemming from in and out of competition tests — relating to their clash in Las Vegas.
The bout was Lesnar's first for the UFC since December 2011. According to the UFC's anti-doping regulations, which are overseen by USADA, fighters emerging from retirement must provide USADA with four months' notice of their intention to compete.
But Lesnar, whose return to mixed martial arts was announced publicly just five weeks before he faced Hunt, was granted an exemption to those terms by the UFC. The 39-year-old could now be hit with a two-year suspension and a fine.
"The cheaters get a slap on the wrist and walk off," Hunt told MMA Fighting last Friday evening after the news of Lesnar's first potential test failure broke. "What penalty or deterrent is there to make them think twice? Nothing."
Hunt initially asked for half of Lesnar's purse or to be released from his contract if that request wasn't agreed to. Lesnar was paid a disclosed sum of $2.5million for the bout. Hunt picked up $700,000, the biggest cheque of his career.
The latest developments mean that three of Hunt's most recent opponents have been guilty of using performance-enhancing drugs. Antonio 'Bigfoot' Silva tested positive for elevated levels of testosterone after their five-round draw in December 2013. Frank Mir was notified of a potential PED violation by USADA after Hunt defeated him by first-round KO in March.
Understandably, the Sydney-based New Zealander isn't happy. In an article published today on MarkHunt.tv, Hunt criticised the UFC — which was recently sold to the WME-IMG group for $4billion — on a number of grounds.
The former K-1 champion's grievances include the Reebok apparel deal which prevents fighters from using their own sponsors, the short-lived ban on reporter Ariel Helwani, and the decision to remove Conor McGregor from UFC 200.
McGregor's rematch with Nate Diaz was originally due to headline the event but the fight was pulled from the bill in April due to the Irish fighter's refusal to travel to Las Vegas for a press conference. With McGregor's absence likely to detrimentally impact pay-per-view sales, the UFC managed to draft in Lesnar as the star attraction.
"The way I see it, the Brock Lesnar doping thing is just another reason why we need a fighters' association," Hunt said. "These guys [the UFC] are just making up the rules as they go. First the Reebok thing, then Brock's four-month testing exemption.
Conor gets pulled off a card for not going to a press conference that me or Brock didn't go to anyway. Work that out. There's probably a heap of others.
See Sport
Differently
Get closer to the stories that matter with exclusive analysis, insight and debate in The42 Membership
Become a Member
"You just have to look at how Ariel gets his media pass taken away because he broke a story about Brock; then he gets it back when other media stood up for him and called out the UFC. These guys are just making shit up as they go, yet fighters refuse to support other fighters when they fuck us over.
"They say they are cleaning up the sport, yet I've risked my health two times against guys cheating since this USADA thing started. I was told Brock was going to be tested when I took the fight, he comes in looking frickin' juicy as hell, and then I find out he's popped after the pay-per-view has already been sold. It's ridiculous. The fact that they haven't even bothered to make contact with me since all of this happened just proves they don't care.
"I don't even know how [Lesnar] made 265lbs [the heavyweight limit], that guy. He looked about 500kgs. I mean, shucks, look at the pictures and tell me this guy passed the smell test that Jeff [Novitzky, the UFC's Vice President of Athlete Health and Performance] guy talks about. I mean, even the other [biological] passport stuff, which is supposed to be important for testing, they would have had none of that from Brock because of the exemption.
"If you ask me, the whole point of the four-month testing period should be to make sure someone doesn't pop back in, juiced to the gills, and beat the crap out of the guys who are clean and have been clean and tested this whole time. I'm pretty sure all of this stuff is just there to look good for the sale, if you ask me."
The 42-year-old, who was involved in a contract dispute with the UFC in 2014, added: "Once they decided they were going to cut Conor out, they didn't care, they just needed a name to make UFC 200 big. Exemptions for Brock but not for Conor, I don't know how you can just do that.
"These guys have lined their pockets with our blood, if you ask me. I mean, they deserve to get paid, no doubt, they took the UFC from nothing into what it is today, but come on, most of the guys fighting get paid nothing and have no benefits.
If you ask me, there needs to be a system where they at least run things past the fighters before making these decisions and the fighters can look out for each other. We need an association where we can have our voices heard. We are a massive reason why fans watch the sport and we risk our health to do it."
When asked if he'd be willing to lead a fighters' association in spite of the friction that such a move is likely to cause with the UFC, Hunt responded: "I'm not worried about the UFC. Shucks, I've been fighting my whole life — fighting to survive in my home, to the ring and now the cage.
"These guys didn't even want me in the UFC but here I am. I'm not scared of them. I'm not sure what it's like in the States, but in Australia workers stick together to make sure their voice is heard. Lots of guys have talked about this, but someone needs to make this happen and I'm happy for it to be me."