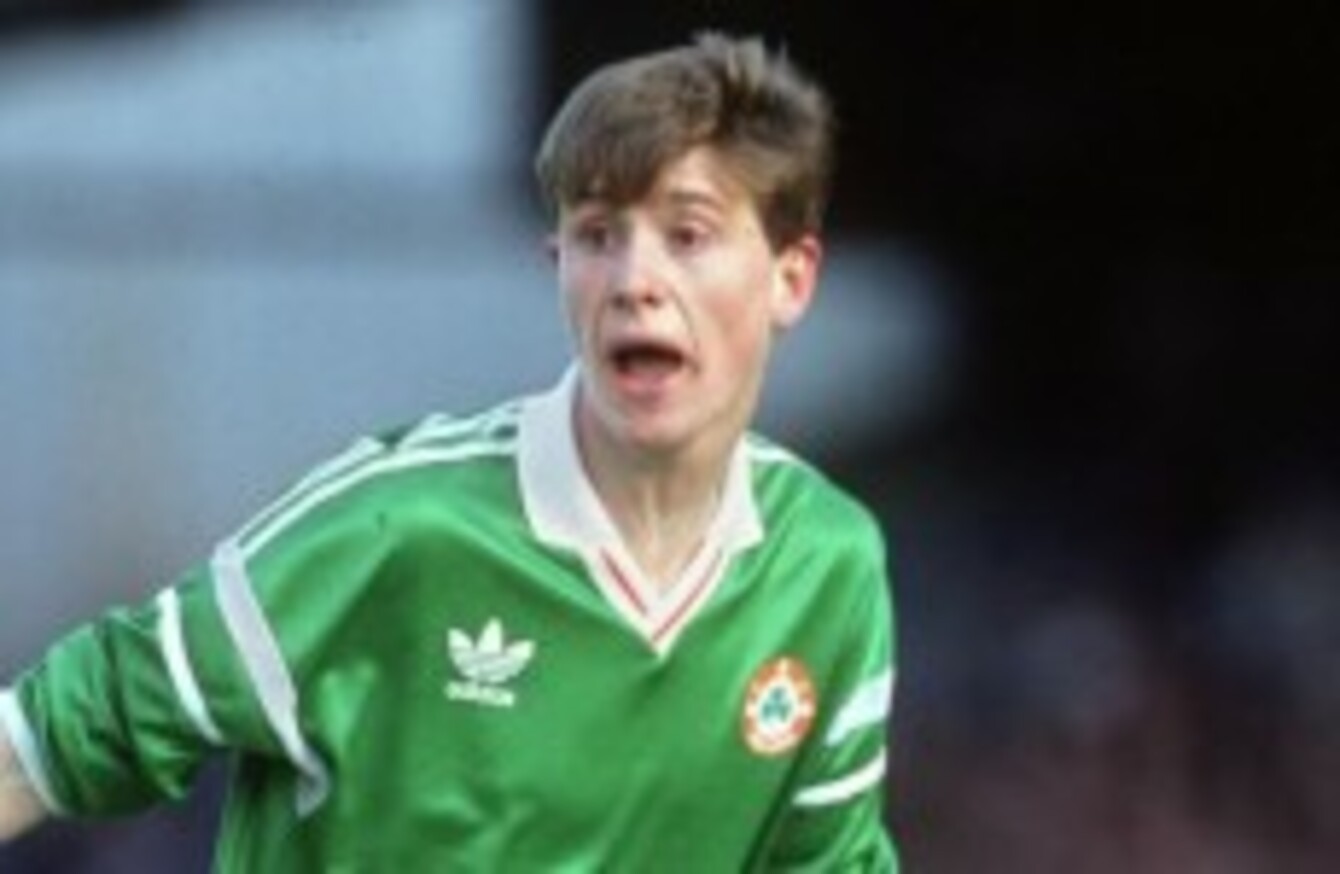 BOSNIAN COACH MEHMED BAZDAREVIC has faced the Republic of Ireland before. It was in April 1988 and Yugoslavia were in Dublin for an international friendly.
It's hard to know how much the then-captain remembers of his side's limp 2-0 loss at Lansdowne Road that day. But for one member of the Irish team, it was quite a memorable occasion.
Basingstoke-born Mark Kelly had only been at Pompey for a season and was still to make his competitive debut when he was handed a start by Jack Charlton.
An in-demand waif-like winger, there had been a tug-of-war between Ireland and England to secure his allegiance. He had represented both at under-age level the year previous but ultimately declared for the country of his parents' birth.
"My Dad's from Lusk and my Mum is from Dundrum and the approach came in, asking if I'd be interested in playing for Ireland", Kelly tells The42.
"So I said I'd come over for a look, I had a meeting with Maurice Setters and away we went from there.
It was a memorable couple of months, that's for sure. It was a bit of a whirlwind time but one of those things that had been building up and had been on the cards. I think Jack wanted to bring me into the squad a few months before but I had a slight injury so it had been coming."
The Irish side were preparing for the upcoming European Championships and were in excellent form. Qualification had been wrapped up the previous October and the team were unbeaten in seven games. Six of those were victories, one being the memorable 1-0 result over Brazil when Liam Brady popped up with the winner.
Still, Kelly was given a chance to shine. People were talking and he was a deft, creative wide-man. Raw, rake-like and inexperienced, he still didn't feel over-awed by any of it.
"I remember Bally (Alan Ball), who was my manager at Portsmouth, bundled me into a room and said 'You've got to get on a plane and get over to Ireland as quick as you can because you're in the squad'. It was a pick-up-the-bag-and-run type of situation. But it was a great occasion, a massive occasion. I was only young, I was only a baby, really. I didn't have much time to build it up because I was jumping on a plane. So it was basically about getting over there and getting on with it.
We gathered and spoke about game-plan but it was more about us than anyone else. It was a process of figuring out what we were going to do and how we were going to do it. For me, it was about getting on the ball in the final third and causing as many problems as I could."
Kelly lasted 89 minutes as goals from Mick McCarthy and Kevin Moran secured a routine win. Outside of his skinny frame, he didn't look out of place despite the likes of Frank Stapleton and Paul McGrath alongside him in the side.
When he returned to Pompey, there was another big moment soon after. He was handed his senior debut on 7th May at Old Trafford.
"It was a big couple of months. It was funny because it was Man United and that meant Paul McGrath and Kevin Moran. Obviously I had played with them with Ireland and before the game, we had a big chat. Afterwards, there were a lot of compliments from the gaffer about how I played and how I was so it was a lovely day in itself as well. So it was a very memorable month."
Ball had said Kelly was 'the new George Best'. For a youngster just starting out, it was needless pressure. Though he paid little notice.
"I was just a young man enjoying his job. I didn't read the papers. What happened was the comments from Bally probably got me kicked a little bit more than before! I used to get kicked quite a bit anyway but that may have made me more of a target! As regards how it affected me, it didn't, really. I just loved the game. Obviously it's lovely to hear compliments but I just got on with what I enjoyed doing."
Despite Portsmouth's relegation, the teenager's status as 'the next big thing' was enough for him to remain involved in the Irish squad as the Euros approached. There were whispers that he may be included as Charlton's wildcard. But it proved nothing more than idle gossip and there was some early disappointment for the fledgling.
"The excitement around the whole country at the time was massive. We'd go into town or on trips and be mobbed.  I remember one time coming out of mass, funnily enough. We went to mass, a few of us, and there was just a massive gathering outside. It was just a fantastic time for the country with some fantastic footballers.
Jack used to bring us out on shopping trips so he could get himself some gear. He'd drag us out – 'Come on, lets' go shopping'. But probably the one that stands out is that he was convinced my Dad was from Belfast. He mentioned it during an interview and everyone started laughing and he had to be told that my Dad was from up the road in Lusk. That was typical Jack, really – when he'd just get things wrong!
For me, personally, it was just unfortunate that the injuries struck when they did and the timing was wrong. I was part of the build-up squad for the Euros but myself and Stevie Staunton were left behind. But we had the feeling there would be more opportunities down the line. Obviously for me, the injuries hit and hit pretty badly a year or two later."
I sat down and watched the tournaments as a fan. There were a few frustrations because I wasn't there having been a part of the squad but I was still hoping the lads would go on and do what they did. Obviously they represented the country massively. A part of me was wishing I was part of it but unfortunately that was the way it was."
There would be three more international caps for Kelly – his last in September 1990 – but little else only bad luck. There was a debilitating knee injury that plagued him for two years. Then there was an ankle problem and, after a brief attempt at a comeback with Tottenham, he was forced to retire in his mid-20s. Years later, there was a return to Ireland and part-time stints with Sligo Rovers and Finn Harps as well as a six-month spell with a team in the United States.
Now, he's back at Pompey and in charge of the club's academy. He still keeps tabs on the fortunes of the Irish team and feels the current crop miss that sprinkling of daring and imagination that Charlton's late-80s squad had in spades.
"One of the great things Ireland has always had is that work ethic and the combination with the players who may have a little bit of flair. We go through the process here at our academy of looking at technical efficiency and people enjoying being on the ball. And it goes back to those old elements of enjoying the game and having the freedom to be creative in areas where you can instead of just being workmanlike.
When I was playing, it was a golden era for Ireland though, wasn't it? It's hard enough for a smaller nation to have those kinds of players gathering at one time. Scotland had their little golden era as well. In the Ireland team at the moment, that little bit of flair, the little bit of exuberance to excite crowds and players – that needs to come back. When you try to gather players, when you're bringing players in and out, you've got to look at where you're trying to draw from and what you're trying to do. I don't know if Ireland have that pool at the moment or if they're going the right way about it.
Where do we go from now? It's about recruitment – where you go and how you draft players in – and it's about trying to get those flair players back in."
And the talk of that day in April 1988 – does it all seem a lifetime ago?
"Unfortunately, I had to change pretty early. I've had quite a journey since so it does seem like a long time ago. But you always sit down and have massive, fond memories. It was nice to be part of something with some great players. It's unfortunate it didn't go the distance – that's the heartbreaking bit – but from then on, I've achieved quite a lot."