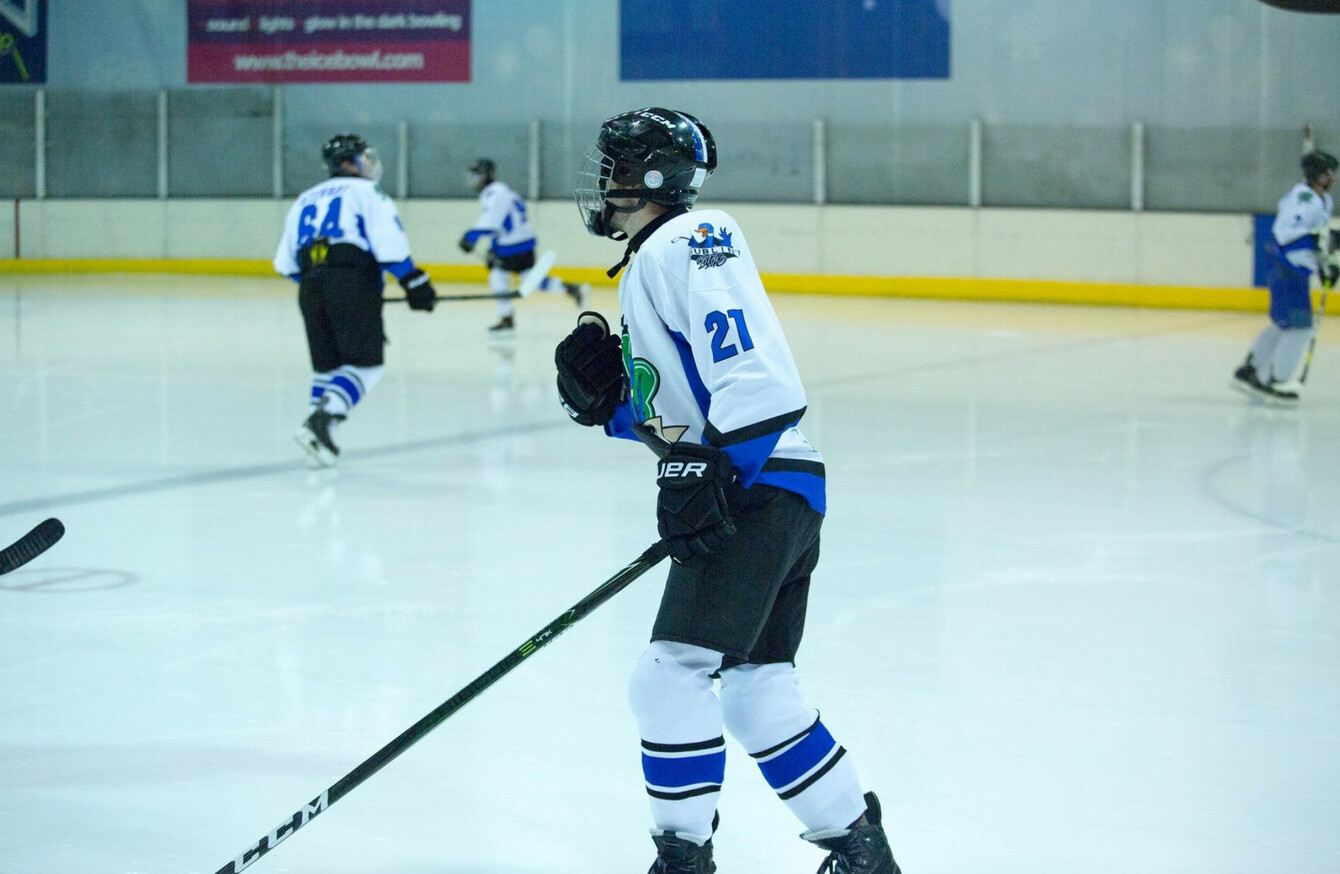 Mark Murphy on the ice.
Image: Alan McNeice
Mark Murphy on the ice.
Image: Alan McNeice
WHEN CANADIAN PRIME Minister Justin Trudeau visited Ireland earlier this year, you probably saw him try his hand at a spot of hurling. What you may have missed, however, is that twice during his brief stay, Trudeau mentioned Dublin ice hockey team, the Flying Ducks.
While by no means mainstream here — it was, according to Aisling Daly, president of the aforementioned Flying Ducks, only officially recognised as a sport last year — ice hockey has been played in Ireland since 1983, when the Dublin Stags beat the Liverpool Leopards 3-2 in the Dolphin's Barn ice rink.
And though the playing population in this country numbers in the hundreds, the lack of a full-size permanent rink continues to stunt the growth of the sport.
However, the lack of facilities has not stopped one young Dubliner from daring to dream.
And today he flies out to Canada for the once-in-lifetime opportunity to spend a year immersed in ice hockey, being coached by former National Hockey League (NHL) coaches and players.
But, even at 16, Mark Murphy knows it may be too late for him to make a career as a player. His dreams are loftier; he wants to become a great coach so that when he does return to Ireland — and if a permanent full-size rink ever gets built — he can pass on his knowledge to the next generation of ice hockey players here.
And he may never have struck a puck in anger were it not for his sister's figure skating lesson.
"My sister was figure skating in Castleknock — they had a temporary rink there for a while," Mark told The42 recently.
"They were starting up a team that day and they asked me if I wanted to give it a try.
"I used to rollerblade when I was younger so there was a bit of crossover as I naturally had good balance."
That team was the Flying Ducks and Daly was on the ice the day the then-10-year old turned up.
I do remember him," she says. "He was full of energy and you could tell that he was really into it once he started."
Mark's mother Debbie wasn't surprised either and, over the past six years, ice hockey has become a way of life for her son.
In February of this year, Mark was given the opportunity to travel to Canada for six weeks and attend school while playing hockey with the Somang development program.
Even in such a short period of time, his game improved immeasurably says Debbie.
They train with ex-NHL players and some of the kids that Mark was playing with have been scouted and picked up by other teams since then.
"He came on so much in those six weeks. His skating improved, his hockey skills improved and you could just see that he was a different player after it."
It was during that time that the Murphys met Trudeau, as well as the Lord Mayor of Montreal, and the Canadian PM's affinity for the Flying Ducks began.
However, it wasn't just Debbie who was impressed with how well Mark played during his first trip to Canada.
"When Mark came home, he went back to school and we thought that might be that," she says.
But the guys from the Somang Hockey Club were over in England and, on their way back to Canada, they stopped over in Dublin and told us they were really happy with how he'd done and that there was a place on the team for him, as well as a place in school, if we were in a position to send him."
And that's the rub. While Mark's parents have covered the costs of his stay and his hockey fees (approximately €15,000), a scholarship for his schooling has not yet materialised, leaving the Murphy's some €10,000 short.
Reluctantly, Debbie has set up a crowdfunding page in an effort to bridge the gap, but she's almost apologetic about doing so.
I know it's not the biggest thing in the world, I know it's not the most important thing in the world and I feel silly when I think of all the kids out there who have cancer or are sick, but this is important to us and this is important to Mark."
Whether the crowd-funding is successful or not, Mark flies out to Canada today and Debbie says she'll make the year work; it means too much to them all not to.
For Mark, he knows exactly what he wants to get out of the experience.
"The coaching is very different over there and that's something I'd like to get into myself," he say.
"I'd love to bring that experience back to Ireland. The coach I was with over there was in the NHL and he was just so good the way he approached it.
He didn't shout, he didn't expect us to understand everything first time, but he had a way of explaining what he wanted that made it really easy to pick up.
"He's really someone I'd look up to and would like to emulate."
Of course, to make the most of his trip, Mark would ideally be training the next generation on a full-size rink when he gets back.
And the absence of such a facility is a source of dismay both for him and his mother.
"After being in Canada and seeing the amount of rinks, it is frustrating that we don't even have one here," says Mark, while Debbie adds:
It's scandalous when you think about it that we're the only European country that doesn't have a permanent ice rink. Mark's hopes and dreams are to get out there, play with the best, train with the best and then come back and help youngsters here."
Flying Ducks president Daly is right behind their campaign for a permanent rink and is frustrated that there is one sitting abandoned in Dundalk and ice time at the island's only full-size venue in Belfast is extremely limited.
For the future of the sport, we probably need one in Dublin," she says.
"It would probably cost anywhere from between €1.5 million to retro-fit a venue or €7 million to build one from scratch. If that happened, I fully believe we could compete with the best in Europe."
For now, Mark Murphy and other developing ice hockey players have nowhere to call permanent home.
But, while the youngster hasn't let that hold him back, you also sense he won't stand for it happening to the next generation of players.
Subscribe to The42 podcasts here: