IT MAY BE Christmas Day, but for elite athletes, that's often no excuse to not train.
Despite enjoying a landmark 12 months in which himself and rowing partner Shane O'Driscoll won gold at both the European and World Championships in the lightweight men's pair category, Mark O'Donovan will be spending some of 25 December training in one form or another.
"(It will be) 60-90 minutes on a rowing machine more than likely," he tells The42. "Depending weather-wise, I might be able to get out on the row bike, which I like doing at different times.
"It's a handy mode of exercise, because I have the rowing bike at home. So I might go out for a two-hour, two-and-a-half-hour bike ride if the roads are good and it's a nice day. Otherwise, I'll just stick to the rowing machine."
In general, this month's bad weather meant the Skibbereen duo were often forced to train indoors, away from the water.
"The wind has been too much," he says. "It's kicking off the water (to create) unrowable conditions. So we haven't been able to get out on the water a whole pile now in the past few weeks.
We'd be edging to go out anytime the weather is suitable. A lot of the time during the winter, we can't get out, so that's why we try to go away during the winter months on a training camp and generally, we'd choose Sevilla in Spain, because there's a great river there, and it's pretty warm.
"There's a training centre that caters for athletes and you kind of get your bed and breakfast and dinner and everything in the one location.
"You don't really have to go out for food. After a while, you do want to go out for food, because you're eating the same thing day in day out. It looks different, but it doesn't taste any different."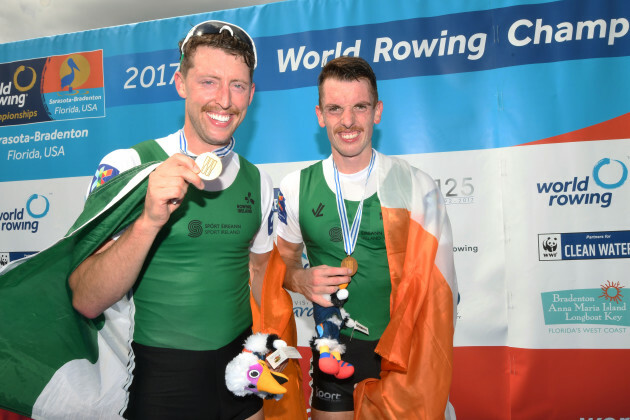 Detlev Seyb / INPHO Ireland's Mark O'Donovan and Shane O'Driscoll celebrate winning gold at the World Championships in Florida. Detlev Seyb / INPHO / INPHO
For the past 17 years, O'Donovan has been increasingly immersing himself in the sport. He even admits to not being particularly good at it initially.
"How I got into it was one of my best friends, his eldest brother is (Irish rower) Kenny McCarthy," he recalls. "He was rowing for Skibereen and also, he was a member of the Irish team. He just got to go away to a lot of different competitions and he was doing very well for himself.
"It just seemed like quite a desirable lifestyle, because he got to travel around so much. I quite liked the idea of going round and going racing in different places.
"I ended up saying it to a younger brother that I'd be friends with, his youngest brother, Stephen, so I got Stephen and another two friends, Eric and Brian. We all went out rowing and they kept up for a good couple of years. They were much better than I was. I think I was the smallest out of all of them as well.
I was quite a bit skinnier than them and I was used a lot of the time as a cox, so I wasn't even rowing the boat. I was communicating with the crew's orders and stuff, getting them to row on time and do drills, getting them to blend in together. I did that for quite a few years, even though I was training away myself.
"The lads were always racing a lot more than me, just because they were fitter, but I ended up sticking with it and I suppose it kind of stood the test of time really.
"I always wanted to do well in the sport, but I was just enjoying it mainly.
"As the years went on and the competition grew, I was getting fitter and fitter and tried the trials for the national team.
I (soon) wanted to become a world champion and I wanted to go to the Olympics. We had the pathway there for us. There were individuals in the clubs who had gone to the World Championships, they had got World Championship medals. Some went to the Olympics and did very well for themselves. In Skibbereen rowing club, we had that, so it was never unachievable.
"We were thinking if we could do the same training as they did, or do it better, we could get the same results. That kind of hunger and desire took quite a long time to flower and blossom, because you can't really manufacture the desire to do well in a sport.
"Loads of coaches try to push but it was never something driven into us at too young an age.
"I think it's very important that you enjoy sport, especially in the younger years, and then you can start specialising later on."
Mark O'Donovan and Shane O'Driscoll receive their gold medals pic.twitter.com/Dk6JTpoJNN

— RTÉ Sport (@RTEsport) September 29, 2017
Now 29, O'Donovan has just enjoyed the best year of his career. It was a long time in the making — he has been rowing with O'Driscoll for roughly four years, having had less success with other partners.
"Before Shane, I would have gone through a few different pairs partners. Also, myself and Shane would have tried to get to Rio in lightweight, but we tried with two different combinations — two other fellas. So it never worked out and we were never really fast enough. So we had to scrap that idea and realise that one of our dreams was over.
I suppose being so bloody angry kind of gave us a bit of fuel. We couldn't even go to try to qualify, because the boat was way too slow. That really drove us on to do well in the pair and realise we are good enough, we just need to keep going at it."
He continues: "When I started rowing with Shane, there was an instant bond there really. Our speed has just become better over time and we've developed more physiologically ourselves, so we've got bigger engines.
"Of course, technical changes are going to help. But rowing with (Shane) was much different to rowing with someone else. And being another Skibbereen man, I quite knew his thought process and I could really trust and believe in him when things were going to hit the fan, that he was really going to back myself. He's not a quick man to lay down."
Bryan Keane / INPHO Mark O'Dovonan, Paul O'Donovan and Shane O'Driscoll return home from the 2017 World Championships. Bryan Keane / INPHO / INPHO
The pair even live together and at one point, circumstances dictated that they had to share a room in the type of unglamorous location that you don't automatically associate with elite sports stars.
"Back in 2013, I was renting over a pub and Shane moved in. They had two single beds in the one room. So he moved in for a couple of months. We ended up getting selected to represent Ireland in the lightweight pair. It kind of went from there.
"Thankfully now we have our own separate rooms.
"I don't have to wake up and look over and he's staring back and nearly on top of me or something like that."
And while they may occasionally feel sick of the sight of one another given their consistently close proximity, O'Donovan says himself and O'Driscoll still get on well more or less all the time.
We're in the boat together to get the same goal. I think there's an understanding that there's no point in arguing, because it's not going to solve anything.
"You're better off having a discussion if it even came to it. We actually never have had an argument. We've never been in the position, but if something was going to go in that direction, you either won't speak about it or there's no point being frustrated about it, because we're both in it together."
As their chemistry in the boat has improved, the pair have become increasingly successful, and this year saw them reach new heights, going the entire season undefeated. Highlights included gold medals at the European Championships in the Czech Republic last May, as well as a gold medal at the World Championships in the intense Florida heat back in September.
Their feats drew plenty of acclaim. The RTÉ cameras captured their Florida triumph, while the pair have become better known to the general public over the past few months, making an appearance on the Ray D'Arcy Show in October, among other notably quirky interviews (see video below). They were also nominated for the Team of the Year prize at the recent RTÉ Sport Awards.
For the pair, this growing success is the culmination of years of hard work, with the rowing season generally taking place between March and October. Invariably though, they might only have two weeks every year where they take a total break from training. The rest of their time is spent preparing for races with varying levels of intensity depending on when the next big competition is taking place.
We really sacrifice going out with the lads, everything that's normal to everyone else. It can be quite tough at times, but as long as we know that we have our family and friends, we're doing alright.
"They'll still talk to us when we come home, so we haven't lost any friends doing it. They know the sacrifices we're making to try to do something we've never done before, so they understand. It took them a while to understand, but they know that we're well-driven individuals."
Our @EvanneNiC gets a lesson in live commentary from @manthonyrc & Shane O'Driscoll as the duo call end of @PaulO_Donovan's win #rtesport pic.twitter.com/HFZbxZJMpG

— RTÉ Sport (@RTEsport) September 29, 2017
Given the phenomenal year they have had, some athletes in O'Donovan and O'Driscoll's position would be content to simply keep doing what they are doing, but the Skibereen duo are determined to undertake a new challenge.
The pair recently announced the ambitious move of switching to heavyweight class as they attempt to qualify for the Tokyo 2020 Olympic Games.
"We've come to the realisation that to get our goal of competing for Ireland in the Olympics, we're going to go heavyweight.
We're going to take the lightweight men's pair and make it a heavyweight pair. Myself and Shane are going to be competing against lads who are much taller, much bigger, they'll more than likely have better engines than us.
"We still think we're going to be able to beat the majority of them. We're going to have to put on a few kgs ourselves.
"It's a long-term project and you have to be patient with it. You can't put on too much muscle in a year realistically. We will put on weight, we already have put on weight, but we are taking in excessive calories. A lot of that is going to be fat initially, but I suppose we're in a sport that's so aerobically demanding.
"It took us a while to come up with it, but it's a well-worked plan to do, because we want to go to the Olympics and we're just mad keen. This is the best way. We don't have to rely on anyone else. When you've got two well-driven individuals in a boat, I don't see why it can't be (realised).
"It is going to be hard for the first while, because we're not going to have instant success. We'll probably be at the middle to the back of the pack, but over time, things will definitely start to go quite rapidly. It's more so for us to understand that than anyone else.
People do think we're mad doing it, but a lot of people who actually know really what's going on in the sport of rowing, they've been there themselves, they think it's a very clever idea.
"We won't be winning anything for certain in the near future. 2019 is Olympic qualification. We're aiming to be in the top 11. Being in the top 11 will get us to the Olympics. After that we can work on making an 'A' final and pressing for more.
"(Qualifying for the Olympics is) something that we have never done. It's the next goal. I don't see the point in racing a few more championships in the lightweight men's pair. When we won it once, I don't really want to win it again. I want to start this project straight away and now is the right time to push for it.
"We've sacrificed a lot in doing it, but it could be worth it in the end."
The42 has just published its first book, Behind The Lines, a collection of some of the year's best sports stories. Pick up your copy in Eason's, or order it here today (€10):