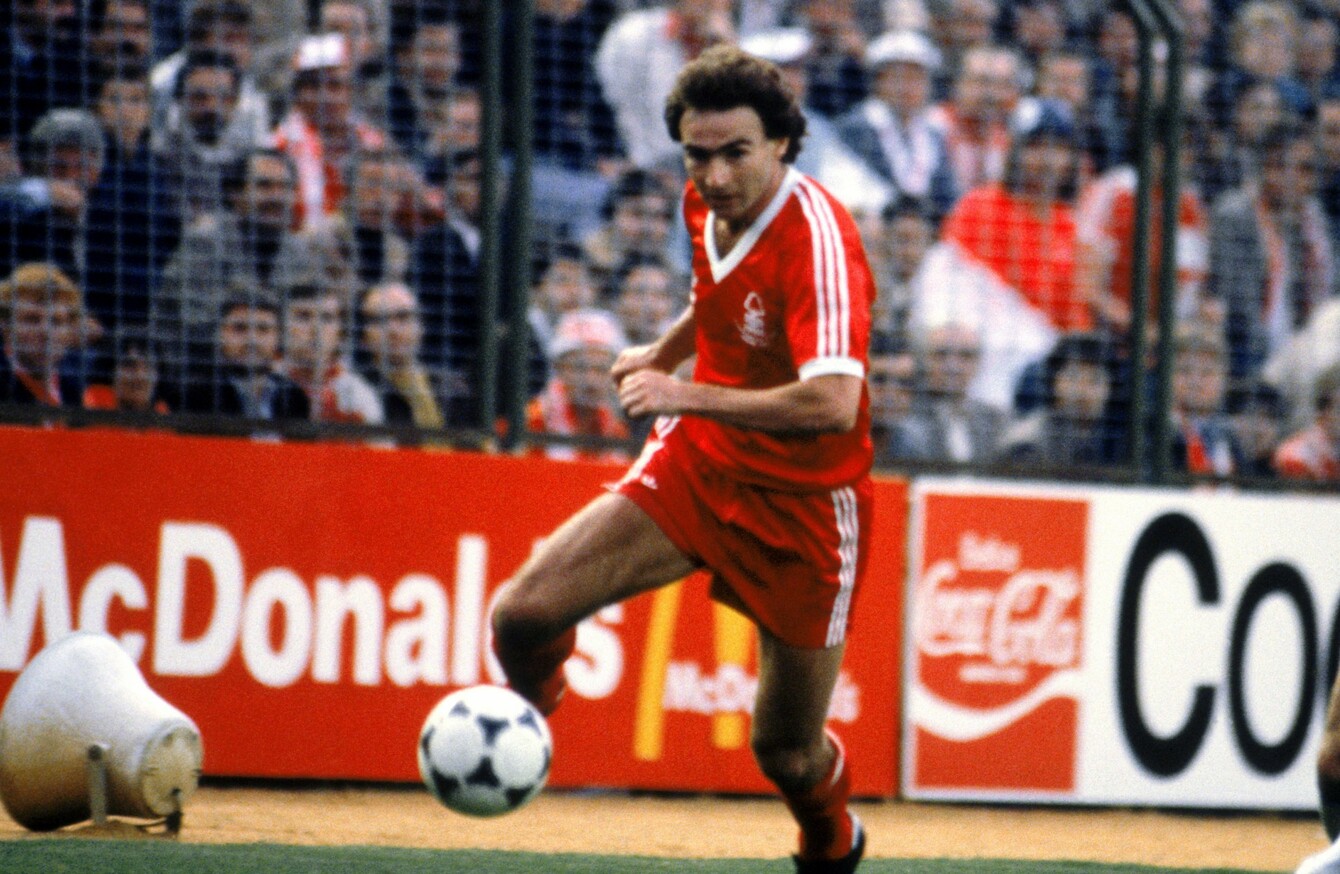 Image: EMPICS Sports Photo Agency
Image: EMPICS Sports Photo Agency
"I'M WARY OF people who are more intelligent that I am", Brian Clough once said to Martin O'Neill.
"But I soon got you down to my level".
During the pair's time together as manager and player at Nottingham Forest, they won a First Division title, two European Cups, a European Super Cup and two League Cups. But there existed an uncomfortable and edgy relationship between them for much of that richly successful period.
O'Neill was well-read and deeply intelligent. In October 1971, he was playing pinball in the student's union of Queens University in Belfast when word came through that he'd been called up to the Northern Ireland senior team. He was a law student but also a gifted footballer, then playing with local side Distillery, and well on the rise.
The club had won the Irish Cup earlier that year and O'Neill scored a brace against Derry City in the decider. Then came the Uefa Cup Winners' Cup the following season and a two-legged affair with Barcelona. In the first game in Belfast, O'Neill found the net in a 3-1 loss. A 4-0 thumping followed in the Camp Nou but the curly-haired midfielder was already attracting substantial attention by the time Terry Neill brought him into the international setup.
Having been watched by a handful of teams, including Manchester City, it was Nottingham Forest who lured him to England. O'Neill walked away from his studies and, for a few seasons, toiled along with his team-mates as Forest struggled to remain relevant. In his debut season, they suffered relegation. But even in the lower tier, the club found the going tough. In 1973, they finished 14th. The following term, things got better and then Brian Clough arrived.
What followed over the next five years – a return to the First Division and subsequent title success at the first attempt, back-to-back European Cups, a litany of other domestic trophies and a 42-game unbeaten streak that would go unbeaten until Arsene Wenger's Invincibles – is the subject of Daniel Taylor's superb book I Believe In Miracles, which charts Forest's magnificent and largely inexplicable rise.
Clough, inevitably, revelled in the intoxicating glory of it all. He had it before at Derby but was then promptly humiliated by the ill-tempered, toxic 44 days he ensured at Leeds. Later, as he was prone to do, he'd push the myth about Forest just a little.
"The River Trent is lovely", he said.
"I know because I have walked on it for 18 years".
But in 1975, Clough needed Forest as much as they needed him.
Still, though the manager's uniqueness and idiosyncratic ways began to inspire the team from 1977 onwards, O'Neill found the regime difficult and a slog, according to Taylor, who spoke recently to The42.
Source: 6zxhaider/YouTube
"I'm not sure Martin O'Neill always enjoyed himself at Forest, if I'm honest, because Clough would be the only person who could chop him down to size.
There was one story about the Charity Shield, when Forest were playing Ipswich and they beat Ipswich 5-0 that day. O'Neill scored two and was desperate to get a hat-trick. But as soon as he scored his second goal, Clough substituted him and brought on a central defender to play in his spot in midfield. And it was almost out of spite, really, because they just didn't get on."
Clough's man-management style has been heavily documented elsewhere. For some players, it worked a treat.
John Robertson, then Forest's mercurial left-winger and who would go on to serve as O'Neill's must trusted of lieutenants throughout his management career, told Donald McRae earlier this year of the feeling he'd get when on the receiving end of some Clough praise.
"When he shouted 'John!' and gave you that little sign [Robertson uses his thumb and index finger to make Clough's trademark circle of approval] you felt 10 feet tall. The biggest compliment was when, after we had beaten Ipswich 5-0 in the Charity Shield, he just said: 'You're a good player, son.' You think you would be more excited if he was gushing and saying you're a brilliant, superlative footballer. But he kept it simple. That's why I didn't believe the cliche about Cloughie ruling by fear. You can't express yourself if you're full of fear. Some people just dig up the negatives. They say: 'What did you think of Clough calling you a scruffy git?' I reply: 'What about the time he said I was like Picasso?' I knew Cloughie loved me."
But O'Neill was different and Clough knew that too.
Both, probably unbeknownst to each other, felt intimidated. O'Neill was constantly challenged or put down and struggled with confidence as a result. Clough merely wanted to show his player who was boss, taking pride in dismantling the ego of an educated, intelligent and opinionated man. For Don Revie and John Motson, read Martin O'Neill.
"Martin was an intense guy and valued his own opinion and Clough obviously found that to be antagonising", says Taylor.
But Martin has said before that he was the one guy Clough could've got more out of by being a little bit kinder – that if Martin had been a bit more relaxed, he could've been 10% better as a player. The other thing is that Martin was always convinced Clough was trying to get rid of him so there was that paranoia there too."
O'Neill carried the burden wherever he went, even when with his country.
In Alex Montgomery's biography of O'Neill, former Northern Ireland manager Billy Bingham offers up an image of a fragile and stressed veteran, broken down by Clough's behaviour.
"Martin was trying to establish himself as a player of substance at Forest, but with Cloughie chopping him here and there all the time, knocking him back so tremendously, it was difficult. I had talks with him just to build up his morale. Nothing destroys morale more as a player than being constantly in and out of a team. They were playing him on the right-wing, they were playing him in the sort of semi-inside-right old WM formation and he wasn't happy at all".
When O'Neill left Forest for Norwich in 1981, he played under Mel Machin and the contrast was huge. Years later, O'Neill would comment on his time at Carrow Road and the effect a new management style had on him.
In my second match for Norwich we lost at Wolves, but he (Machin) came in after the game and said to me, 'That was world class'. That made you want to go out and perform, and to play for people."
For all the tension, O'Neill was a crucial ingredient in Forest's greatest ever era. In the title-winning 1978 season, only Robertson, Kenny Burns and Peter Withe made more overall appearances than him. Though he was benched for the 1979 European final after failing to recover from injury in time, he made up for it twelve months later and started on the right side of midfield in the 1-0 victory over Hamburg.
Source: wfootballvideos/YouTube
"Martin was runner-up in the Player of the Year awards at Forest four years running, which tells you the kind of impact he had on that Forest team", says Taylor.
The team was also predominantly based around the left-hand side because John Robertson was the fulcrum, the player everybody looked for, because they were told to get the ball to him. Martin played on the right but he still weighed in with a lot of goals. He was an extremely good player for that team."
In later years, when the frostiness had thawed, acquaintances were renewed and a new kind of friendship forged.
"There was huge respect and funnily enough, after Clough had retired and Martin was in management, they'd get together", Taylor adds.
"It wasn't like they were at each others' throats or anything but Clough could never let a player get one up on him and he would always remind Martin of that."
O'Neill, whether he liked it or not, absorbed plenty of Clough's managerial nous and has put it to good use.
"Like Clough, he has the knack of being able to treat even the most complicated issues on a basic level that people can understand", Robertson wrote in his autobiography.
He continues by saying, "Martin has this talent to turn average players into good ones, good players into excellent and excellent ones into the very best. Martin was also very tactically aware and conducted all the research and preparation that goes into today's football but he didn't allow it to colour his belief that, at the end of the day, it is all about players."
It echoed Clough's sentiment from years before: "Players lose you games, not tactics. There's so much crap talked about tactics by people who barely know how to win at dominoes".
Inevitably, Clough's influence has extended to the Republic of Ireland setup, where O'Neill prides himself on the effectiveness of a basic approach.
"You're bound to pick up stuff from the managers you work under", suggests Taylor.
I don't think anybody could be a chip off Clough's block but Martin certainly picked up some of those things he learned – basics that Clough would tell his players. For the full-backs, the instruction was to stop crosses, which sounds incredibly simplistic but if you stop the cross, it makes your centre-halves redundant and that was the whole point of it – don't make your centre-halves work.
I was watching Jonathan Walters play for Ireland and you can clearly see what appeals to Martin and it goes back to that Forest team and Clough. What he wanted from his centre-forward was that when the ball was played up to him, he wanted it to stick, that it wouldn't be coming straight back. Every time the ball came to Walters, he brought it down and laid it off."
Old Big 'Ead would've approved.