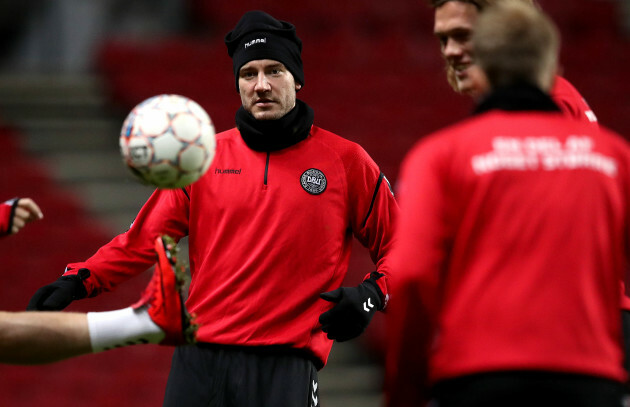 Ryan Byrne / INPHO Nicklas Bendtner training with Denmark today at Copenhagen's Parken Stadium. Ryan Byrne / INPHO / INPHO
– Paul Dollery reports from Copenhagen
GIVEN THAT HE was jeered at the conclusion of his country's last qualification campaign for a major tournament, it appears that Nicklas Bendtner has repaired his relationship with Danish supporters as they bid to reach the 2018 World Cup.
When Denmark missed out on a place at last summer's European Championship after a resounding play-off defeat to Sweden, Bendtner was cast as a scapegoat in his homeland.
He didn't play a significant role as the Danes finished second to Poland in this World Cup qualifying campaign, yet ahead of tomorrow night's play-off first leg against Ireland at the Parken Stadium in Copenhagen, the 29-year-old striker remains the most decorated player in the current Denmark squad, with 29 goals in 77 appearances.
He's unlikely to start and he may not feature at all, either tomorrow or in Tuesday's second leg in Dublin. His last international goal came two and a half years ago, but somehow Nicklas Bendtner is back in the good books with the Danish public.
"Bendtner has kind of won over the Danish crowd again. It's like a fairytale for him, going from being completely banished [to where he is now]," says Klaus Egelund, a journalist with Danish publication Ekstra Bladet.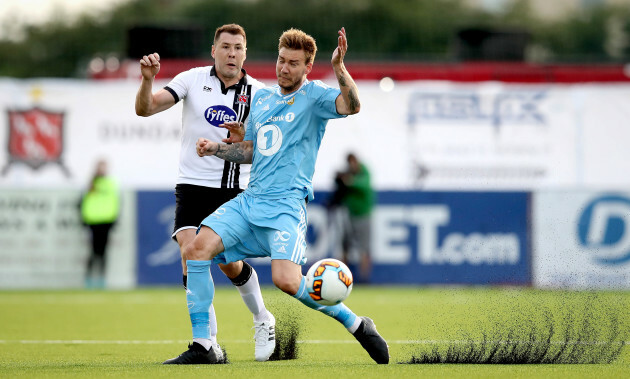 Ryan Byrne / INPHO Bendtner tangling with Brian Gartland during Rosenborg's game against Dundalk at Oriel Park in July. Ryan Byrne / INPHO / INPHO
"Looking at our failed attempt to get to Euro 2016 against Sweden, it was the darkest moment for Nicklas' national team career. He was completely off his game. It was seen as a duel between him and Zlatan Ibrahimovic, but there was really no battle. Ibrahimovic single-handedly knocked us out and Bendtner was booed off the pitch in Denmark as he was being substituted.
"He had simply not put in a shift, he had missed even pretty simple things in that match. Him coming back now, having turned his career around… he's playing for Rosenborg now, so it's not as highly regarded as some of the places he's played before but he seems to have learned things.
"We come from a fairytale country with Hans Christian Andersen and everything, and people will love to get a happy ending — everybody would love to see Bendtner [score] in the play-off against Ireland, but he would be doing that off the bench I'm pretty sure."
The career of the enigmatic Nicklas Bendtner has been a story of unfulfilled potential. Having represented the likes of Arsenal in the Premier League, Juventus in Serie A and Wolfsburg in the Bundesliga, he's now plying his trade in Norway.
After joining Rosenborg last March, he featured for them in July as they needed extra-time to eliminate Dundalk from the qualifying stages of the Champions League.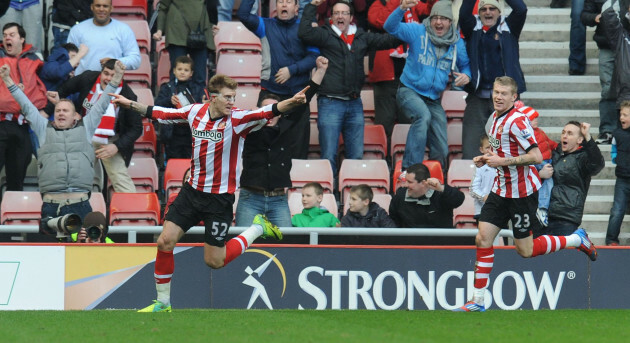 PA Archive / PA Images Bendtner celebrates with James McClean after scoring the winner for Sunderland against Liverpool in March 2012. PA Archive / PA Images / PA Images
From his time in charge of Sunderland, Ireland manager Martin O'Neill knows all about Bendtner. The Danish striker spent the 2011-12 season on loan at the Stadium of Light and ended the campaign as their top goalscorer, having netted eight times in 30 Premier League appearances.
A home game against Liverpool, when he scored in a 1-0 win, stands out for O'Neill, who spoke fondly of the Dane at today's pre-match press conference in Copenhagen. If he gets an opportunity to make himself Denmark's unlikely hero over the course of this tie, the memories of their failure against Sweden two years ago will soon be forgotten.
When asked by a Danish journalist how he recalls his experiences with Bendtner, O'Neill said: "Very interesting, as only Nicklas can be. He was on loan from Arsenal. Obviously a good footballer, really good player. When he set his mind to it, he was excellent. He had to set his mind to it, though. He did that often enough for us during the course of that time, absolutely.
"I remember one game in particular, I think it might have been against Liverpool, where he was unplayable. He played really, really well. He got us the three points and was really excellent. He stopped the side from being relegated, played a big part in that and did really well."
After guiding Ireland to Euro 2016 in France last summer, O'Neill is eager for another qualification campaign to reach a positive conclusion. The Ireland boss hopes to be celebrating qualification for Ireland's first World Cup since 2002 after Tuesday's second leg at the Aviva Stadium.
Tim Goode Ireland manager Martin O'Neill and winger Robbie Brady at today's pre-match press conference. Tim Goode
"It's a great game for us," O'Neill said. "Obviously it's the same for Denmark as well. As far as we're concerned, qualifying for the Euros was a great achievement for us. I thought that some of the performances in France were great.
"The young man beside me [Robbie Brady] forged a very strong reputation by playing brilliantly in that competition. Getting there is big, but the World Cup is something else as well. If we can make it, this would be fantastic. Obviously our opponents will feel exactly the same."
He added: "Naturally we've been able to see quite a lot of [Denmark] from DVDs. It'll be really tough but when you're in a qualification play-off game it's going to be tough.
"They're the seeded side. The expectation on them is probably to get through but we have overcome adversity in the last couple of years and we're going to try again."
The42.ie / YouTube