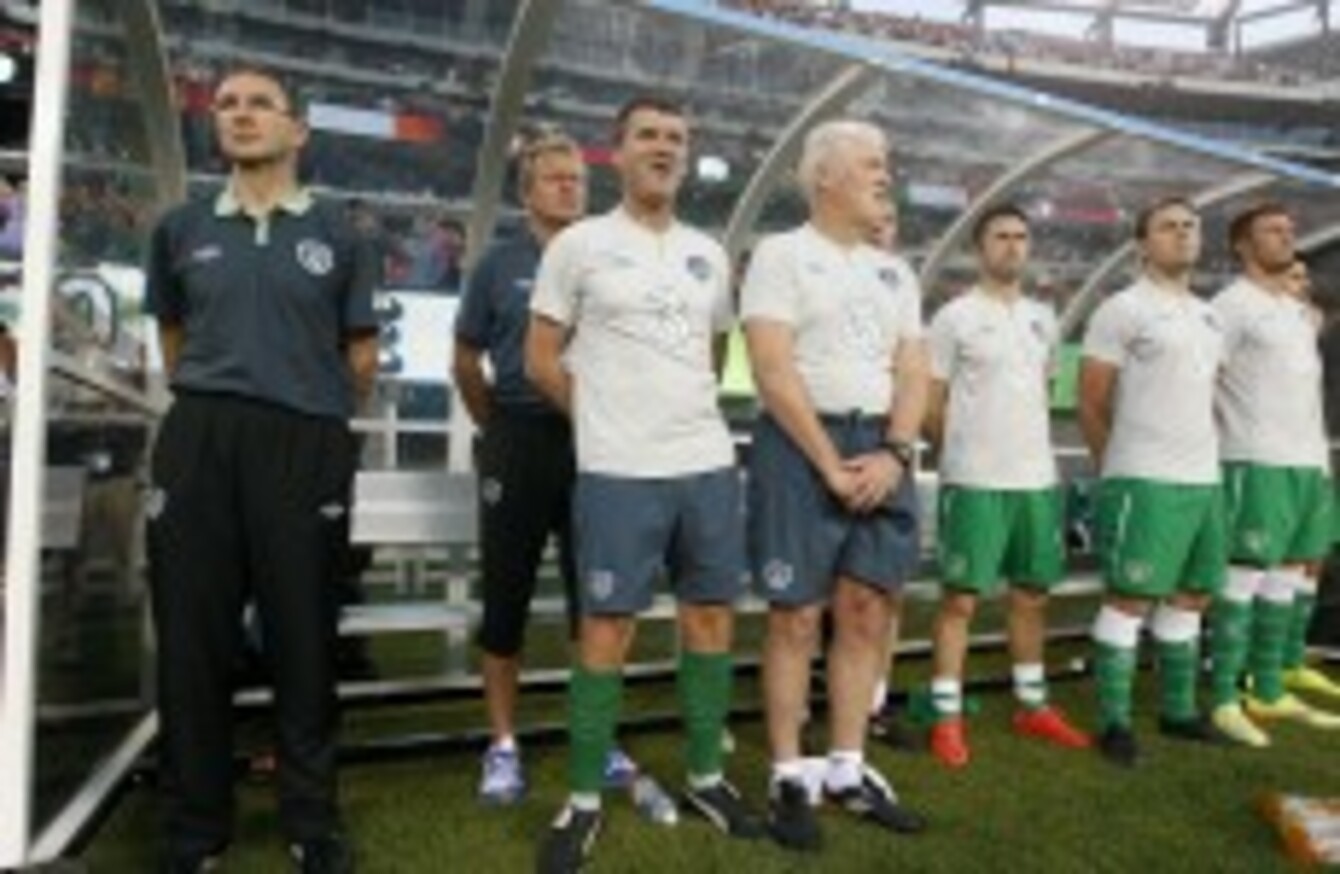 O'Neill and Keane in New Jersey on Tuesday night.
Image: Donall Farmer/INPHO
O'Neill and Keane in New Jersey on Tuesday night.
Image: Donall Farmer/INPHO
YESTERDAY IN NEW YORK, as Ireland's season at last ended, manager Martin O'Neill addressed Roy Keane's future in depth with reporters. 
This is what he had to say about the possibility of the Corkman taking a position on Paul Lambert's Aston Villa staff, Keane's future with the FAI and the possibility of combining two jobs. 
Martin O'Neill: "I've spoken to Paul Lambert. Paul has spoken to Roy about it, the possibility (of it). I think at this minute, Roy and I wanted to get this trip out of the way. I spoke to him the other day and I think his mind is still the same.
"One thing I wanted to establish is what sort of in-depth conversations have gone on but I don't think that's really been the case. Roy was just taking some time obviously to consider things and Paul Lambert has been doing exactly the same. I think Paul's looking for some help anyway just to build on is backroom staff.
"Really just just to verify if conversations have taken place. But nothing definitive has happened."
Is a commitment required?
"Not that I've had a great deal of time to think about it. It's been in the air now for a little while. I think the thing that has to be established here is that Roy is actually part-time here. When I took him on in the first place he had the commitments with ITV. I didn't really want to interfere with those because he had a contract at the time.
"Of course I didn't realise at the time that one of the games might coincide and slightly interfere with their build-up to the Turkey game which was no big deal at all. I don't know at this minute. Roy really doesn't know what commitment would be necessary in this job. I don't think the conversation has gotten remotely close to that.
"Paul met Roy a few times. I don't think they know each other that fantastically well either but they've obviously been around each other so the conversations have not gone to any depth whatsoever. I don't really know sort of commitment that would entail. But if it is actually a full-blooded assistant manager role then it's something to consider.
"But I don't know exactly what is necessary in that. What is important to consider here is that he's part-time."
Could Keane do both jobs?
"Let me put it this way: if the Celtic affair had happened, then I don't think there was a possibility of combining any roles there. I think that is a full time commitment. I don't know how far that developed….it certainly never came back to me. But I couldn't have seen that: you are a full time manager, you are going into a job and you might get an international break but you are totally focussed on the club. I would know that having been a club manager myself.
"Never having been as assistant, I don't know what that would entail. So there is no point in me guessing something. If I thought there was a possibility of combining roles- whether Roy decides to go back and do TV work or anything, then I would have conversations with him and John Delaney."
Do you trust his judgement?
"Of course there is that aspect. And I think he might ask my advice and when I know the complete circumstances of it that is something I would gladly give him as the senior member. But I don't know and it certainly hasn't gone as having an official conversation with John.
"With the season now as far as I'm concerned ended, with players going off. I have no problem with it."
Is it compatible with the Irish role?
"Well, he goes to a lot of games obviously and naturally then there is a role when you are involved at club level. Of course you are going to see a lot of games at the start. I said this a fortnight ago: I want to stick to what I was saying but I wanted to give an update. I haven't considered it that strongly. Really haven't done.
"I said this a fortnight ago and I just wanted to give you an update now. I have not considered it that strongly, genuinely. I had not given any definitive thought to him becoming a manager. If it happened and he definitely wanted to do that, then that is something I think… maybe it is an ounce or two of procrastination, I don't know.
"But when the Celtic thing did not materialise, I was absolutely delighted. If he had chosen to go down that route to be a manager then, obviously, I would have had some decisions to make."
Endless speculation with Keane?
"Well, I don't mind it for a week or two. Celtic wanted something in place at some stage as they had games. I assume that Aston Villa will want to get something in place by the time that they come to pre-season. I cannot see this dragging on until August, precisely."
Were you aware of comments from John Delaney on Keane only doing the Ireland job when linked with United?
"Actually, I did not know that from John. I don't know, I would have to go and talk to John. I want to be careful about jumping the gun. We had him all signed and sealed at Celtic and it did not materialise.
"And I was asked the question 'was I sure' and I was never particularly sure that he would he take that role on. He has enjoyed the job with us, he has rejuvenated himself. He has obviously taken a back seat for a while – if you excuse the phrase – at this minute to take a look at someone more senior to him in that aspect at international level.
"And I also think the combination of those things does suit him at this minute in time.
"Will Roy become a manager – I have said this umpteen times – absolutely. I don't really know if this is something that is really going to be a serious look at, a genuinely serious look at.
"Then if it is, then I will definitely speak to Paul Lambert – John and myself – and we will see if that of that kind of role can be combined.
"I think there's a better chance of an assistant being combined only because international breaks tend… I know that Paul, I know his from past experience and speaking to him, Paul tends to give the senior players who are still left over at the football club, quite some time off but if you're asking me… I don't know the thoughts about how deep this role might be, if it's the full assistant manager, I've lots to consider."
"John and I for a start, would need to sit down and  discuss it. I don't know the terms of Roy's contract. I really do not know the terms of his contract.
"I wanted him to sign up but he went separately into his thing. All I remember is speaking to him on a general basis… is that I felt that his TV commitments weren't going to intrude and as it turns out other than missing one early morning training session before we played Turkey, it didn't affect us and that was done before I knew about the Turkey game was taking place… so I don't know, I know it seems like I've called you here for a long winded way of saying I'm not sure at the end of the day but you're right, I don't want it to be continued right through until August time.
When you find out the detail of a Villa deal, you'll have to make a call?
"Yes I will look at that detail, if that's the case and that sort of commitment and make some sort of judgement on that. I think for the general purpose of the players, he's been really good around them but I will make the call. If the commitment is not the full scale well that might become a different issue.
"I have complete trust in him going to games but some of the ITV commitments might have been, where he might have missed a Premier League game in the midweek because of that.
"Overall I can deal with that… I've got other people out looking at the players now and Steve Guppy and Steve Walford will take, to me, a more active role in going to look at players which they havent really done before because they have no commitment to me… Steve Guppy has been looking at some matches for me for for some time.
"None of these two lads have signed to the FAI at this minute and that would be very, very much part-time as well. Roy is a different aspect, he could be an assistant manager but it's always been in a part-time role.
You wouldn't, in any way, feel let down if he goes?
"Would I feel let down? Well I'm going to tell you this — no, I didn't.
"And you know what, and I say this for what it's worth, if the Celtic thing had become such a lure that you couldn't turn it down — and you would all have different views on it, whether you'd do it or not, I'd have to say deep down if he was a full-time member… listen, he treats his job in a full time manner, that's Roy.
"He goes to a lot of functions for the FAI, does a lot of those things and some of those there he might not be able to make if that's the case. But he has treated a part-time job in a full-time manner and I have not and don't feel let down by him.
"You made the point that what would the Irish nation make of it, that's entirely their prerogative to feel whatever they do. Roy has always polarised opinions so that's not a problem.
"Do I feel let down? No I wouldn't. I genuinely wouldn't, because I actually thought at some stage or another, some of these things would come into place. I just didn't think they would come so quick.
What's your gut feeling?
"I was asked that there about the Celtic thing and really, genuinely, I was never sure that Roy would take it, even inwardly although I was never sure, because he had enjoyed the summer (games).
"Did I think that the game against Italy would change his mind? Not really, I don't think that, nor do I think last night's result will make any difference to an opinion. These things are…I can't look into the future, I don't know what sort of things are going to crop up.
"It may not be the last time, there may be something else. There may be. But if you have a chance of being a manager and then an assistant manager, I'm never sure what's next, maybe a piano player in a pub or something…I don't know myself," he laughs. "Never a dull moment."