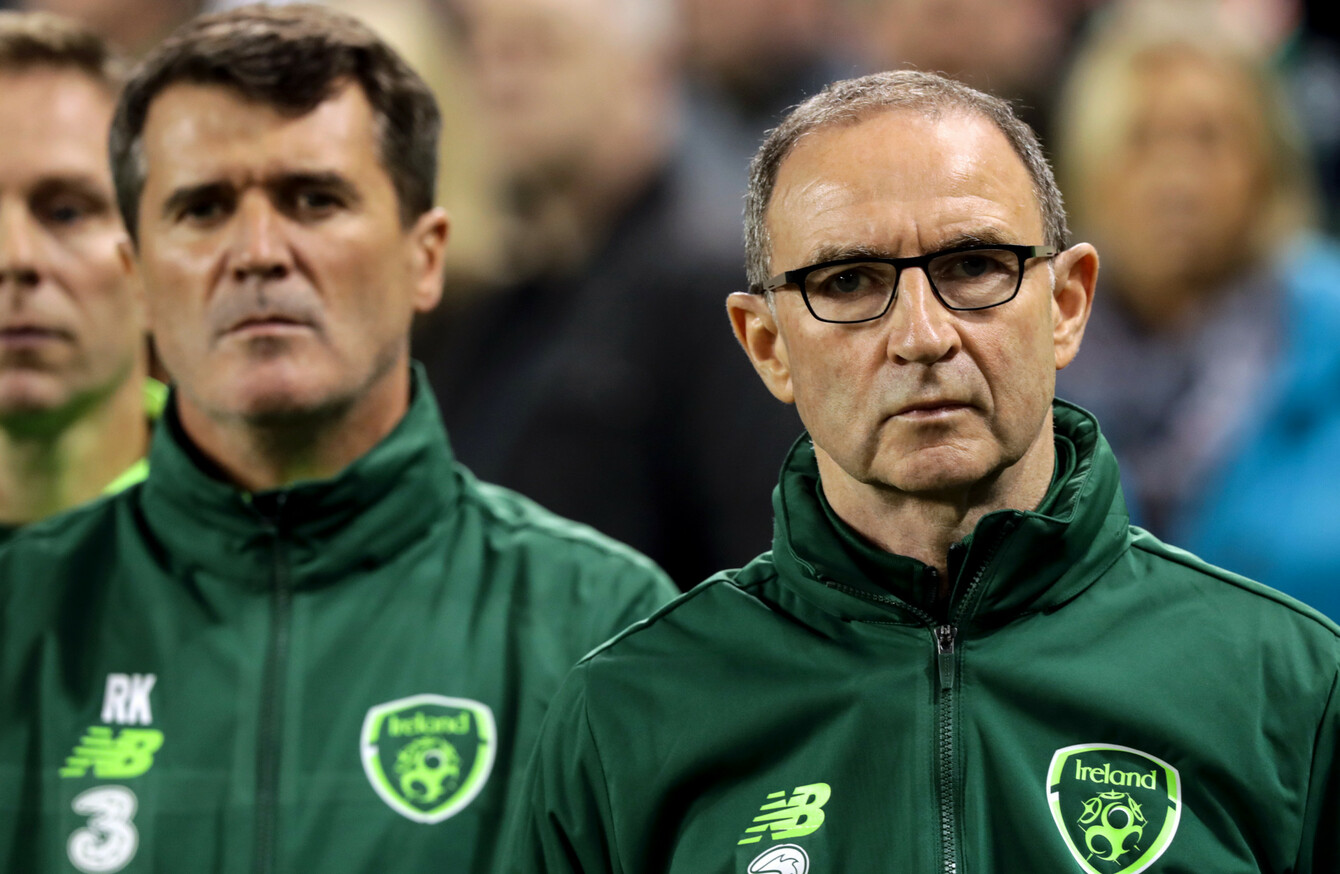 It was announced today that the FAI and the Irish management team had parted ways.
Image: Morgan Treacy/INPHO
It was announced today that the FAI and the Irish management team had parted ways.
Image: Morgan Treacy/INPHO
Updated at 19.37
THEY MAY SEEM a distant memory now, but there were plenty of highs as well as lows during Martin O'Neill's tenure as Ireland manager.
Not since Mick McCarthy has a Boys in Green boss secured such an impressive run of wins.
At the start of his reign at least, O'Neill did what he had previously achieved at Leicester, Aston Villa and Celtic among other clubs. He helped limited players to punch above their weight in games that really mattered.
While the flaws in his approach have been highlighted so starkly of late, a poor manager does not help Ireland oversee several wins against teams ranked well above them and who are clearly superior player-for-player.
In one sense, you could argue he performed no better than previous boss Giovanni Trapattoni. The Italian manager oversaw Ireland's qualification to a 16-team Euros and was unlucky not to guide them to a World Cup too amid that infamous play-off defeat against France. 
And while if you look at it from a cold, statistical viewpoint, O'Neill did no better than Trap, he undoubtedly delivered more memorable nights.
Whereas the Italian manager's side were essentially draw specialists who had the good fortune to meet a poor Estonia team in a Euro 2012 play-off and the bad luck to subsequently come up against Italy, Spain and Croatia, two out of whom were finalists in the competition, O'Neill did what no Irish manager since Mick McCarthy has achieved, with victories over Germany, Bosnia, Italy, Austria and Wales up there with the famous 2001 defeat of Holland at Lansdowne Road in terms of what it meant to the fans.
On the other hand, most of those great victories took place more than two years ago. The Wales match was an outlier. Ireland did not really play any differently to how they performed against Denmark the other night and simply scored with the only real chance they created in the game via James McClean's fantastic finish.
And since Cardiff, watching Ireland has been the sporting equivalent of purgatory. The team have played 11 matches, won one, lost five and drew five. In these fixtures, they have scored just five goals.
Nonetheless, the timing of O'Neill's sacking seems strange. It is less than a year since the 66-year-old signed a new contract that was supposedly set to see him out until the end of the Euro 2020 campaign.
There were multiple occasions when a change would not have seemed drastic — after the 5-1 Denmark defeat, when there was the uncertainty over O'Neill's future with Stoke and Everton lurking as he appeared to favour an exit, and following the 1-0 loss to Wales that ended Ireland's interest in the Nations League. Terminating the ex-Celtic boss's contract on the latter occasion would at least have afforded the new man two relatively meaningless games in which to experiment. Instead, O'Neill's successor now will likely have the arduous task of going straight into the Euro 2020 qualifiers in a group, from which two teams qualify, whereby Ireland could potentially be drawn with both Germany and France, among other top sides.
And it is interesting that backing for the decision to let him go was not unanimous by any means.
I would've been very confident in qualifying under Martin and still am with the group of players we have. On a personal note I have the [utmost] respect for Martin as he is and always has been fantastic for me," Irish star Jon Walters tweeted earlier today.
Sections of the media, particularly some of the British-based reporters covering Ireland, have sympathised with O'Neill and pointed to the lack of talent at his disposal.
And there is a strong case to be made that it is the most limited group of players an Ireland manager has had to work with, certainly since before the Charlton era and probably going back to the days of the notorious selection committee.
Regular members of the squad, including David Meyler, Aiden O'Brien, Callum O'Dowda and Scott Hogan, while consistently giving their all for Ireland, are not always starters at Championship level even.
O'Neill has been undoubtedly hampered in that sense, and it will be interesting to see whether the new man can fare much better with the players at his disposal.
But even with these problems, and the blow of experienced players such as Robbie Keane, John O'Shea, Wes Hoolahan and Shay Given retiring during the 66-year-old manager's era, there is the sense that the team have been going backwards, since after Euro 2016 really.
There is no obvious gameplan when the Irish side play. Walters suggested on Sky Sports the other night that it was left for the players to sort out everything on the field. This old-fashioned style of management may have worked for Brian Clough — the legendary boss that O'Neill worked under and had a habit of continually referencing to justify his own methods — but it seems easy to believe that it did not suit certain members of the Ireland squad based on their inept displays.
Former player Gary Breen and ex-manager Brian Kerr have been among those who have dismissed this controversial approach, arguing that modern-day players needed more structure and a level of detail that critics believe did not exist under O'Neill.
The dour 0-0 draw with Northern Ireland, in particular, seemed to increase calls for O'Neill exit. Against a side with players representing clubs such as Burton Albion, Oxford and Kilmarnock, the Boys in Green still looked the far inferior outfit. Perhaps tellingly in relation to that occasion, Michael O'Neill names his starting XI at the beginning of the week and spends the remainder of the time working meticulously with them. His namesake, by contrast, announces his side a few hours before kick-off. This contrast in preparation was patently evident on the field of play.
Players who looked seriously promising two years previously, such as Robbie Brady and Jeff Hendrick, have receded significantly and look devoid of confidence lately. Even the notion of a goal against a half-decent team at this stage seems fanciful.
Off the field, meanwhile, although O'Neill is widely considered a decent man overall, he did not always endear himself to the media or fans.
The coach's needless spats with RTÉ reporter Tony O'Donoghue did little for his image and only served to strengthen the view held by some that the Derry native is overly sensitive to even mild criticism.
That said, being responsible for the national team is a stressful job and radically different to the club coaching that O'Neill knows so well, so perhaps the difficulty of this transition partially explains his often moody demeanour.
But O'Neill at times seemed happy-go-lucky in comparison to assistant Roy Keane, who appears to have carried the volatile tendencies of his playing days into coaching.
The ex-Manchester United star too often created a sideshow that was almost unheard of for a number two.
There was the poorly timed book release, the links with various jobs, most notably Celtic, the run in with one particular supporter, the scathing criticisms of his own players both publicly and privately, with all these factors exacerbating an already difficult situation.
While maintaining a staunch defence of his second in command publicly, O'Neill privately may have wondered at times whether hiring him was the worth the hassle his appointment led to. By the end of the duo's reign, Keane was no longer being put up for press conferences, with his employers perhaps fearful of the next inevitable controversy they would spark.
All these mishaps would have been forgivable if results on the field were encouraging, but the opposite was the case ultimately. Nearly every time Ireland played in 2018, it felt like a new low.
Be part
of the team
Access exclusive podcasts, interviews and analysis with a monthly or annual membership.
Become a Member
The loud boos that greeted the final whistle at the Aviva the other week suggested the supporters had seen enough. A Denmark game in which Ireland had 25% possession and registered zero shots on target in 90 minutes was the final insult.
And for all the flak O'Neill has received in recent times, it would be unfair to consider him the primary scapegoat in this mess.
Irish football has been struggling for a long time now with player development. In the 10 years since Seamus Coleman's move to Everton, you would struggle to identify one truly top-class player that has come through the system.
There has been little change at boardroom level in that time, though several important figures in the underage set-up — Brian Kerr, Eoin Hand and John Devine to name a few — have been inexplicably ostracised despite their vast knowledge of the game.
These factors were beyond Martin O'Neill's control, but there was a sense that the manager, while suffering as a result of the mistakes of others, ultimately came to epitomise Irish football's issues.
He was an old-fashioned manager locked in an old-fashioned set-up, where players are exported to England at ludicrously young ages and somehow expected to thrive. There are signs that changes are being made for the better, but past inadequacies in the decision-making of this country's footballing hierarchy are currently being exposed on the pitch.
While there are still many good coaches and other people working in the Football Association of Ireland, the national side's ineptitude came to symbolise the dysfunction within the set-up.
The mantra for the past few years has been for young players to "learn to love the ball". That is happening at underage level to a degree, as illustrated by some fantastic results for Irish youngsters in recent years, but that overriding message is completely undermined every time the senior side played.
Ultimately, the identity of the individual playing up front for Ireland became irrelevant. Balls were hoofed forward, midfielders chased shadows and the team were largely reliant on the defensive heroics of players like Shane Duffy and Darren Randolph to ensure a positive result.
In Aarhus, Ireland could have been mistaken for Faroe Islands, Gibraltar or any other side whose main plan is to stick 11 men behind the ball against superior sides and hope for the best.
O'Neill's insistence that such a method represented "progress" was an insult to the intelligence of football supporters.
This innately conservative approach was also evident in his selection at times — his reluctance to be adventurous in many big games by playing creative players such as Wes Hoolahan from the start, and with one or two notable exceptions, his decision not to trust League of Ireland players as well as some outright bizarre calls, such as playing Cyrus Christie in midfield, a position the player admitted he last operated in during his early teens.
And while both O'Neill and Keane deserve credit for rejuvenating a tired team, there has been a stark flatness to the side for the past 12 months that made his position untenable ultimately.
Subscribe to our new podcast, Heineken Rugby Weekly on The42, here: