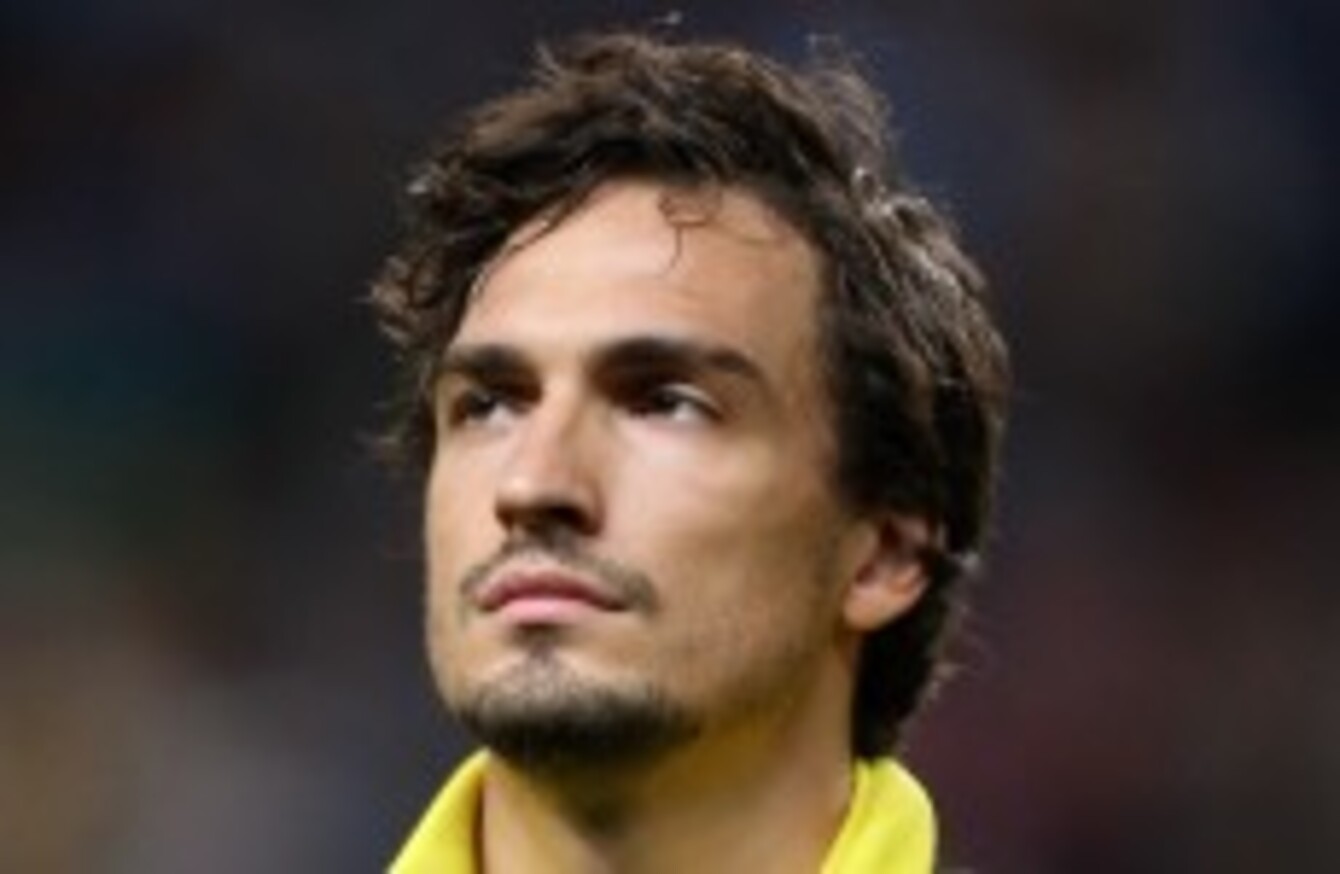 Mat Hummels insists he's going nowhere.
Image: EMPICS Sport
Mat Hummels insists he's going nowhere.
Image: EMPICS Sport
GERMANY DEFENDER MATS HUMMELS insists there is no truth in rumours of a future transfer to Manchester United and insists he is perfectly happy at Borussia Dortmund.
The 25-year-old centre back has been heavily linked by the British media to helping solve Louis van Gaal's defensive problems at Manchester United, but the World Cup-winner says there is zero truth in any transfer talk.
"If the media reports were to be believed, I've been negotiating with everybody and signed pre-contract agreements with Barcelona and at other places," the Dortmund captain told the Bundesliga magazine.
"There's never been an ounce of truth in that. I never negotiated or spoke about a transfer. I have no idea who makes these things up."
Hummels, who started his career at Bayern Munich, says being linked recently to the likes of United, Barcelona and Real Madrid is flattering, but he wants to captain Dortmund to future success.
"It's nice to hear that big clubs like that are interested in you," he said.
"I take that as a compliment. But it doesn't influence me in any way.
"We earn enough here in Dortmund. There will always be someone who can pay more.
"But Dortmund have made a lot of progress during my time here, the wages are not at the level they were six years ago.
"In any case, I believe that it's enough for me.
"If one day I start thinking about playing abroad, money won't be the reason.
"But I don't even think about that at the moment, we still have so much further to go here.
"We have an incredibly cool and talented team here: Neven Subotic, Marcel Schmelzer, Nuri Sahin, all the others.
"When we won the championship for a second time in 2012, each one of us could have gone wherever we wanted.
"But I thought: 'No, what we have here is something truly unique'.
"You don't often find a team where people are really friends with each other.
"If you've got the chance to play at such a high level with your mates, you have to hold on to that for as long as possible."