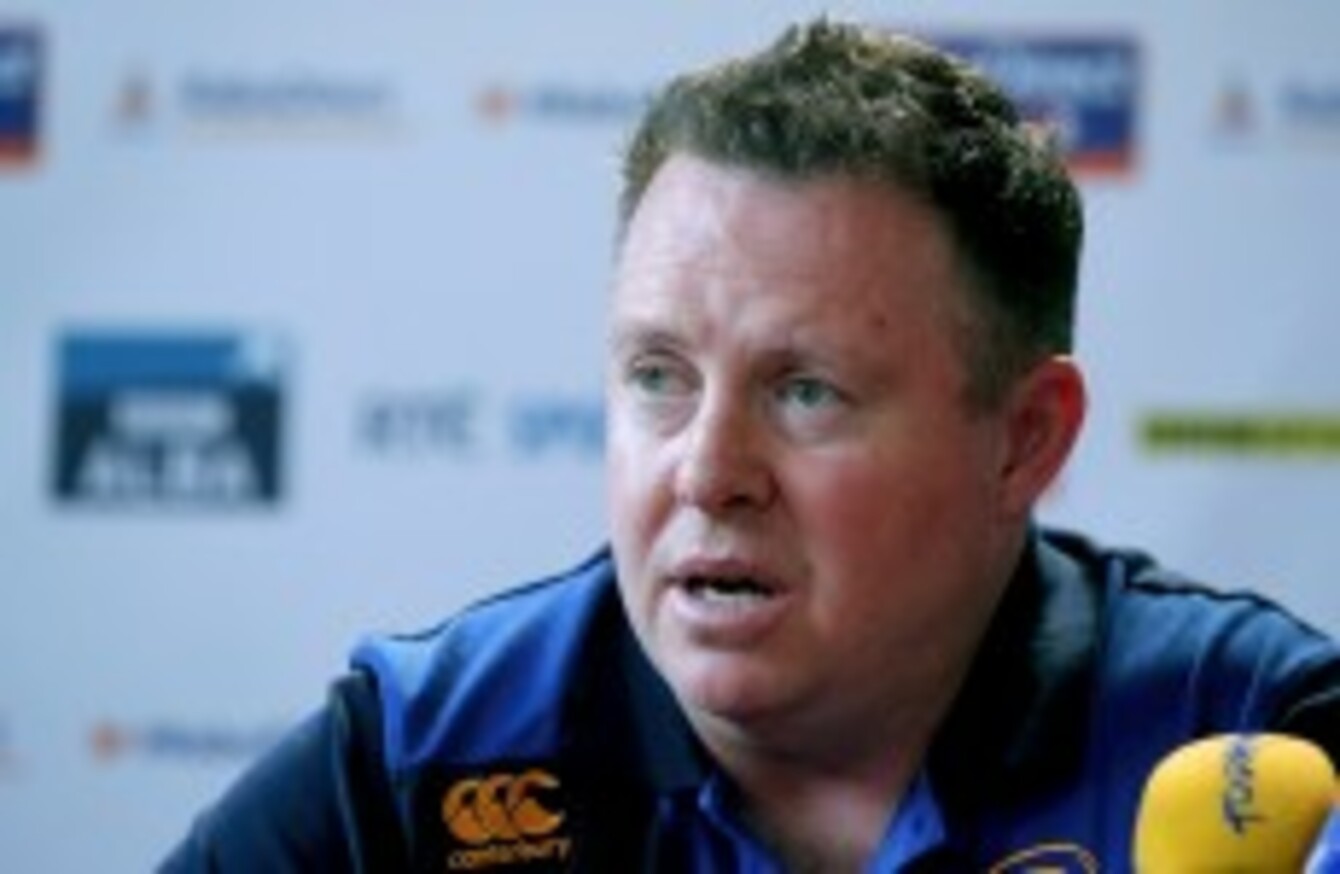 Matt O'Connor ended his first season as Leinster coach in the winners' circle.
Image: Dan Sheridan/INPHO
Matt O'Connor ended his first season as Leinster coach in the winners' circle.
Image: Dan Sheridan/INPHO
LEINSTER COACH MATT O'CONNOR is often-time guarded in his demeanour but he let his guard down briefly after watching his side win the RaboDirect Pro12 title last night.
The Australian, who led the Blues to league success in his first season in charge, threw off inquiries about Brian O'Driscoll's game-ending injury by remarking, "I don't even know, I don't care. He's not playing again, move on."
The comments elicited laughter from some of the press corp. Perhaps steeled by this, O'Connor pressed on. He commented, "[Brian] might have been concussed actually. No, I think he was concussed. Write that bastard up." He waited for the guffaws to die down before adding, "A career-ending concussion, that's what he got."
Source: Sean Farrell/YouTube
In fairness to the Irish Daily Star's Derek Foley, he responded that O'Connor had said the word 'concussion' more times in that short exchange than he had in the whole of his first season with the Blues. O'Driscoll was suspected to have been concussed in the semi-final win over Ulster while teammate Fergus McFadden revealed he had, in fact, suffered a minor concussion in the same game. O'Connor skirted around the issue in his press briefings ahead of the game.
His attempt, last night, at humour was ill conceived and poorly timed. They came at the tail-end of a week when England's Shontayne Hape spoke harrowingly of living with concussion and when a Dublin Coroners Court found that head trauma from rugby had played a contributory part in the death of former Leinster player Kenny Kuzum at 57.
Writing about the Nuzum verdict in today's Sunday Independent, Brendan Fanning says the confirmed link between the demise if an ex-player and CTE (chronic traumatic encephalopathy) has moved the issue of concussion onto a new level in Ireland.
Published in the New Zealand Herald on Saturday, the Hape interview is well worth a read. In the article, the former rugby league and union player speaks of getting concussed well over 20 times before switching codes, the pressures placed on him from coaches and hiding symptoms so he could play and justify his contract.
He said, "Most coaches don't care about what happens later on in your life. It is about the here and now. Everyone wants success. They just think 'if we pay you this you are going to do this'.
Players are just pieces of meat. When the meat gets too old and past its use-by date, the club just buys some more. You get meat that's bruised or damaged, the club goes and buys some more."
Anyone who contests Hape's take on players being urged to play should review the tape on Florian Fritz, who was urged back onto the field during Toulouse's loss to Racing Métro. Players are invariably brave to a fault but someone needs to step in when a concussed individual attempts to plough on.
The verdict on Nuzum's death, Hape's honest account of his litany of concussions and recent, frank interviews with the likes of Fergus McFadden and Paul Warwick have led to a healthy debate on the subject. This is far from a laughing matter.