LEINSTER COACH MATT O'Connor was unhappy with the performance of referee Ian Davies and his assistants during his side's 34-23 defeat to Munster in Dublin.
While admitting that Leinster had been "soft" in defence in the first half, O'Connor bemoaned the fact that Davies only sin-binned Munster players at a stage of the game where the damage had already been done.
The Australian head coach was particularly aggrieved with Munster's tactics around the breakdown and what he saw as a slowing of Leinster possession.
"If you infringe like that, it makes it really, really hard," said O'Connor. "Every time we had any sort of ascendancy with the ball, they killed the ball. You need strong officials and I don't think we had that tonight."
Four yellow cards wasn't sufficient punishment for Munster?
It's a little bit late, isn't it? We made three or four linebreaks that the ball gets killed illegally, he [Davies] doesn't act on those and that changes the nature of it. It was all a little bit too late from the officials, I thought."
The scrum saw Leinster win two penalties in the early stages, but Munster regathered and managed to gain momentum in that area as the game developed. Again, O'Connor felt the refereeing of that aspect of the game was not up to scratch.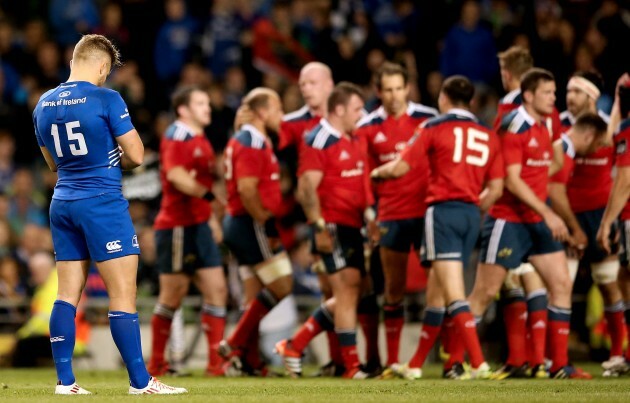 James Crombie / INPHO Ian Madigan shows his dejection as Munster celebrate. James Crombie / INPHO / INPHO
"I think it was a guess-athon to be honest," said O'Connor. "There was no clarity, I didn't think, from the officials in that aspect of the game. From that end, it was 'do your best'. You very, very rarely see a scrum refereed tit-for-tat, which happened tonight."
O'Connor's criticism of the match officials, of course, directs attention away from his own team's shortcomings. Munster were dominant physically for large portions of the game, even though Leinster did claw their way back from a large deficit in the final quarter.
The Leinster head coach said that mini-resurgence simply wasn't enough.
There's two proud teams out there tonight. Very pleased with the fightback, but we were soft in the first half, too easy to score against and we weren't accurate enough with the ball."