FORMER STOKE WINGER Matthew Etherington has said he's received calls from a dozen football agents, asking him to speak to their clients and offer advise on gambling addiction.
The 34-year-old, who also played for Tottenham and West Ham, was speaking to the BBC about his own demons and his battle to turn things around.
"I've had agents ring me up on behalf of players – probably a dozen now since I retired – saying can I speak to the player, he's in a lot of trouble, his wife is thinking of leaving him, financially he's in trouble. Obviously I'm not going to give him the words to stop him. He's got to want to do it himself. He's got to get to meetings, etc. But if he wants to talk, of course I'll be there. And not one player has rung me up. They're not ready to stop. First and foremost, it's got to come from yourself."
Etherington also spoke of the low ebbs – when bookmakers from local dog tracks would turn up at the West Ham training ground the morning after a race, looking for their money.
I'd go to dog tracks at night – Walthamstow or Romford and I'd go up to them and obviously they knew who I was and that I was earning a fare amount of money at the time. I'd say 'Can I bet with you on credit, instead of handing over the money, and I'll give you a cheque at the end of the night?' They were fine with that and if I was losing, I'd leave before the last race so they couldn't get their money. They'd turn up at the training ground the next day. We had security at the front of the training ground but I'd have to go and face them and tell them I'd have it for them next week or the week after."
Things got worse in his final days with West Ham in 2009 and during his early days at Stoke.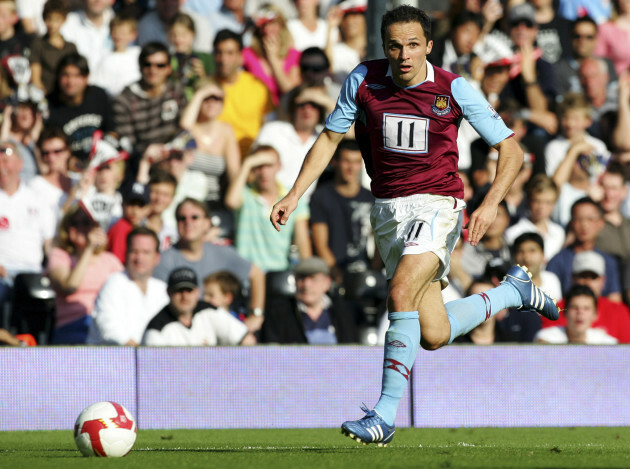 TOM HEVEZI / AP/Press Association Images Etherington said his gambling problems escalated in his final days with West Ham. TOM HEVEZI / AP/Press Association Images / AP/Press Association Images
"A month's wage at Stoke (£120,000) would all be gone within two weeks on casinos, dogs, horses, anything."
The former England youth international explained that it was only when his family intervened and his mother took control of his finances that things started to improve. But he had to hit rock bottom first.
The day I stopped, my wife now – Stephanie – I told her I was going to the shops but she knew full well where I was going. I was going to the bookmakers. I had exhausted all means of any cash to use for bets. I looked at the ash-tray in my car and there was some loose change in there and I had five pounds in my pocket. And then I didn't have enough petrol to get home. I'd rather use the money to have a bet than to fill my car with petrol."
Etherington retired from playing in December 2014 due to a persistent back injury.