TEEING IT UP at the Masters next Thursday: Tiger Woods, Rory McIlroy, Jon Rahm, Scottie Scheffler…and an optometrist from Belfast. 
"I had never thought about it to be honest", Matthew McClean tells The42. "It is so far-fetched, really." 
McClean (29), is a member of Malone Golf Club and is one of the top amateur golfers in Ireland. He grasped one of Augusta National's few golden tickets by winning last year's US Mid-Amateur Championship. 
"I always had an idea I might play an Open Championship at some point, as it is back home, there's qualifying sites and an opportunity", says McClean. "The Masters: you're either top 50 in the world or you win on the PGA Tour. That's how you get into it, so that is a far-fetched idea if you're not a pro. It's one of those things that comes at you out of nowhere." 
McClean plays golf full-time during the season, and funds it by working full-time during the winter. A qualified optometrist, he works as a locum, picking up one-day contracts as often as he can during the off-season.
"I go through weeks where I'll work every day if the work is there", he says. "There have been times I've done 16 or 17 days in a row. Once you have the free time and it's there, that's it, you just work. There's no such thing as weekends, you just work if you get the chance. It's a bit like the golf, you either play or practice and fit in as much work as you can."
He is also supported by funding from Sport NI and Golf Ireland, but 2023 is going to take a little more funding than usual, and a couple of sponsors have come on board including Belfast software company Kainos. 
McClean earned an exemption to the Masters along with this year's US Open by edging the biggest rivalry in Irish amateur golf last year at Erin Hills. 
Hugh Foley won the North of Ireland Championship last year, beating McClean by a single stoke, and Foley then beat McClean in the semi-finals of the Irish Amateur Close. Both went to Erin Hills to compete at the US Mid-Am – McClean signed up when he realised it was an over-25s event rather than over-30s – and were drawn on opposite sides. 
Both McClean and Foley roomed together at Erin Hills, in a house with Foley's caddie Dan Benedum, and they shared a car to the course…which made the atmosphere all the more curious when they met in a 36-hole final. 
"We played the semi-final on the Friday morning", recalls McClean, "we both won, and then played 18 holes of the final on the afternoon. We came back that evening and we didn't want to talk about the match as it was only halfway through. We had dinner and watched TV, Dan was the mediator and keeping the conversation going." 
McClean won 3&1, and didn't find it difficult to set friendship aside. 
"It's not hard to put it aside it at all. I speak for myself there but I am sure it is the same for Hugh and any of the other guys. It was a bit more difficult in terms of the prizes at stake, but the only way I looked at it was I was playing for me to play in the Masters, not for Hugh not to play in it.
"It is pretty easy: if you're playing a practice round with a group of people and there's five pounds on the line, then everyone is comfortable with beating everyone. After the round is finished, it was just the two of us there after it was over. I had sympathy and empathy for him, getting to a final and not winning: I know the feeling of not being able to win on the final day." 
The official Masters invite came through at Christmas, but McClean has spent months trying not to think about it. 
"It is the first time I have had to deal with it. I just thought, if I was going to be thinking about if constantly from last September it would be in my head the whole time. As much as you want to enjoy it and make a week of it, at the end of it it's just a week's golf. You don't want to build it up over months and lose track of going out just to play golf. A couple of weeks is plenty to be thinking about it.
"Even coming into the week of the tournament [Mid-Am] you try to think about it as little as possible. If you felt from the first tee shot that you're playing for a spot in the Masters, you'd probably miss the cut. It's about not thinking about it as much as possible and then going with whatever happens in the end." 
He is thinking about it now. McClean has spent the last couple of weeks in the USA getting acclimatised, playing a couple of tournaments while also fitting in a couple of practice rounds at Augusta. The Masters will be a contradiction in one sense: an extremely rare opportunity and a novel, unique pressure on a course made familiar by its place in the sport's lore. 
"People have asked me how to sum up the course", he says, "and the biggest compliment I can pay the course is that it is exactly (how I thought) it was going to be. It wasn't less dramatic in places or too dramatic, every shot that has been described over the years is exactly how it is. Because it is so famous, every shot is well-described."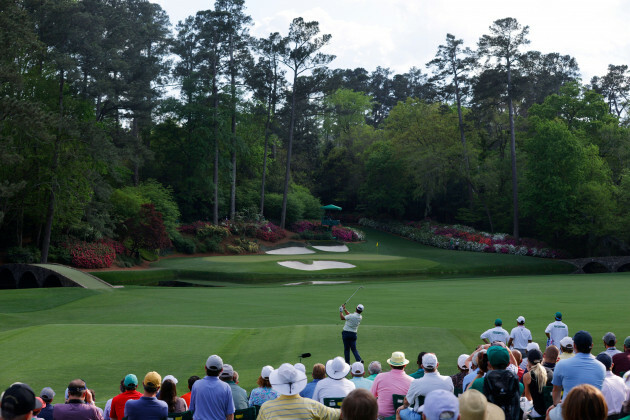 Alamy Stock Photo A view of the 12th hole at Augusta National. Alamy Stock Photo
His ambition, he says, is to make the cut, and then compete for the low amateur prize over the weekend. McClean and his family have rented a house 25 minutes from the course but he will nod to tradition by spending a night in the Crows' Nest, the small dome at the top of the clubhouse – perched right above the Champion's Locker Room – in which amateurs can stay for the duration of the tournament. 
McClean says he will likely play a practice round with Shane Lowry at the start of the week: Lowry's coach, Neil Manchip, is also the High Performance Director at Golf Ireland.
Lowry is the only one of the other Irish competitors he has actually met, he is yet to cross paths with Rory McIlroy or Seamus Power. 
As to whether this week's experience begets a professional career remains uncertain.
"It depends on this year. Obviously it is a Walker Cup year so everything is focused on the start of September and making that team. If the golf warrants it and it is at the level where it's an option, and there are potential starts as a pro for the following year, then I would definitely consider it.
"But I am not going to turn pro and start off on the mini-tours and take the long route: I am past the age for that, unfortunately. So if an opportunity arises and it makes sense, then I would have no problem turning pro. It is completely dependent on what happens this year with the golf." 
For now, however, it's about looking forward to the Masters experience…but not too much.
"I'll probably be as nervous as I've ever been standing on the first tee, but I have to try to keep a calm outlook on it to give myself the best chance to go and play. It's easier said than done, but it's trying to look at it as a normal round of golf and remember that I can actually play golf, and that it isn't any different to any other golf course: you've got to hit a drive down there, find the ball, and keep on doing what you've been doing.
"I'd probably have more sleepless nights if I was going to spectate, but I am trying to avoid them as best as I can, as I actually have to play golf."