DESPITE HIS LATE introduction into Cuala's starting line up after playing a fringe role for the Dublin footballers, the team is now built around Con O'Callaghan.
Against O'Loughlin Gaels, Mattie Kenny placed his young sharpshooter as a lone gunslinger in the full-forward line, with Colm Cronin and Mark Schutte dropping deeper to the half-forward line.
It meant David Treacy, Jake Malone and Cian Waldron helped flood the middle third and deny O'Loughlin Gaels many scoring opportunities from open play.
And O'Callaghan played a devastating role inside, he put up 1-4 but contributed so much more, assisting a further 1-2 in the first-half.
"We've good forwards," said Cuala boss Mattie Kenny after the game. "They all need attention. You can't really double-mark any of them. If you do, then you'd be hoping one of the others would do a lot of damage.
"That was the case. Colm Cronin, Mark Schutte, David Treacy across the half-forward line, they were all playing really, really well. It was a really good team performance, especially by our guys up front.
"He's a talented guy. Con is an equally good footballer as he is a hurler, he's a very good hurler. His angles of running are very good. I said after the game against Kilcotton, the deliveries to him are exceptional; we are working a lot on that. It's the quality of the ball and the quality of that speed and service to him is good.
"We went after goals. We missed two goals in the first half which really would have given us a cushion. We went in at half-time five up. We had a slight breeze in the first half. The hurling we had done, I thought we deserved to be a couple more points ahead, open up a bit more of a gap."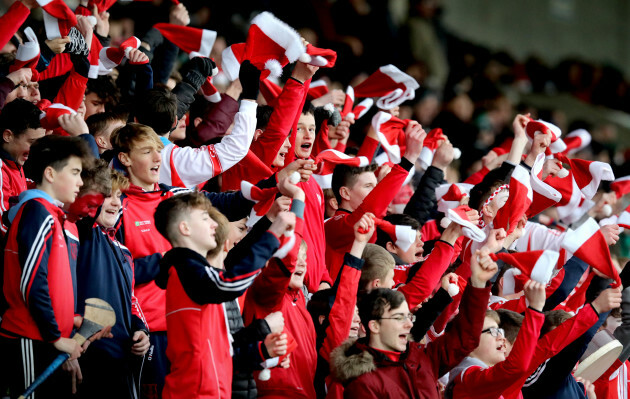 Ryan Byrne / INPHO Ryan Byrne / INPHO / INPHO
Is there any chance we'll see O'Callaghan line out for the Dubs in the small ball code?
"I can't answer that, I don't know is my answer to that. The young lad…I don't want to be concentrating too much on Con but the young fella has a great future ahead of him sporting wise.
"But look, that was an overall team performance today so I'd prefer to concentrate on the team and the work ethic of the team, and how individually all the guys played so well today."
The UCD commerce student was elated after the game as he took his tally in this provincial campaign to 6-10 in three games.
"It's unbelievable to win," O'Callaghan said. "We had our chances but so did O'Loughlin Gaels. They were never going to give up as we saw against Oulart. it's unbelievable to get a Leinster title.
"Last couple of minutes we enjoyed it, savoured those special moments.
"(It's) down to a huge amount of work from the lads, huge amount of space created inside. I'm lucky enough to be putting a couple away in the last few matches. Everyone is doing their part."
In a wider context, it was an important day for Dublin hurling. Cuala became the first Dublin club since Crumlin in 1980 to take home the Leinster club title.
The Dalkey club recovered from a disappointing loss to Oulart the Ballagh in 2015 to win their first provincial title.
"Time will tell," continued Kenny. "Our thoughts are only on Cuala but it's obviously going to give a lift to all the clubs in Dublin. I'm up in Dublin for the last number of years.
"To win a Dublin championship is a very difficult one. There are four, five, six top teams. Any one of them could have done what we did today."
The42 is on Instagram! Tap the button below on your phone to follow us!