1. The worst before the best
The biggest story of Saturday didn't involve who won or lost, but who was lost. Word has it that Andy Moran's cruciate went and if anything, James Horan's reaction summed up the full-forward's importance to the Connacht champions. When the physio went to the sideline after Moran had been carted off and broke the news to the manager, he just put both his hands on his head and grimaced.
It was the image of the day and if it's confirmed, then Mayo will have lost a player more vital than even Aidan O'Shea. During the minutes Moran did play, he tormented both Dan Gordon and Conor Garvey who tried their best to double team him, and he gave the sort of display we witnessed in the quarter-final a year ago.
He's a curious case because there are others with better attributes. Kieran Donaghy is taller, Tomas O'Connor is stronger, Kevin McManoman is faster, but Moran is so rounded that he's irreplaceable. He drifts into great positions, always wins his own ball, rarely picks the wrong pass and can finish.
With him, you'd have given Mayo a chance in the semi-final. Without him though, you wouldn't give them much chance against anyone that's left in the draw. That's such a shame because just as the county got their statement win, they got their biggest loss as well.
2. They are still there, somehow
So Dublin stumble onwards. Somehow. It's not to take away from Laois's efforts and we'll get to them in a moment but there are still no answers to the many questions surrounding the champions and if anything they are increasing by the game. Of course they are still there and that's the most important part of all this, but with a little under a month to go to the semi-final, they have enough to work on to fill even that huge gap in the calender.
Yet again their defence struggled and while they finally brought some intensity that defined their 2011 campaign, they brought along the lazy tackling that reminded us of 2010. They gave away a huge amount of frees as Colm Kelly and MJ Tierney both kicked two deadballs and Ross Munnelly kicked three. They were simple chances needlessly given away and they could have cost Dublin.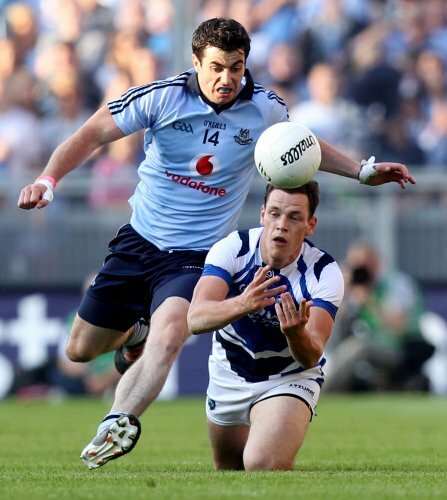 Dublin's Michael Darragh MacAuley challenging Laois player John O'Loughlin. PIC: INPHO/James Crombie
Elsewhere there were problems too. In midfield they took three-quarters of the game to get on top, and as good as Colm Begley and Brendan Quigley were, it'll be just as hard against Aidan O'Shea and Barry Moran in the final four. And while the forwards do look lost without Alan Brogan pulling he strings, their passing was inexcusable while Bernard Brogan and Eoghan O'Gara's shot selection and finishing were dire. They can only get better, but they'd want to get better soon as they won't beat the top teams playing like this.
3. Down and out
That was perhaps the worst defensive display we've seen all year. It wasn't that Down were short on numbers at the back, indeed they defended surprisingly deep from the off rather than going toe-to-tie in an attempt to rattle Mayo. But even with 13 defenders back for the most part they neither marked space nor men. On several occasions in the first half, three or four players would go to the Mayo man in possession yet still allow him to lay the ball off to a runner ghosting into acres of space.
Exclusive Six
Nations Analysis
Get Murray Kinsella's exclusive analysis of Ireland's Six Nations campaign this spring
Become a Member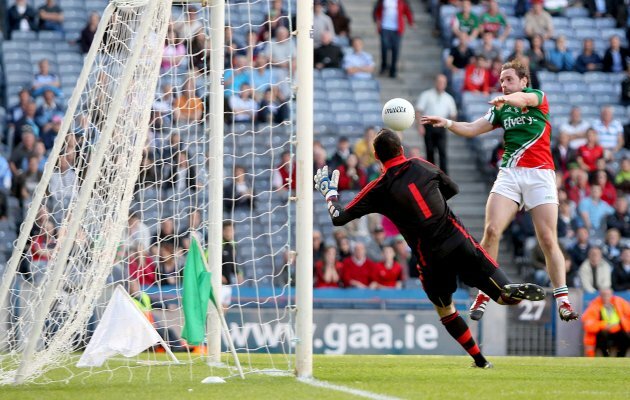 Michael Conroy fires home Mayo's third goal against Down. Pic: INPHO/James Crombie
Andy Moran did it for Jason Doherty's goal early on, in one turn on 11 minutes Moran turned Dan Gordon, Brendan McArdle and Conor Garvey, Niall McParland allowed Alan Dillon to go by him on 21 minutes as Cillian O'Connor hit the crossbar and Kevin McKernan wasn't the only one who was poor as Kevin McLoughlin was allowed feed an untracked Michael Conroy for the killer goal on 27 minutes. After the break their defensive work somehow managed to reach a lower level and what was most frustrating is all those errors can be eradicated with basic coaching and a decent work ethic.
4. As good as it's gotten
Laois may have lost yesterday and while it will take some days to recognise it after such a cruel defeat, they can take so much from that performance as it was their best under Justin McNulty by a distance. We know Eoin Culliton is a top-class goalkeeper but in front of him, the full-back line hung tight and even if they were clinging to the coattails of Eoghan O'Gara and Bernard Brogan at times, they never let go.
John O'Loughlin was impressive, Colm Belgey immense beside Brendan Quigley while Ross Munnelly looked the player he was half a decade ago as he threw himself into everything with complete commitment and conviction. Throw in Colm Kelly's cool head from frees and there's the making of a decent side there.
They could do with another forward or two but a team that looked to be disappearing into the gutter have stood tall and can suddenly look to 2013 with excitement and with belief they've a manager bringing them in the right direction. Losing like that hurts, but the positives should soon sooth the pain.
5. A little lightweight?
Given points one and two, there's going to be a side in the All Ireland final that won't be feared. In fact you'd have to say if Dublin do make it to the decider, it'll have been the easiest route since Kerry in 1997. They won it that year and anything can happen once you reach late September but there was nothing on view on Saturday, taking into account Andy Moran's injury, for any of the sides on the opposite side of the draw to truly fear. Whoever can come out on top of Cork-Kerry-Kildare-Donegal half will have done most of the hard work.